Welcome To Rehab At Home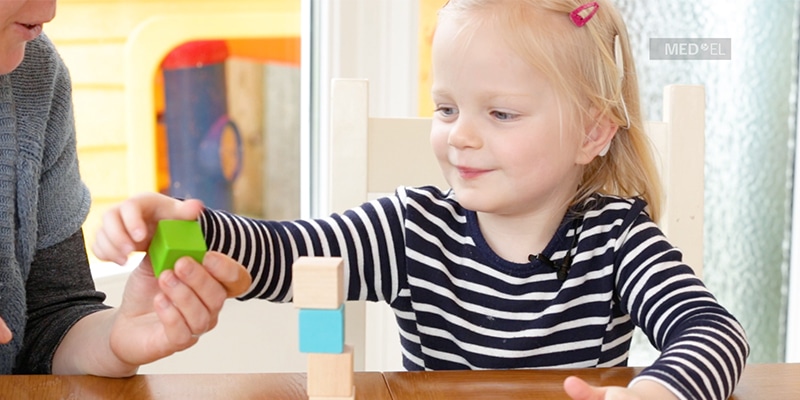 If your child has cochlear implants, you should be familiar with aural rehabilitation, or rehab. Your child probably has regular appointments with a rehab specialist, to learn how to listen and speak with their new implants. But how can you practice these skills at home?  Get your inspiration from Rehab At Home.
Rehab At Home is a brand new series of rehab videos, showing easy activities you can do with your child at home. From craft activities to board games, Rehab At Home gives you lots of fun ways to help your child with their speaking and listening.
Watching Rehab At Home
Each Rehab At Home video is based on a different rehab activity. The activity is introduced by Natalie, who is one of MED-EL's experienced rehabilitation managers and also a regular contributor to the MED-EL Blog. Natalie gives you a quick explanation about what the activity teaches your child, and why it is important.
Then the fun begins. You can watch each activity being carried out by one of our Rehab At Home families: Mia and her mum Rayan, Matthew and his mum Danielle, and sisters Penny and Jessica and their mum Sarah. Our families show you how the activity is done, so you can try it out yourself at home.
All the videos are available on the MED-EL YouTube Channel. Get a preview by watching them below!
Reading About Rehab At Home
And that's not all. Each Rehab At Home video will be featured on the MED-EL Blog, giving you lots of extra info about the activity or topic. Maybe the activity is too easy for your child, and you want to know how to make it harder. Or maybe you're looking for other activity ideas to practice a particular rehab skill. If so, then the blog posts can help you find the answers you need.
Here's a quick overview of the current Rehab At Home posts:
What Is The Ling Six Sound Test? Penny and Matthew show you how it's done!
Why Should I Sing With My Child? Watch Mia and her mom and find out why.
Why Should My Child Practice Listening To Descriptions? Jessica and Penny show us some fun games involving descriptions.
What Is Theory Of Mind? Mia and her mom read a story to build her ToM skills.
Why Should I Talk To My Child About "First" and "Next"? See how Matthew's mom teaches him about sequences.
How Can I Teach My Child About Thoughts And Feelings? Jessica and her mom show you with a simple board game.
How Can I Teach My Child About Rhyming Words? See how Penny's  mum highlights rhyming words in a book to raise Penny's awareness of sounds.
What Is "Listening First"? Mia and her mum show you while giving a baby doll a bath.
What Is "Expansion and Extension?" Matthew's mum expands on and extends her son's phrases while reading a story together.
What Is "Auditory Memory"? Jessica and her mum play a barrier game to build Jessica's auditory memory skills.
What is "Acoustic Highlighting"? See how Jessica's mum uses acoustic highlighting to draw Jessica's attention to important information.
How Can I Use Problems To Teach My Child New Language? Penny's mum shows how small, daily problems at home can be a great opportunity to teach your child new language.
How Can Sabotage Help My Child's Language Skills? See how Matthew's mum uses sabotage to teach her son new communication skills
What Is An "Experience Book"? Penny's mum uses an experience book to help her daughter with her language skills.
There will be a new Rehab At Home blog post every two weeks—subscribe now to the MED-EL Blog, and get the latest posts straight to your inbox.
Looking for rehab tips for adults? Get some inspiration for your rehab on our main Tips and Tricks page.
Find out more about how cochlear implants work and how they could help you or your child.