What Users Think Of The New AudioStream Cover
Our new AudioStream cover is here, making direct streaming easy for all SONNET and SONNET 2 series users. After setting it up for the first time, all you need to do is slide the AudioStream cover onto your audio processor to stream music and phone calls in true stereo!
In fact, it's so simple that 100% of our test users* would recommend AudioStream. Altogether 92% of users really liked the sound quality of the new streaming cover, and the same amount said that they were happy, or very happy with AudioStream.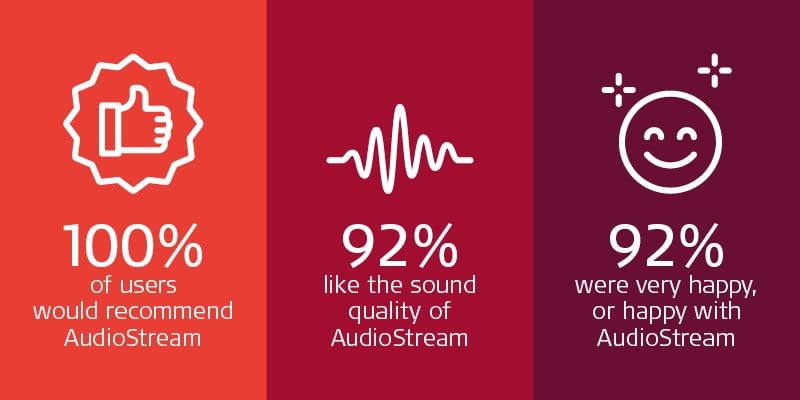 Want to know more about how our first users got on with AudioStream? Seven SONNET and SONNET 2 users share their experiences:
 "With AudioStream I listened to my first-ever podcast!"
My experience with AudioStream was, to make a long story short, absolutely mind-blowing!
Up until now, I only talked on the phone using the loudspeaker, which worked well. But AudioStream made things much, much better: The quality when a phone call is directly in an ear is fabulous. This morning I even made a phone call and I would say that I understood 95% of it super well. A normal phone call!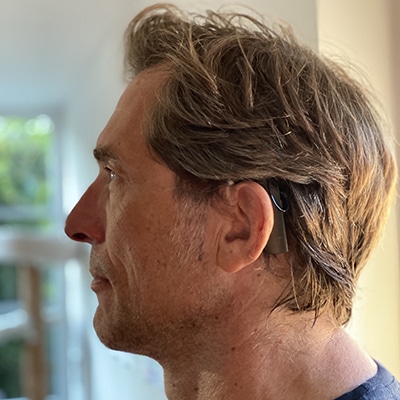 And this weekend I listened to my first-ever podcast – I was overwhelmed by how well I understood it.
Christian, Germany,
Unilateral SONNET 2 user
Telephone calls with AudioStream have good sound quality, and are easier to make than with a neckloop.

Vanessa, Germany
Bilateral SONNET user
 "AudioStream: A Really Successful Device"
Listening to music with AudioStream was amazing, both in terms of clarity and power – I hadn't heard music like that for a long time. Phone calls are great too: There's no annoying background noise, just clear, distinct speech understanding.
Using AudioStream to with my iPhone was simple too, with just a few taps of the home button it appears!
Heinz, Germany
Bilateral SONNET and SONNET 2 user
"I was surprised how easy phone calls are with AudioStream."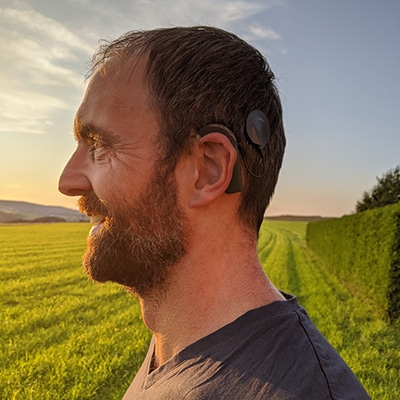 Streaming sound to my audio processor without any intermediate device is great. I found pairing AudioStream with my smartphone very easy – I could immediately find it on my phone and connect it.
I mainly used AudioStream for my daily listening training, which involves listening to audiobooks, as well as for phone calls and streaming music. I really liked the sound quality of it.
Florian, Austria,
Unilateral SONNET 2 user
I don't need any extra equipment for streaming. It even worked with Google Maps as a navigation system.  AudioStream also automatically switches to Google Maps as a navigation system!

Roy, Germany
Unilateral SONNET 2 user
 "The sound quality of AudioStream is excellent!"
I mainly used AudioStream at home and for making phone calls. The sound quality for that was great, even when listening to music. I was surprised that I could listen to videos without annoying anyone around me.
I really like that I don't have to use an intermediate device.
Michael, Austria
Bilateral SONNET user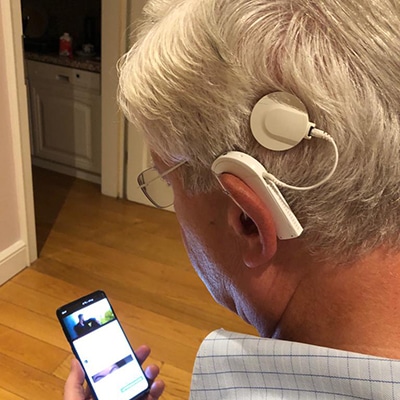 I like that it is small and sits behind the ear. Perfect for people who care about aesthetics!

Matthias, Germany
Unilateral SONNET user
 "I really like that I don't need to wear headphones now"
I used AudioStream for phone calls and streaming music – and was very surprised by the very good sound quality. I've tested it in everyday situations, as well as restaurant settings.
What I liked best was the stability when streaming and that I did not need to use headphones or disturb my wife while she was watching TV.
Walter, Austria
Unilateral SONNET user
*Early Market Experience Survey among 12 users. Data on file.
Thanks for your message. We will reply as soon as possible.