The Future of Cochlear Implants
Ever wondered what cochlear implants will be like one, five, or even 10 years from now? From invisible cochlear implants to robot-powered surgery, we look at what the future of cochlear implants holds.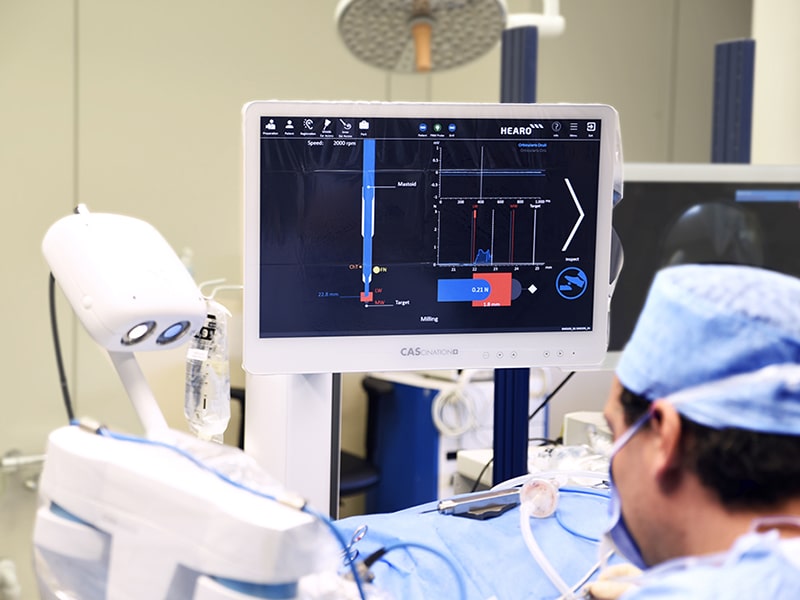 It's been almost half a century since the first modern cochlear implant was implanted. Pioneered by MED-EL founders Ingeborg and Erwin Hochmair, it helped restore a sense of sound and speech to profoundly deaf users.
Since then, cochlear implants have developed in leaps and bounds. Improved sound technology helps people understand speech in tricky situations and enjoy music. Audio processors can stream sound from your phone, charge without wires, and they come in various designs to suit your lifestyle.
Still, the push to develop cochlear implant technology isn't over. Far from it: Our research and development teams are always striving to make hearing solutions even more effective. Let's take a look at what the future of cochlear implants could bring.
Totally Implantable Cochlear Implants
At the moment, cochlear implants consist of two parts: the internal implant and the external audio processor. Imagine if you didn't need the outside part at all. That's the idea behind the totally implantable cochlear implant.
The whole system—including the audio processor, microphone, and power supply—would all sit under the skin. This would effectively make the system invisible and work even when the user is asleep.
But how far away are we from a totally implantable cochlear implant? Well, the first one was implanted in Europe in 2020 as part of a clinical study. As with any new medical device, ensuring its long-term reliability and safety is of utmost importance. This makes it tricky to give an exact timeline on when the totally implantable cochlear implant will be widely available, but it will take several years before it receives market approval.
Robotic Cochlear Implant Surgery
Inner ear surgery needs incredible precision. This makes it the perfect candidate for robotic surgical systems such as HEARO, pioneered by MED-EL and CASCINATION AG. Using this autonomous technology, ear surgeons can perform cochlear implant operations with absolute precision and minimal invasion. This helps further preserve any remaining hearing . Of course, MED-EL's super flexible electrodes already help preserve residual hearing—but HEARO could take this aspect to new levels.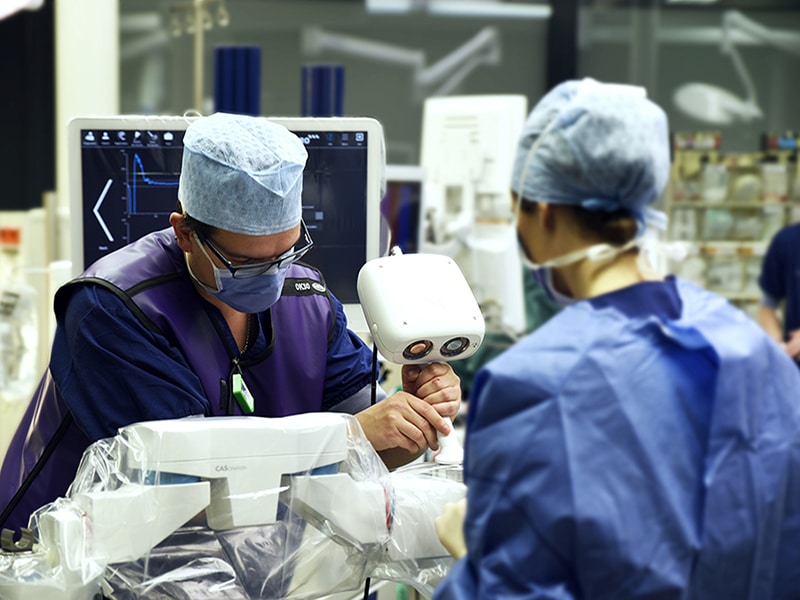 So will your cochlear implant surgery be performed by a robot? To date, there have only been a few autonomous robotic cochlear implant surgeries as this technology is being rolled out. Most cochlear implantations are still being carried out purely by (human) surgeons.
The Rise of Telemedicine and Remote Rehabilitation
The COVID-19 pandemic forced every sector to embrace remote options, including hearing healthcare. But the benefits go beyond the pandemic, especially for people living in rural areas.
Cochlear implant rehabilitation is one area with huge potential. More and more rehab professionals use telepractice, including remote rehabilitation lesson kits. We've also seen a rise in apps that can support listening training. Take a look at Meludia, which offers music training in multiple languages.
There's also the potential for audiological check-ups and fittings to be carried out remotely. This will save time and money for health services and cochlear implant users alike.
Ever-Improving Audio Processors
In the early days of cochlear implants, processors were about the size of a large wallet and had to be worn on the body. Today, audio processors are smaller than an AA battery and worn on the head. They can automatically adapt to different sound environments for superior hearing performance. And they can connect with phones and TVs for easy streaming.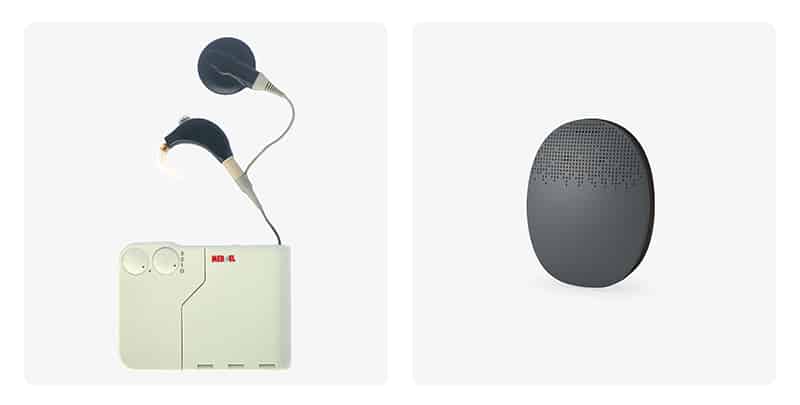 The body-worn Comfort CI speech processor versus the single-unit RONDO 3 audio processor
Future cochlear implant audio processors are set to build on these improvements still. Since we design new audio processors to work with older implants, current CI users will also be able to enjoy these new technologies.
(Even) Better Sound Quality and More Individualized Solutions
In just 50 years, we've gone from implants that can support speech understanding to ones that can support a whole spectrum of sound. And new technologies and the right electrodes can make sound experiences with cochlear implants even more natural.
Take OTOPLAN, for instance. This surgical planning software lets surgeons select the right electrode for each cochlea. And after implantation, the audiologist can program the audio processor to match a person's individual anatomy. This can help cochlear implant users come closer to natural hearing.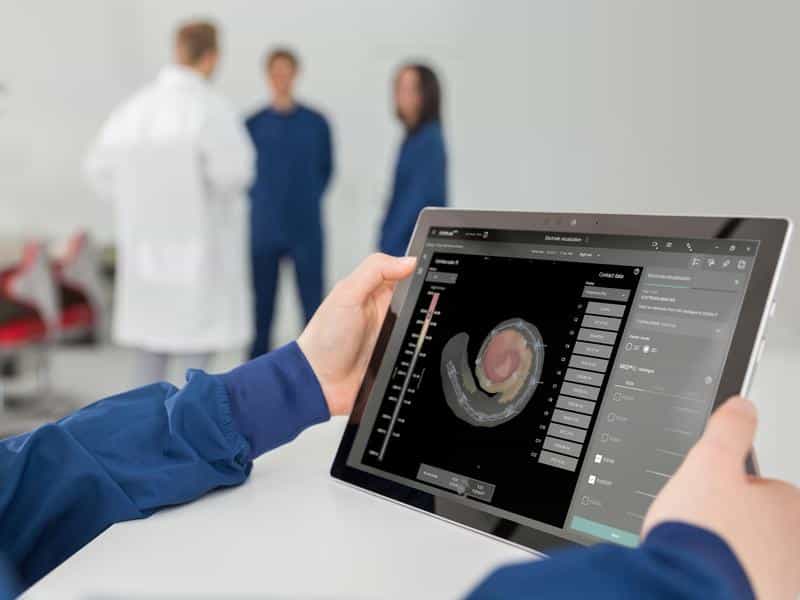 OTOPLAN helps surgeons select the right electrode
As more technologies like this emerge, we can expect to see even more individualized approaches to cochlear implants. In fact, one of MED-EL's goals is to further customize future cochlear implants for the best possible results.
"Our next goal is to further customize treatment with CI for people of all ages in order to achieve the best possible result in accordance with the principles of precision medicine."
Should I Wait for Future Cochlear Implant Technology?
With all these future cochlear implant developments, it might be tempting to put off your cochlear implant surgery. But hearing professionals agree that it's best to get your cochlear implant as early as possible. Why? Because early cochlear implantation results in better outcomes and brain function. This is true for both adults and children.
MED-EL cochlear implants are also designed with future technology in mind. Our flexible electrodes help keep the delicate structures in the inner ear safe. This preserves residual hearing, so you can take advantage of new technologies when they become available.
And when we bring out new audio processors, we make sure that they also work with older implant generations. This will let you enjoy future audio processor technology without more surgery.
Hear About Future Developments First
Sign up for our news and updates newsletter and be the first to hear about the latest developments in cochlear implants and hearing solutions.
Get Free Updates
© MED-EL Medical Electronics. All rights reserved. The content on this website is for general informational purposes only and should not be taken as medical advice. Contact your doctor or hearing specialist to learn what type of hearing solution suits your specific needs. Not all products, features, or indications are approved in all countries.