Usher Syndrome: Jackson's Story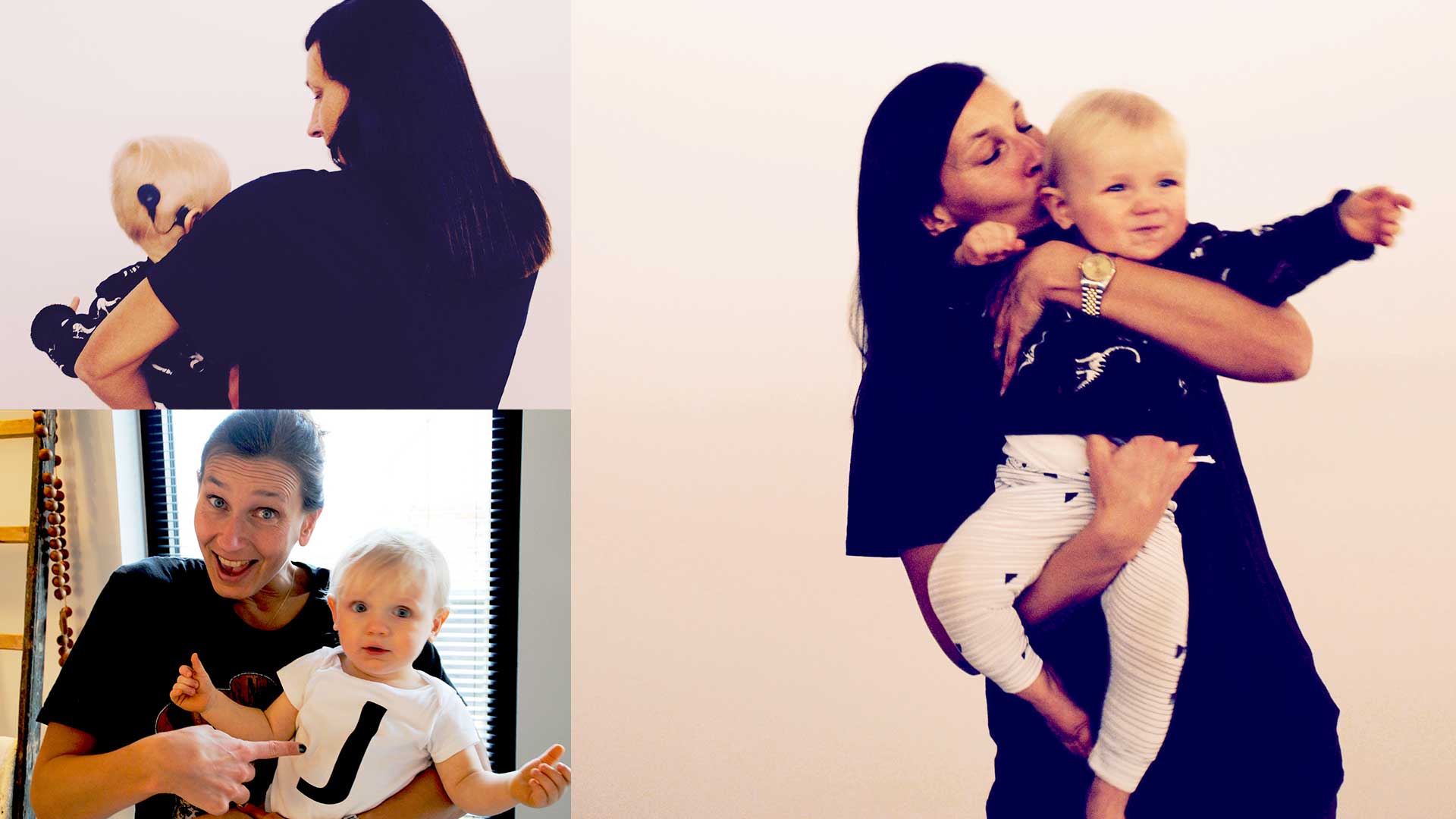 Carolien talks about her experience of her son Jackson being diagnosed with Usher Syndrome, a rare syndrome which causes profound deafness and blindness.
———-
So there're four of us. Willem is my husband and we go way back.  We grew up together in a small village in The Netherlands, close to Belgium. We got married in 2013 and are both self-employed. I work in the music industry as a publicist, Willem is an internet entrepreneur. We share a love for dogs and travelling. We currently live in Belgium with our son Jackson and our relentless dog Dexter.
Jackson's Hearing Loss
Jackson was born in October 2015 after a carefree pregnancy. Following Belgian procedures, he had a hearing screening at 4 weeks, which he failed. No worries, probably still some fluid behind his ears. A new test a week later, he failed again and I started to worry. We got a hospital referral. Early December 2015 we found out our son had severe hearing loss. We were devastated.
We had no experience at all with deaf people, deaf culture, or sign language. It was all so new and overwhelming. But slowly we started to accept the fact that our son was deaf. We learned about cochlear implants, we met children with CIs and were astounded by their speech and language skills. We started a course in sign language and to see Jackson respond to this was amazing. There was a light at the end of the tunnel. We could do this. Jackson could do this. Our boy was deaf, so what?
An Unexpected Diagnosis
At the hospital, we agreed to genetic testing, to see if they could find a cause for Jackson's deafness. I read about various syndromes causing deafness, and it scared me. The hospital reassured me, all these syndromes are very rare and not likely to occur. Still I worried. The weeks passed, by the end of May 2016 we were back in the hospital. There was good news, we got a green light for Jackson's CI surgery, and a date was to be set.
But then there was bad news, worse than we could have ever imagined. Genetic testing had shown that my husband and I are carriers of the same, specific Usher gene and we had passed this on to our son. Jackson was diagnosed with Usher syndrome type 1B. This caused his deafness, but also affects his vision and vestibular organ. Our little boy was deaf and would become blind. This was just too much to take in—it felt so unfair, so unreal. At a time where we had accepted his deafness, this diagnosis came as a huge shock and we could not even begin to grasp the situation.
But life goes on. We had a 7-month-old baby who was happy and doing very well. I did not want Jackson to see me upset all the time, he did not deserve this. So I tried to learn as much as possible about Usher syndrome in order to get my son the best possible care.
What Is Usher Syndrome?
Usher syndrome is the most common cause of deaf-blindness. It's a genetic disease that results when there are mutations (defects) in genes that are important for the function of both photoreceptors in the retina and hair cells in the cochlea (inner ear). These mutations usually lead to either a deficiency or defective version of a protein that's critical for the health and function of the retina and cochlea. More than 400,000 people are affected by this disorder worldwide. Currently there is no cure for Usher syndrome.
I felt a need to share our story. Usher syndrome is a rare disease and I wanted to raise awareness. The weeks after the diagnosis, I looked online for hours, to read honest and personal stories about living with Usher syndrome. Luckily there are some very strong role models out there that empowered me, people who, regardless of their limitations, live their lives to the fullest. The barriers that come with Usher syndrome are real, but we can overcome and transcend them. More than anything, this is the message I want to convey to my son.
So I started my ushermom blog—my outlet as mother of a son with Usher syndrome. Personal stories from the heart. To be able to reach out to the Usher community and get in touch with other Ushers has been the best thing. To feel that you are not alone in this. That together we can beat this. A lot of research is being done, specialists have assured me that a cure for Usher syndrome is within reach. Hope means life, hope makes me get up every morning.
Our Journey Continues
Now Jackson is doing great. Five months after activating his first CI, he is starting to babble. It is just the best sound ever to us. He responds when we call his name, he is very aware of all the sounds around him. He never seems unhappy wearing his CI. On the contrary, in the morning when we sign that we will put on his CI, a smile will appear on his face. Once the CI is on, he starts babbling. We are so thankful for the CI technology being available to us.
I do not know what our future will bring. One thing the Usher diagnosis has taught me is to take it one step at a time. Enjoy the now. Focus on what you can do. Don't waste time and energy on issues that are beyond your control. We can help Jackson with his hearing, so that is our main focus point right now. Create happy memories for us as a family. Difficult times are ahead—I have no illusions, but together we can face them. Together we can do this. #teamjackson #stopUSH
Thank you for sharing, Carolien!
Head here to check out Carolien's blog, ushermom
We're here to support you on every step of your family's hearing journey. If you have any questions on your journey to cochlear implants for your child, you can connect with our local support teams for answers and guidance: My Child and Cochlear Implants
Subscribe to the MED-EL Blog to receive guest stories like this delivered straight to your inbox every week!
Thanks for your message. We will reply as soon as possible.
© MED-EL Medical Electronics. All rights reserved. The content on this website is for general informational purposes only and should not be taken as medical advice. Contact your doctor or hearing specialist to learn what type of hearing solution suits your specific needs. Not all products, features, or indications are approved in all countries.