Guest Story: A Cochlear Implant to Re-connect with Music and More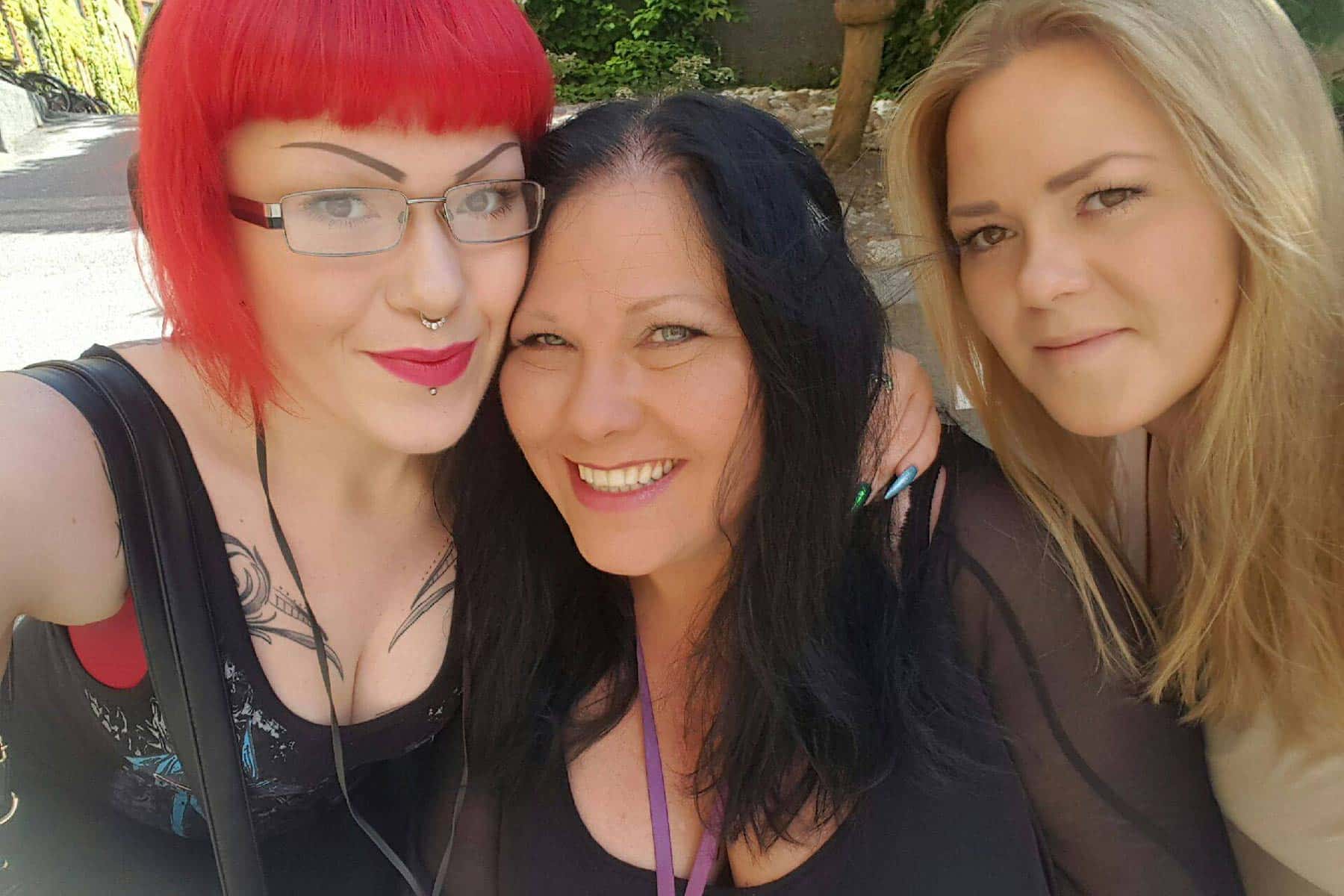 Here's a guest story from Cathrine Forsberg—that's here in the middle of the picture above, with her two daughters—a life-long music lover who got her MED-EL cochlear implant seven months ago.
Cut off From a World of Hearing
I damaged my hearing when I was 15 years old because I was playing music too loudly through headphones. Over time my hearing got worse and worse until I couldn't hear the phone and found it difficult to participate in social events.
Then after about three years of being unable to hear or speak on the phone, it got to be too much and I looked into a solution. I had heard of cochlear implants since the mid-90s, when a friend of mine got one. I considered getting a cochlear implant, but I did not want to have the operation because I love music—it seemed like the cochlear implant was more for speech perception and less for the music that's been a big part of my life.
But the worse my hearing became, the more I learned about implants. One day, someone said to me, "If you do not want a cochlear implant because you might not hear the music, you must ask yourself: 'How you hear the music now?'"
I realized that I could only hear the beats and the music I had auditory memory of. I realized then that I had nothing to lose. I was already incredibly isolated and couldn't hear the music that I had fought so hard for.
The last step was when several recipients near me said that the new implants could actually let me hear the nuances in music. Then, I was sure that an implant was absolutely right for me.
Choosing MED-EL for MRI
When it came to choosing an implant, I had three different options. I was lucky, as MED-EL had just developed an implant which could withstand way stronger MRIs than the other implants.
[mk_blockquote style="quote-style" font_family="none" text_size="12″ align="left"]This is a fantastic audio journey. I have had many tears, but they are only tears of happiness.[/mk_blockquote]
Now I've had my cochlear implant for 7 months, and in retrospect I laugh when I think of how everything sounded as I left the hospital after my activation day. Everything sounded like ambulance sirens or like when someone played the saw. And when people were talking, it sounded as if they were Donald Duck on helium. I was scared and thought that this would never be ok. But the same evening, my husband and I took a walk with the dog. He said short words without me looking at him. I understood even then, despite all the noise, almost all the short words he said to me. However, at that time I still had difficulty with letters such as s and f.
Each day the sounds that I heard changed. One day, I was sitting in the living room and heard a beep; I thought it came from my TV so I turned off the TV, but the beep kept coming and going so I looked around to see if it was my phone (no), my alarm clock (no), checked the front door (no), the fire alarm (no) . . . until I finally realized that it was the low-battery indicator on my audio processor. Ha ha! It's an audio journey: being a detective and figuring out what the sounds that I am hearing are.
People around me were saying, "it's a bird," "that's our dog barking outside," or "a car driving." The more I could understand and connect the audio to the sound source, the more nuanced the sounds became.
Every morning I go for a walk with my dog, and after having my cochlear implant switched on I noticed a specific sound a lot. Even though my husband told me that it was the birds, I could not understand what it was. Then after a few months, spring came and one early morning it clicked: I realized that's what birds sound like. I've heard them every morning since. Now when I listen to them, I try to discern where the bird is and how it sounds. That was about a month ago, and now I realize that I could hear the difference between different types of birds as if the noises they made were music.
This is a fantastic audio journey. I have had many tears, but they are only tears of happiness.
With my cochlear implant I've been able to get a job. I love helping people, and now I can work assisting the disabled and elderly and hear what the patients and staff say. And I'm also studying full-time at the university to become a counselor for the disabled.
At last I can talk on my phone in a quiet environment. I hear when my dog barks in the garden. And, I have even been able to watch television without subtitles even when there's background noise. Last but not least, my audiologist programmed my audio processor with a MAP that allows me to go out at the pub and hear what people are saying even though there's live music playing in the background. And that music has started to become clearer and clearer, so I have high hopes that the music will be a big part of my life again.
Since getting my cochlear implant I have chosen to expose myself to everything I want to do, even though I often did not believe that it was possible for me to listen and hear. It has taken a lot of strength and determination but this work has both trained up my auditory memory and also broken my fears: to be exposed to situations that require me to hear. It has also made it easier at the audiologist, because I have been able to explain what changes I would like to my audio processor's MAP. That has helped me get the program for my audio processor that matches my way of life: with great music, great social life, and working with people in my profession.
I was hesitant at first, but with my cochlear implant, I got my life back. Every day I discover new sounds, so this journey is far from over.
Thanks, Cathrine!
Subscribe to the MED-EL blog to get weekly updates from MED-EL including other stories from real-life recipients!
Thanks for your message. We will reply as soon as possible.