Use Audiobooks And Podcasts To Develop Your Listening Skills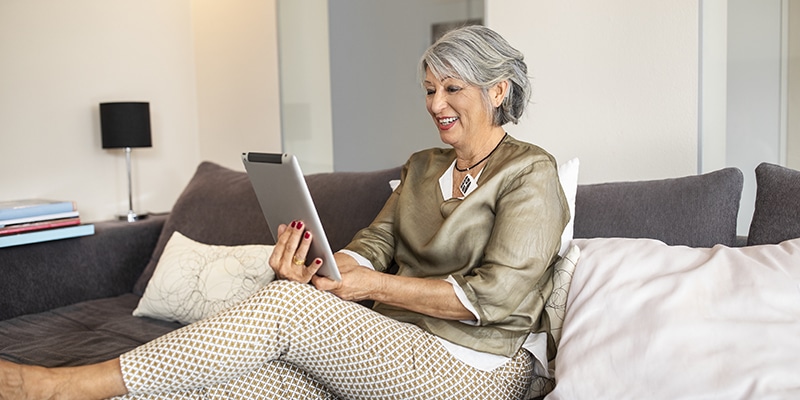 Listening to audiobooks and podcasts can be a great way to work on your listening skills with your hearing implant. Not sure where to start? In this post, we will share some tips for using audiobooks and podcasts to advance your listening skills.
Audiobooks
Use an audiobook AND the hardcopy version together. If you are new to listening with your audio processor, start by listening to the audiobook and use the same book in hardcopy to read along with. This is referred to as 'reading tracking' and is more commonly completed with a communication partner reading aloud, while you read along with the same text. As your listening skills develop, you may no longer need to read along with the written material, or you may just use the written material to check when you are unsure of what you heard.
Speaking Rate. You can adjust the speaking rate of the audiobook by varying amounts depending on the app you are using. Slow down the speaking rate to begin with, then as you gain more listening practice and become more familiar with the speaker start to return the speaking rate to the original setting.
Familiar books. Listening to familiar or favorite books will make it easier for you to follow along as you are already familiar with the storyline and characters.
Library. Contact your local library to find out whether audiobooks (and the corresponding hardcopy books) are available to loan.

Podcasts 
Find one that's interesting for you. Podcasts are available for free download online and through various smartphone apps. With a broad range of topics from the latest news, to sports, gardening and pop culture, you are sure to find a podcast to keep you engaged and interested.
Keep it simple. Try to find and listen to podcasts with only one or two speakers. This will make it easier to follow along with what is being said.
Transcripts. Some podcasts offer written transcripts. It is helpful, especially in the early days following cochlear implant activation to listen while reading along with the transcript.
Looking for some listening inspiration? Our MED-EL Podcasts are a great place to start!
Other tips
Focus on listening, don't try to multitask as this will probably lead to you tuning the audio out.
Connect your audio processor to your device (mobile phone, tablet etc.) with AudioStream, AudioLink or direct audio cable for the best sound quality while listening.
Does a family member or friend listen to the same podcast? Or have they read the same book? Chat with another person about what you listened to, this will help to check your understanding of the content and allow you to exercise your auditory memory as you recall the facts, information and topics you heard.
Looking for more ideas for listening practice at home? Take a look at our new Adult Rehabilitation Kits (ARKs). Designed to offer structured and visually appealing listening practice, the ARKs incorporate auditory training, auditory and cognitive processing, and lifestyle activities for cochlear implant rehabilitation.
Also see our previous blog posts which include tips and tricks for home practice, as well as free printable handouts.
© MED-EL Medical Electronics. All rights reserved. The content on this website is for general informational purposes only and should not be taken as medical advice. Contact your doctor or hearing specialist to learn what type of hearing solution suits your specific needs. Not all products, features, or indications are approved in all countries.