Working Together to Raise Awareness on World Hearing Day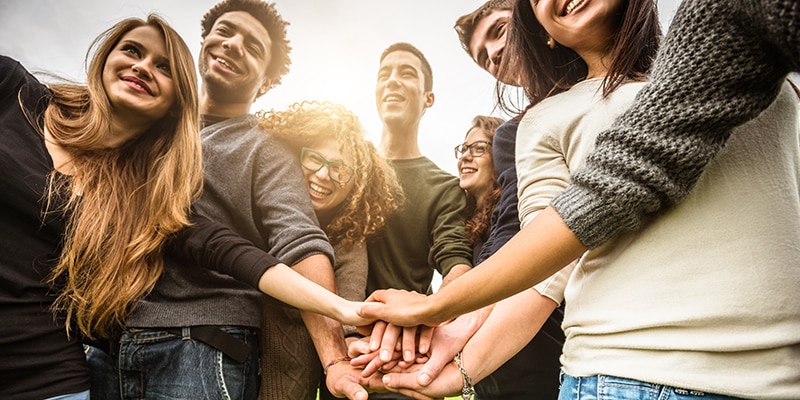 Every year on March 3 we join millions of people around the world to celebrate World Hearing Day. Why? To help raise awareness of hearing loss and help improve access to hearing care for both adults and children. This year we're marking this important day with a special blog for you from some of the amazing organizations who support people with hearing loss and their families every day of the year.
You can help too.  If you have just ten minutes today, why not join us and be a champion for hearing loss in three easy steps:
Encourage someone that you love to take our free online hearing test.
Practice your listening skills with one of our Tips & Tricks blogs.
How World Hearing Day Helps to Raise Awareness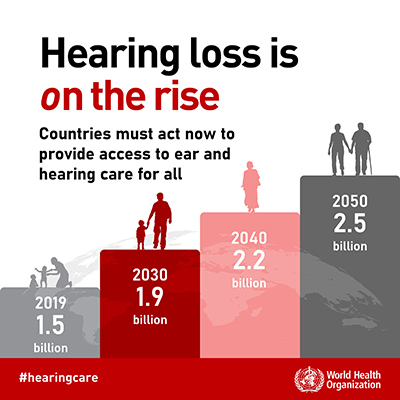 We asked some of our partners to explain how the international World Hearing Day helps to raise awareness for hearing loss.
The theme of this year's World Hearing Day is "Hearing care for ALL! Screen. Rehabilitate. Communicate."  Why is today so important for us all?
"World Hearing Day shines a light on the importance of hearing loss issues. This year's theme embraces everyone living with a hearing loss, some 466 million persons globally, and recognizes that no one should live with unaddressed and under-served hearing loss.
Early identification of hearing loss is crucial, along with rehabilitation and access to human and technology supports including hearing aids, cochlear implants, assistive listening amplification devices, and text-based interpreting.
On World Hearing Day 2021, WHO also released the ground-breaking World Report on Hearing. It's a rare opportunity to galvanise advocacy to focus governments and society on hearing loss issues with resulting actions to make improvements. At the International Federation of Hard of Hearing People, we're part of the global campaign to ensure that actions resulting from the Report can better the lives of those affected by hearing loss.
The time for change is now."
International Federation of Hard of Hearing People
Does everyone who is eligible for a hearing aid or hearing implant already have one?
"We know that the use of hearing aids and cochlear implants not only improves hearing, but positively affects quality of life including physical health, mental wellbeing and social life.  Several scientific studies and surveys from around the world have shown us this.
Unfortunately, only a smaller proportion of those who can benefit from hearing instruments such as hearing aids or implants actually use them.
More than two out of three people still leave their hearing loss untreated, and only very few of those who are very hard of hearing receive cochlear implants. One of the major reasons for this is the general lack of awareness about hearing loss and the consequences of leaving it untreated.
Many more people could and should benefit from the help of hearing professionals and the use of quality hearing devices. More information is needed about the treatment options available and the benefits arising from professional hearing care—benefits not only relating to hearing but also the many positive effects on health in general, quality of life, and even income."
Hear-it AISBL
We've seen lots of great changes around the world to help people access hearing care but there's still a lot to do. What would you like to see change in the next five years and how could we get there?
"Many adults with progressive hearing loss find it hard to approach a doctor and accept they need help. We understand that self-denial can delay people from asking for help by as much as 5-10 years.
Sadly, because options such as cochlear implants are still relatively unknown among some medical professionals, when people finally seek help for hearing loss they might not be correctly referred. In some cases, only hearing aids are proposed for severe and/or profound bilateral deafness when people may benefit from an assessment at a specialist cochlear implant program. We must work with healthcare and ENT professionals to ensure that hearing loss is detected early in people of all ages. For this we need rigor and accurate information to work on awareness campaigns across all medical professions explaining future prospects.
What happens after COVID-19 could be our next big challenge. Cost savings may mean that we will have to fight to make sure that hospitals don't reduce or stop cochlear implantations. We also need to ensure that important research and development continues, and that families are supported to use new online rehabilitation and remote programming, which we hope will be of quality. There's a lot to do in the next five years but by working together we can encourage positive experiences for people living with hearing loss."
EURO-CIU
We also spoke to our very own Dr Patrick D'Haese who has been part of the MED-EL team for almost 15 years. He leads our work to help improve access to hearing implants and raise awareness of hearing loss, so we asked him what his biggest highlight has been so far?
"I would say that one of my highlights has been working together with a wide range of partner organizations, audiologists, otorhinolaryngologists (ENT doctors), and people with hearing implants to raise awareness of hearing loss and treatment options.
Together we've been part of an active global movement that has helped others to understand the impact that hearing loss has on people, their families, communities, and society as a whole.
Importantly this includes policy makers—many recognize hearing loss as a national health priority and are taking steps to expand services including hearing care, cochlear implants, and rehabilitation for children and adults.
A real professional highlight for me is being involved in some important events at the European Parliament in Brussels and the World Health Organization. We've been able to highlight important topics connected to hearing loss including cognitive decline, social isolation, and the true cost to individuals and society if hearing loss goes untreated.
I think there's a lot more work to do but I'm looking forward to representing MED-EL in our global network of hearing loss champions."
Dr Patrick D'Haese, MED-EL
About Our Partners
EURO-CIU supports the interests of over 220,000 cochlear implant users from 34 national member associations across 26 European countries. eurociu.eu
Hear-it AISBL raises awareness of hearing, hearing loss, and hearing loss treatment. It also runs the world's leading hearing loss website, hear-it.org
The International Federation of Hard of Hearing People (IFHOH) promotes greater understanding of hearing loss issues and aims to improve access for more than 466 million hard of hearing people worldwide. ifhoh.org
Dr Patrick D'Haese is MED-EL's Corporate Director of Awareness and Public Affairs. He has over 27 years of experience working in healthcare and lectures around the world on topics related to severe hearing loss.
Thanks for your message. We will reply as soon as possible.