"We Haven't Regretted It For Even A Second": Louie's ABI Story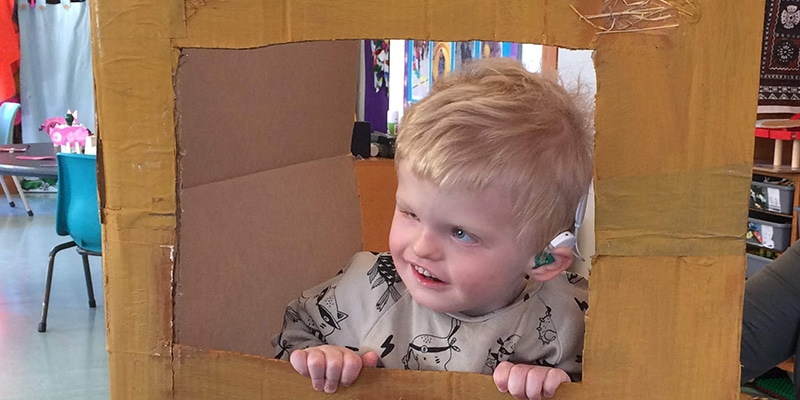 What do you do if your child is born profoundly deaf but can't have a cochlear implant? For 5-year-old Louie from New Zealand, this was exactly the case. Louie was born without auditory nerves, making him unsuitable for a cochlear implant. But his family didn't give up. Instead, they decided to get their son an auditory brainstem implant, and embark on a unique kind of hearing journey.
When Louie Davidson was born, his parents Kelvin and Gemma were overjoyed. But when Louie was just three days old, his doctors did a cot-side hearing test and suspected he wasn't hearing properly. "They identified issues and referred us for further tests," explained Kelvin. "We were a bit shocked, but we just got on and did things as normally as possible."
The family started to learn New Zealand Sign Language (NZSL), so that they could all communicate with each other. At the same time, Louie's doctors carried out detailed tests to try and find the cause of his hearing loss, and more importantly, a solution that could help him. Eventually, a surgeon at Starship Hospital in Auckland suggested an auditory brainstem implant, or ABI for short.
What Is An ABI?
We asked Sea Erhard, product manager at MED-EL HQ in Austria, to explain the difference between an ABI and CI.
"An Auditory Brainstem Implant (ABI) is similar to our cochlear implants (CI), in that it is designed to restore hearing for someone with hearing loss.
An ABI is suitable for patients aged 12 months or older, who cannot benefit from CI due to non-functioning auditory nerves. Adults aged 15 years or older who suffer from Neurofibromatosis Type 2 (NF2) can also benefit from an ABI.
Although patients with ABI may make different progress to CI patients, the quality of life for people with an ABI is often improved when the ABI is implanted well."
Getting An ABI
"We had never heard of an ABI. But the benefits looked great and the downside was pretty small, so it was an easy decision," said Kelvin. "The hardest part was getting used to the idea we'd have to take Louie all the way to Germany." As ABI is quite a specialized technology, there are not many surgeons around the world who can implant them. Louie's hospital in New Zealand has a partnership with Professor Behr in Germany, who is one of the world's leading experts in ABI. He agreed to do Louie's surgery, and the whole family flew over to Europe.
"The surgery was tough beforehand, because we knew it would be a very long procedure," Kelvin explained. "But we also knew it was a great choice and that Professor Behr is the best. The recovery was long, but once we got back to New Zealand, Louie thrived again and activation went smoothly."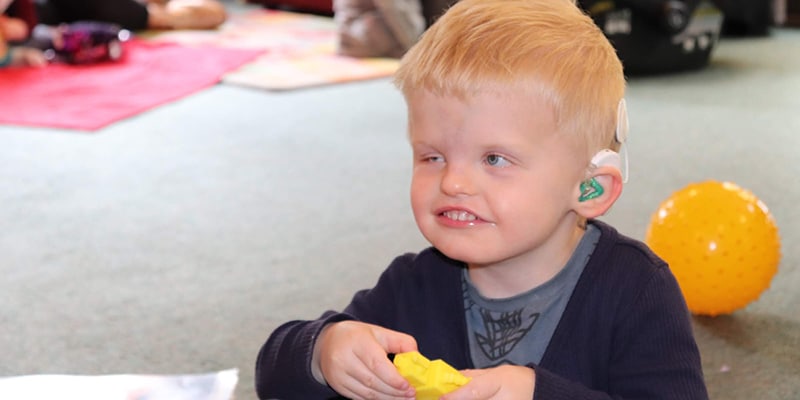 Living With An ABI
Louie is currently learning to listen and speak using his ABI, and the family regularly visits the Southern Cochlear Implant Programme (SCIP) in Christchurch. "It's been a huge success!" says his dad. "Louie is detecting a lot of sounds, and we know that certain sounds he makes are his way of saying certain words."
Joanne Lake, one of Louie's speech therapists at the SCIP, is also really happy with Louie's progress. "Before receiving the ABI, Louie was silent. Now he uses his voice a lot!" Louie's first wow moment came when he turned to his name for the very first time. Now he can say a few familiar words, like "up up up" and "bye bye." He loves music, and recognizes the patterns of his favorite songs. While reading books he copies sounds related to the story, such as "wash wash" when he sees a bath.
Louie is also lucky enough to attend group sessions at the van Asch Deaf Education Centre. The focus at van Asch is not just on Louie's language goals, but his overall development too. The team there help Louie learn to communicate through fun activities like playdough or playing outdoors. There's plenty of singing and stories to enjoy too.
What's more, these programs let Louie's personality really shines through. "Louie has a wicked sense of humor and loves having fun with everyone in his rehabilitation sessions," said Joanne.
Louie's Future
At the moment, the family mainly communicates in sign language. But his parents are both realistic and hopeful for the future. "We don't really have expectations, because we know how new the ABI technology is and how uncertain the outcomes are. But he's already exceeded expectations, so who knows what will happen."
"All in all, ABI has been great for us, and we haven't regretted our decision for even a second!"