Two Children, Two Cochlear Implants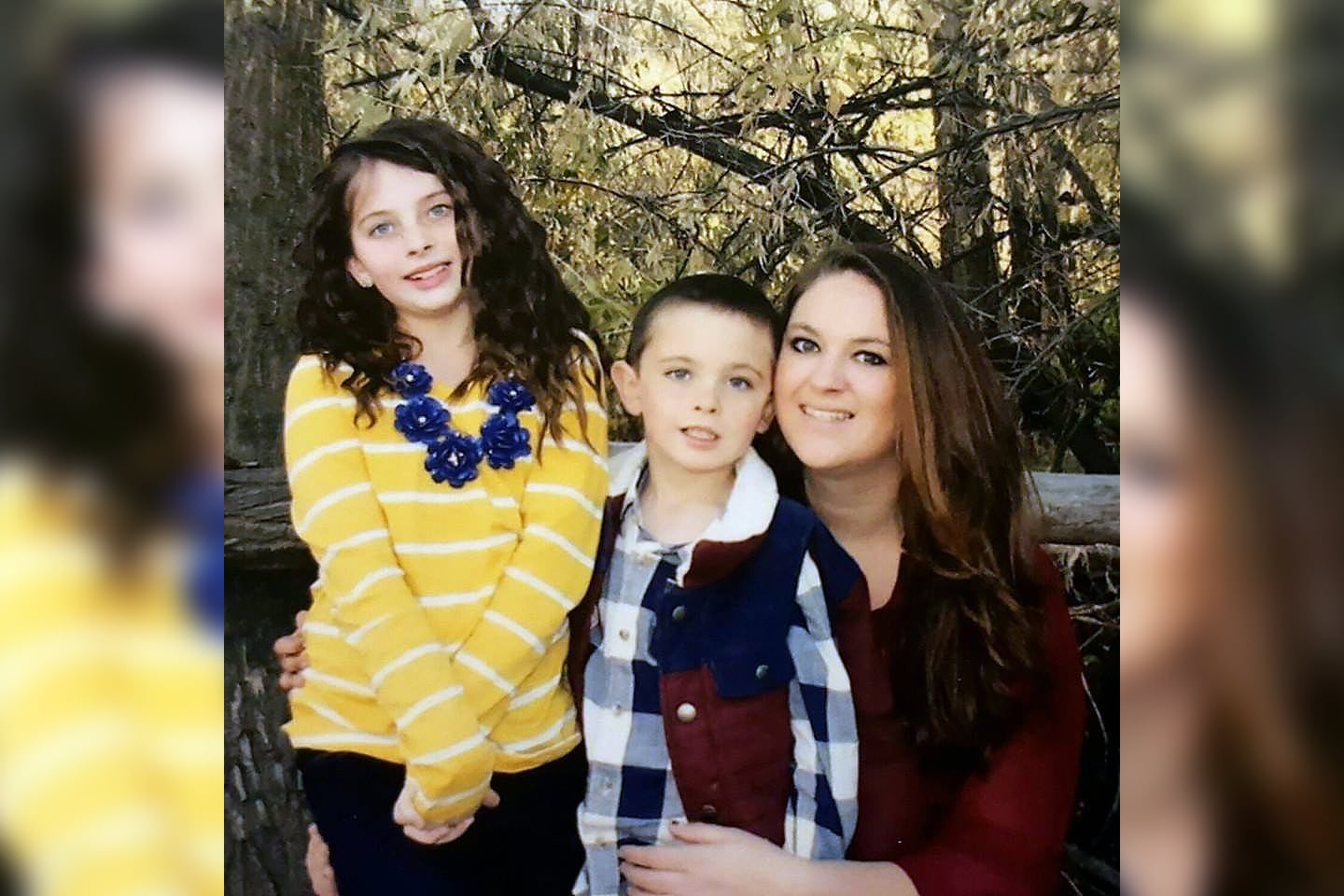 Christina Anderson Braegger knows what it is like to be the mother of a child with hearing loss. In fact, she is the mother of two: Hallie and Kamdyn. Both were born with hearing loss but it took many years to get a diagnosis. Once she learned Hallie and Kamdyn both had enlarged vestibular aqueducts and their hearing would keep declining, she had to decide: what would she do?
Our first child, Hallie, was born in 2007. Today, she's very active: she loves to ride horses, play soccer, tumble, cheer, and swim. But it has been a long journey to get here.
It started when she didn't pass the hearing portion of her initial newborn screening test. We were referred to a pediatric audiologist when she was 6 weeks old and the tests then showed she had a hearing loss in her right ear. However, it wasn't considered severe enough for any treatment: the audiologist told us "a pass is a pass" and that if we had any concerns we should have her tested in the future.
It was another 6 years before we actually had a diagnosis. Until then, Hallie's communication was limited. She literally screamed from age 1 to 3, and would get so frustrated that we could not understand her. She was so expressive, but it all came out as gibberish.
A Second Child, The Same Hearing Loss
Then in 2010, when Hallie was 3, we had our second child, Kamdyn. Today, he is all boy: he loves dirt, farming, driving tractors, swimming, and duck hunting. But, before all that, Kamdyn started out the exact same way as Hallie; he did not pass his newborn screening test. We were referred to a pediatric audiologist. There, he had an Auditory Brainstem Reflex (ABR) Test, and like Hallie, found that his hearing loss wasn't severe enough. The doctor said she felt 80% good about her findings, so if we had any other concerns we should get him tested in the future.
We continued taking Hallie to an audiologist, 6 times in total between age 3 and 5½, and each time they told us that she was fine and just had pressure behind her ears. Then when she began kindergarten, she had a hearing test done through the school system, and right after that test they called me to say the test showed she already had an 80–90 dB hearing loss in her right ear.
The very next week we went to the pediatric audiology clinic at Utah State University. I can remember sitting in the sound booth with Hallie as she was supposed to push the big red button every time she heard a beep. I was sitting a foot away and could hear the beeps from her headphones, but she just sat there. At that point, I knew things were not good. When the doctor came in and showed me her audiogram, I instantly broke down sobbing. I felt like I had failed as a parent.
Finally, a Diagnosis: Enlarged Vestibular Aqueducts
We had Hallie tested and found out that she had enlarged vestibular aqueducts, which caused a profound hearing loss in her right ear and a moderate-to-severe hearing loss in her left ear.  Once we found out what Hallie had, we had Kamdyn tested. And just like Hallie, we found out that he also had enlarged vestibular aqueducts; there was a profound hearing loss in his right ear and a moderate hearing loss in his left ear.
Both kids started out with hearing aids, and we discussed using sign language. But, since they had already been hearing for years, we thought it would be best to keep them hearing. We weren't sure how they would respond as they continued to lose their hearing.
Finding a Solution in Cochlear Implants
Hallie's audiologist suggested that, since her hearing could change rapidly, a cochlear implant should be the next step. We researched cochlear implants a lot, and with Hallie being 6 years old we included her in discussing the pros and cons. We tried to explain as best we could what was happening and what her future would look like: both with or without an implant. She told us that she wanted to "hear forever," and as a mom I know there is nothing more satisfying than my kids hearing my voice, telling them I love them, singing and reading to them. I knew a cochlear implant was the right choice.
So Hallie received her cochlear implant first. Since she got her implant, she has had way more self-confidence. She can dance, and in large groups she still feels like she's a part of the group and not just in the background. She is more outgoing than before, and will introduce herself to new kids. She even loves to teach people about her "magic ear", what it does, and how it helps her.
A Cochlear Implant for my Second Child
When Kamdyn received his cochlear implant, we were much more confident in the whole process. Even Hallie: she was a big support for her little brother, helping calm his nerves, telling him it was the "cool" thing, and that they were special.
We felt ahead of the game. We knew what the testing would be like, and we knew what the surgery would be like—the recovery, the wait time, the activation and mapping. There was no guessing if I was putting the batteries in right, or if anything needed to be changed. There were no second guesses or second thoughts: we knew we were doing the right thing, and we knew MED-EL had changed ours and our kids' lives for the better.
Succeeding with Cochlear Implants
Since receiving their implants, they have both improved in leaps and bounds. Kamdyn is almost at a normal hearing range with his implant, and with rehabilitation, his speech is at or even above kids his age with normal hearing! Hallie's speech and language was a lot worse than Kamdyn's, because she was older than him when we learned about her hearing loss, but she continues to make amazing progress. She is in a mainstream school and is doing extremely well. This is something I truly believe would not be possible without her implant.
We have been so happy that our kids received cochlear implants, and are so happy and thankful for everyone who has helped us on this journey. We are grateful that our children will be able to be mainstreamed, play sports, and swim with all the extras that allow my kids to be kids.
Thanks, Christina!
Subscribe to the MED-EL blog for more inspiring stories like this!
Thanks for your message. We will reply as soon as possible.