"Picking MED-EL Was The Right Decision": Alexander's Journey To Cochlear Implants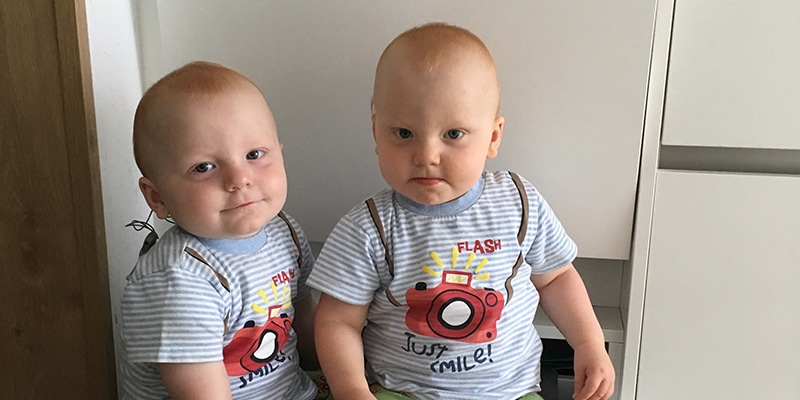 When their twin sons Alexander and Lukas were born, life as a family started for Matthias and Sandra from Austria. But then they learnt that Alexander has hearing loss, and the young parents were faced with an important decision. In today's blog post they talk about the journey from diagnosis to cochlear implant, why it is helpful to get information directly from the manufacturer, and how their gut feeling also played a role in making their decision.
My name is Matthias and together with my partner Sandra and our identical twin sons Alexander and Lukas I live in a small town in Upper Austria. We really enjoy living in the countryside, and we spend a lot of time outdoors with our sons and enjoy regular walks – no matter how bad the weather is.
Diagnosis: Sensorineural Hearing Loss
Our sons were born in March 2018, and we were over the moon to finally hold them in our arms. Soon after their birth, our babies were taken for a newborn hearing screening and both passed. But after about six months we had a feeling that Alexander could not hear well. While his brother Lukas started to react to us calling his name, Alexander did not. When we took him to see his pediatrician, Alexander didn't react to the sound of a rattle behind him.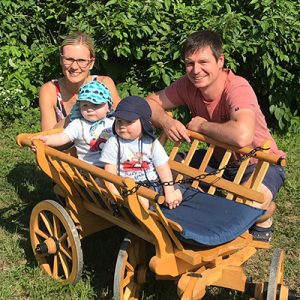 A hospital appointment finally brought certainty: The diagnosis for Alexander was "profound bilateral sensorineural hearing loss". At first we were devastated and asked ourselves if we had done something wrong. Had it been too loud for him at some point? Did something happen during the pregnancy? But thanks to the great support network in Upper Austria we were immediately referred to the Institute for Sensory and Speech Perception at a local clinic. We were also introduced to a family support network for children with hearing loss and were referred to an audiologist.
Hearing Implants: A New Hope
As soon as we got the feeling that Alexander could not hear, even before his diagnosis, we started to research cochlear implants. At the hospital, right after the diagnosis, we were told about the possibility of CIs.
The fact that cochlear implants could be a solution if hearing aids didn't work was always in the back of our minds and became a real glimmer of hope when we learnt about the diagnosis.
It was motivating for us to hear from Alexander's ENT doctor that CI technology is very advanced and that Alexander's chances were excellent because we had found out about his hearing loss at an early age. Seeing his twin brother's development and comparing it to Alexander's has for sure helped us with this.
We do not yet know the reason for Alexander's hearing loss, but a genetic test will be carried out. It is unclear why his twin brother Lukas has normal hearing, especially because they have identical DNA since they are identical twins. For us, however, finding the reason for Alexander's hearing loss has become less and less important, we are simply happy to see how well he develops with his implants. We are looking forward to the future and the reason for his hearing loss doesn't really matter anymore.
Choosing A Cochlear Implant Manufacturer
For us it was clear that we wanted cochlear implants for our son, but choosing a CI brand was not an easy task. Hearing loss and hearing implants were completely new to us, and in the beginning there was a lot of information to process. And there was also the fear of making the wrong decision, because of course you want the best possible treatment for your child. Suddenly we had to make a decision for another human being, a decision that would impact our son's life forever.
For me, as a technician, the technical details of the implant system was of the utmost importance, but of course the audio processor design was also a factor. In our decision making-process we were supported by Alexander's ENT doctor, his audiologist, his speech therapist and a MED-EL representative. In the end it was the speech therapist who made the decision easy for us. She visited our family with two big demo boxes from both possible CI manufacturers. We could look at the audio processors and internal implants in the peace and quiet of our own home. She gave us more information about the technical details and differences between the two brands, and about how cochlear implants work in general. It was also an opportunity to try the audio processors directly on Alexander's ear.
MED-EL: The Best Choice For Our Son
In the end we chose a MED-EL cochlear implant for our son. For us the decisive factors were the concept of Complete Cochlear Coverage, including low frequencies, and the better fit of the audio processor on Alexander's ear. We also liked the fact that MED-EL is an Austrian-based company.
For us as parents it was unthinkable not to take up the opportunity for our son to benefit from complete cochlear coverage.
Especially since we did not know how well Alexander could hear in the low-frequency range when we had to make the decision. Complete cochlear coverage also seems very important to me in terms of music appreciation. After all, every movie, every piece of music, is only complete with bass and low frequencies. In the end it turned out that our gut feeling was correct and that Alexander's hearing is worst in the low-frequency range.
Finding Support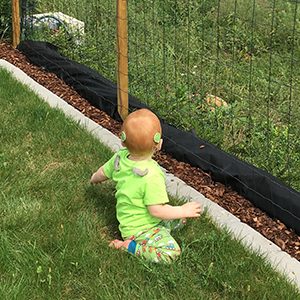 Soon after the diagnosis we joined several Facebook groups and a group for parents and friends of people with hearing loss in our area, because for us it was very important to get to know other parents of children with CIs and to be part of support networks. Like many parents, we had to come to terms with our son's hearing loss unexpectedly and had to make a decision quite quickly. I think it is very important to connect with other people who have been through this process and to share experiences with each other. It is good to see and to feel that you are not alone in this. We also wanted Alexander and Lukas to see that there are other children and adults with hearing loss in our local area.
For us it was an important step to start talking about Alexander's diagnosis with people around us. We were surprised to learn how many people in our community and work places actually know CI users, and it was interesting to hear how these users were doing and how their hearing has developed with cochlear implants. We heard about many children with hearing loss who have been doing great and that gave us a lot of hope and reassurance that we are on the right track.
Our Advice For Other Parents
If someone asked us for one piece of advice we have for other parents in a similar situation, I'd say: Trust your gut feeling! You know your child better than anyone else and if something does not seem right to you, listen closely and don't give up! It's better to take too many hearing tests than not enough. And: Act quickly! Don't wait to see if your child starts to talk or not. Of course it is also important to stay strong as a family and find the right way forward together.
And when it comes to choosing a hearing implant manufacturer, trust your gut feeling as well! For us, going with MED-EL was the right decision, and we would make the same one again if we had to.
We can definitely recommend meeting with representatives from your favorite CI brand. It's a good way to get a feeling whether you are on the right track or not.
Wishes For The Future
We are excited to see what the future holds for Alexander and our family. We are sure that we made the right decision by choosing MED-EL! The tremendous improvement Alexander has shown in his first hearing tests after activation definitely proves that for us. We have also noticed that Alexander is really blossoming and has started to become more confident. Entering the world of sound has really changed Alexander's life – thanks to MED-EL, thanks to the great support network in Upper Austria and thanks to his wonderful doctor.
Thanks, Matthias!
Find out which questions to ask when choosing a cochlear implant for your child.