Overcoming Challenges: Baby Mika's Unique Cochlear Implant Journey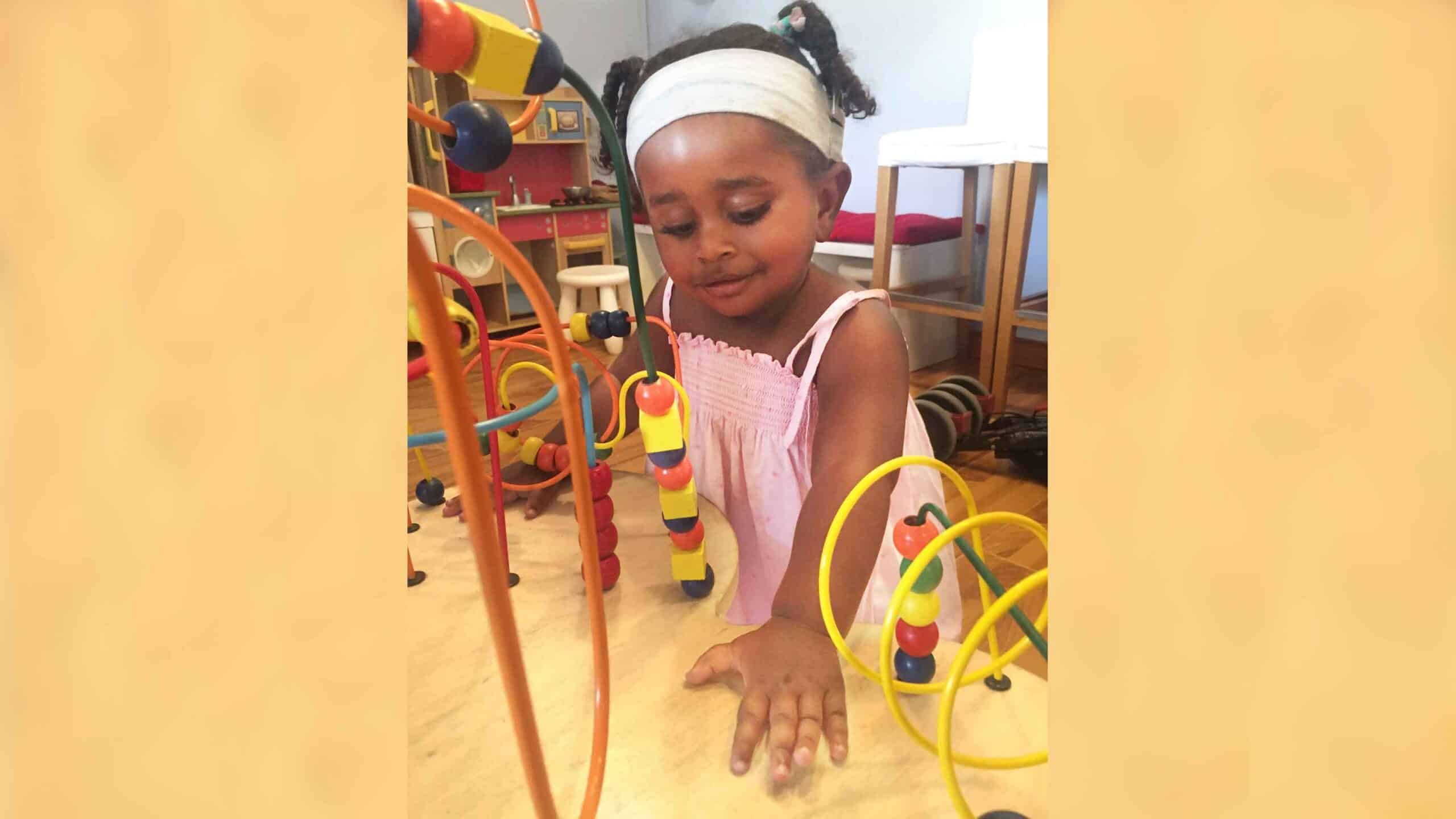 The cochlear implant journey from finding out your child has hearing loss to starting rehabilitation can be a roller coaster of emotions. New Zealand mom Tash shares her experience of finding a hearing loss solution for her daughter, Mika.
—————————————————–
I guess our story is a little unique. I am originally from New Zealand and have been working internationally since 2001. I started working at an International School in Ethiopia 3 years ago and adopted my daughter, Mika, in November 2015 when she was 6 months old.
Finding Out Mika Has Hearing Loss
There was no compulsory infant hearing screening in Ethiopia when Mika was a baby. Although I was sure Mika was fine as she was showing indicators that she was hearing, I wanted to get her hearing checked. When we traveled to Singapore in December of 2015, we took Mika for a hearing test. However she woke up during it and the clinic said they couldn't test her unless she was asleep. When I look back now I should have been more persistent with the specialists as they sent us away. We soon left Singapore to head back to Ethiopia and there was no other opportunity to have her tested.
Nothing Can Prepare You For the News
The following year, we flew to Dubai as Mika was having ongoing physiotherapy treatment there to help with her gross motor skills. I had scheduled a hearing test with the HearLife Clinic in Dubai as there had been some clear indicators that Mika was not hearing well. I had noticed that Mika wasn't responding to her name when I called her. I banged pots together behind her head, but there was no startled reaction. Mika simply looked around to see what I was doing. I knew something wasn't right. Although I knew there were issues with Mika's hearing, I didn't ever think that she had profound bilateral hearing loss—in other words, total deafness.
I had gone to the appointments in Dubai on my own with Mika, and nothing can prepare you for hearing those words. I knew the result before the audiologist said anything to me. She had looked up from the testing at one stage and her face said it all—I told her she should never play poker. I already had tears streaming down my face before she told me the news.
The Dubai team explained the cochlear implant process to me, talking through the success stories and the factors that contributed to kids doing well. Mika was then fitted with hearing aids and we were told to come back in a couple of weeks after recording anything I noticed her react to. I remember feeling unsure about this, as Mika had fooled me for a year. Despite her profound hearing loss, Mika would move to music, and even react to people coming in the room. As we were in Dubai for just a few days, we didn't go back to the clinic after the initial screening. Instead we headed home to Ethiopia with a bunch of pamphlets and a feeling of complete confusion about the next steps.
Seeking Support
I have friends in Hong Kong who were the first people I reached out to. I knew they had been through the process with their son, and they right away put me onto the Aussie Deaf Kids Facebook page. Between my friends and the page, I started to feel like we weren't alone. I found that there was a wealth of love and knowledge, that people were willing to share and help us work through the process.
All the acronyms being thrown around were confusing enough. It took five days before I could pull myself together to talk to anyone else about the situation. There was this sense of how can you even explain how this feels to anyone else? I didn't even know what I was feeling myself, other than being overwhelmed. The more I read, the more freaked out I became. But at the same time, I saw all these beautiful videos and images of proud parents and stories of huge success with cochlear implants.
I found Facebook pages in support of cochlear implants and I continued to read and absorb the information. As a teacher, I am aware of the importance of access to sound—amongst many other things—before the age of two years. Through reading more about hearing, I knew the timing was critical—Mika was already 17 months old and I needed to act fast. I pushed the Dubai team to book Mika in for an MRI and CT scan.
Exploring Our Options
The hearing aids were painful. Mika hated them in her ears, and I hated the sound coming out of them. I was angry at life and what it had thrown at my baby. A few weeks later, we flew back to Dubai to return the hearing aids and for Mika to have the MRI. We found out that Mika was a candidate for a cochlear implant—her cochlea looked good and her nerve was intact.
By this stage I had already made contact with several people on Facebook who had put me in touch with various options for cochlear implant surgery, from New Zealand to India to Australia. At the same time, I was fiercely fighting with our medical insurance company to have the surgery covered. We ended up choosing the team in Sydney, who were phenomenal in terms of their communication and support right from the start.
MRI safety was the determining factor for us in choosing MED-EL. Some other things had shown up on the MRI scan for Mika that meant we would probably need to have future MRI scans. Also, being an active person myself, I have had many MRIs in my life due to sporting injuries. In my mind there was no other choice—there is no way I would put Mika through more surgery to remove her device in order to have an MRI.
Thanks, Tash!
Next week we will bring you the second part of Mika and Tash's story. You'll find out what the surgery and learning process was like, and how Tash packed up their lives to move across the world.
Like this post on baby Mika's cochlear implant journey?