MRI With A Cochlear Implant: Kim's Story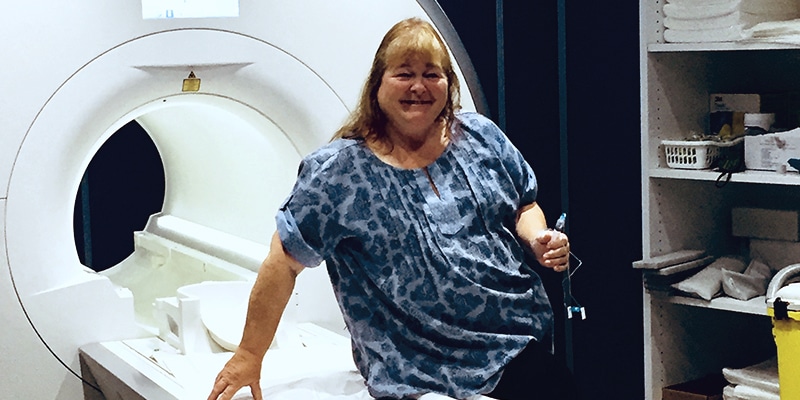 At MED-EL, we design our cochlear implants with outstanding MRI safety.** That means you can have hassle-free MRIs, just like any other patient!
But don't only take our word for it—Kim, from Australia, needs frequent MRI scans of her head, and recently had her first one since getting her implant. She sat down to tell us all about having an MRI with a MED-EL cochlear implant.
---
Hi, my name is Kim Payne, and I would like to tell you about my MRI scan with a cochlear implant!
I am in my 50s, short with dark hair and a tendency to sunburn. I have a left-sided implant, and because I live in Australia, I was very lucky and got the 2 Ways to Hear special offer so I have both the RONDO and the SONNET processors. I have genetic sensorineural deafness but I don't know which gene.
Life With Hearing Loss
I came from England and moved to Australia about 11 years ago as my husband was offered a job here. I have many crafty and arty hobbies, mainly because they are things I could do without social input. I found it too hard to be my normal outgoing social self whilst being profoundly deaf. I once found myself laughing that nervous "I-didn't-hear-a-word" laugh after someone told me their mother died—too embarrassing!
I was told that my hearing qualified for an implant in 1990, in England. However I was told that my auditory nerve wasn't sufficient for a cochlear implant. So I struggled along with useless hearing aids, relying totally on lip reading. In Australia my husband went to a cyber security conference and got chatting to a cochlear implant rep, who said I could potentially be a CI candidate and to get me re-assessed.
Getting A Cochlear Implant
We googled audiologists for implants and went to Northside Audiology in Chatswood, New South Wales, and met Monique. I was re-tested and the rest is history. The pre-implant scans surprised everyone with evidence that I had a brain, but no one was surprised that it wasn't a normal one! The anomaly they found in my brain meant I had to see a neurosurgeon and have repeat MRI scans after getting my cochlear implant. My surgeon, Dr Jufas, told me that realistically a MED-EL SYNCHRONY implant was my best bet, because of its MRI compatibility.** So that's what we went with!
I was activated on the 6th of July last year and am overjoyed with my cochlear implant. My processors are the first thing I would rescue in a fire! I have music back, it's a miracle after 30 years. I have heard my children's voices for the first time, in the case of my younger son it was when he said his wedding vows. I absolutely sobbed with happiness—sorry Jamie, I know it was embarrassing! I often don't want to take my processor off to sleep because I will have to stop listening to music.
Preparing For MRI
I wasn't too worried about the post-implant scan until I tried to arrange an appointment with my local imaging office, who at first refused to do it because they said people with implants can't have MRIs! If the radiologist hadn't come out and spoken to me and agreed to talk to MED-EL, I think I would have refused to have the scan.
I went home and many kind people on the Facebook MED-EL discussion group reassured me that I would be fine. Alex, my MED-EL rep, agreed to come along and reassure the radiologist. He has been wonderful and so helpful all through my journey, I shall really miss him now he has returned to Austria.
I couldn't sleep the night before my scan. I felt angry with myself for being such a wuss! I arrived for my scan in clothes without any metal in them, because there was no way I was wearing a gown with my rear on show to the world! My husband came with me and Alex was there with Clare, another MED-EL rep.
An Easy Experience
We met the radiologist, I filled in my consent forms and had a venflon infusion inserted, and I took my processor off. I was taken through to the room and laid down with my head in a cradle. The earphones were put on, the top half of the head cradle was put on, everyone went out, and music played through the headphones.
The procedure took 20 to 30 minutes, but I felt absolutely nothing from the implant. I didn't have my head wrapped and could only feel the headphones. I heard a humming noise in my implant and then a ticking noise as my magnet turned. It sounded like a card on the spokes of a bike. The noises changed a few times to different humming and plinking noises but that was all.
Apparently, they spoke to me several times, but I didn't hear it. Halfway through, the machine stopped and someone came in and connected my infusion. I could feel the bed hum and throb with a deep rhythmic banging, which I had also experienced with the pre-implant scan, but it was nothing scary. It was just the cold feet that bothered me!
I am likely to require more MRI scans but in future, I will not worry even a little bit about the implant. To anyone else who needs an MRI scan with your implant, I say don't worry, it's nothing!
I have been really impressed with MED-EL they have been so helpful and efficient, I couldn't be happier!
Thanks, Kim!

Great Protection. Guaranteed.
Because of our long and positive experience with MRIs and cochlear implants, we're the only hearing implant company to offer a life-long MRI guarantee. We promise to replace your implant in the very unlikely event that it's damaged during an MRI scan.*
Valid for all MED-EL cochlear implants since 1994
Life-long and worldwide
The first and only to be offered by any hearing implant company.
* The terms and conditions of the MRI guarantee can be found here.
** MED-EL cochlear implants since 1994 are MR conditional. Recipients with a MED-EL cochlear implant may be safely MRI scanned following the conditions detailed in the instructions for use.
Last updated on September 1, 2021.
Read why Dr Harold Pillsbury thinks 3.0 T-safe cochlear implants are so important.
Find out more about how cochlear implants work and how they could help you or your child.
Thanks for your message. We will reply as soon as possible.
The content on this website is for general informational purposes only and should not be taken as medical advice. Please contact your doctor or hearing specialist to learn what type of hearing solution is suitable for your specific needs. Not all products, features, or indications shown are approved in all countries.