Meet The Musicians At Beats of Cochlea 2017: Sharlene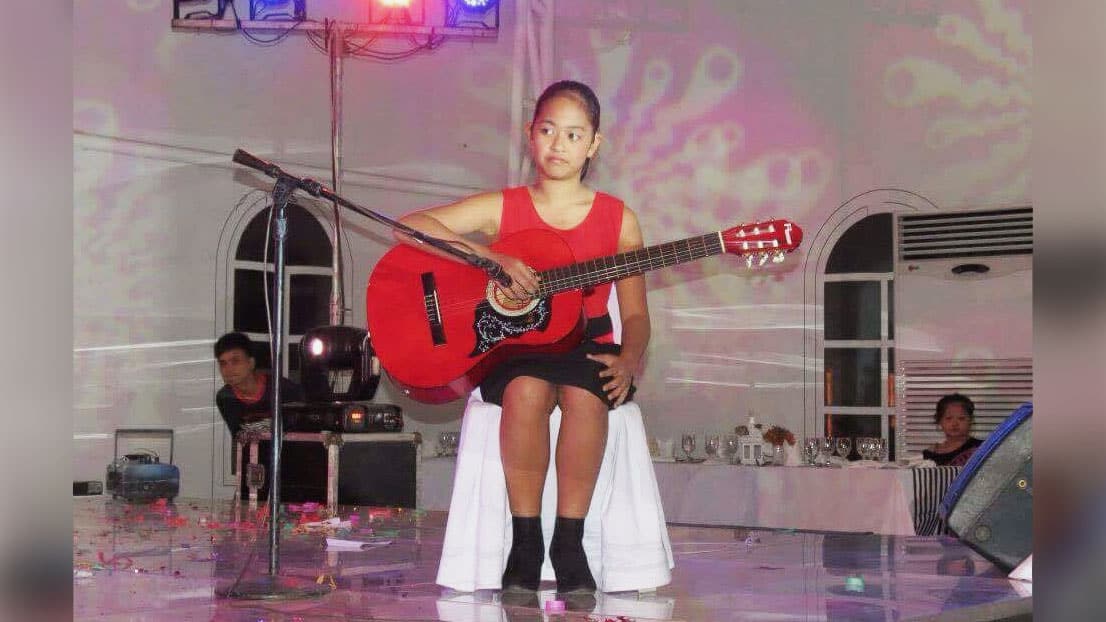 From 10-14th July 2017, talented musicians from around the world will get together in Warsaw, Poland for the "Beats of Cochlea", an international music festival. They represent a range of ages, backgrounds, and playing experience, but all the performers have one thing in common: they all use a hearing implant.
Over the next few weeks, we will introduce you to some of the gifted musicians who are traveling from all corners of the globe to perform at the festival. 17-year-old Sharlene from the Philippines started learning the piano at the age of 4, after receiving her MED-EL cochlear implant. Sharlene tells us about playing music with her implant, and how music inspires her in life.
Thanks for talking to us, Sharlene! Can you tell us a bit about yourself?
My name is Maria Sharlene M. Morta. I'm 17 years old, born and raised in the Philippines. I love to play different musical instruments, such as the piano, guitar, violin, and ukulele. I also love songwriting, which leads me to appreciate music more. And I used to dance ballet, contemporary, hip-hop and jazz.
How did you first get into music and why?
I discovered music at the age of 4.  I was in a small living room with a piano and felt the vibrations of it being played. Then later, I started to have piano lessons with my dearest grandmother. After five years of learning piano, I asked my mom if I could start learning the guitar, because I was inspired by Taylor Swift and her outstanding album, "Fearless".
After learning those two instruments, I wanted to learn many more musical instruments. In 2011, I learned how to play the violin and joined an orchestra. I also taught myself to play the ukulele through YouTube. A couple of years later, I started to write songs because there was something in me that made me want to share my experiences.
What does it feel like when you are playing music?
I feel so much more alive and active when I play these incredible instruments. For me, it feels like I am going on an adventure. I am on a journey to learn new beats, new sounds, and new ways to express my feelings.
Music means so much to me. It brings me up when I am down, it makes me happy when I am sad, and it enables me to relax by enjoying the rhythm. Whenever I needed a break from doing homework, or review for my finals, I just play any of my musical instruments or listen to a playlist on my phone. Music diverts my attention during these challenging moments. It makes me realize that surpassing these challenges help me to grow and become a better and happier individual.
Did you used to face challenges because of your hearing loss?
Yes. I used to feel inadequate compared to other people because I found it difficult to express my feelings in words. How I wished that I could be like an ordinary person in terms of how I constructed my sentences, how I chose my words, and how I could be understood by other people well. But as I went to school, I met friends who accepted me for who I am, and with my mom always guiding me, I feel that I can express myself a little better than before. But I accept that I have to do what normal people consider as ordinary, extraordinarily well.
Have you had any memorable moments since getting your cochlear implant?
The best experiences that I have had are in my day-to-day dealing with other people. Every day is an adventure because it helps me improve my communication skills by using the right words, and by interacting with different kinds of people.
For example, I started playing golf with my dad at the age of 7 years old, and my implant allowed me to understand the instructions of my pro golf instructor. I also played volleyball in school, and I was able to understand my coach during training and practice sessions, and I was able to communicate with my teammates.  Our volleyball team won the championships!
The ability to understand verbal instructions from sports coaches, teachers and parents, and to communicate with family and friends, allows me to continually discover new things that I love, now and throughout my life.
How does your cochlear implant help you when playing music?
Having a cochlear implant definitely helps me to be more precise with my music. It makes it easier to hit the right notes, which is always exciting, and helps me hear the whole composition in a polished way. Being able to hear also means I can help others to appreciate music. For example, I just visited my aunt and cousin in Canada. I was able to teach my cousin how to play piano more effectively and she recently passed the auditions in her school's talent show. At school, I also composed a song and I taught my classmates to sing it so we could enter a competition.
Were you excited when you found out about winning a place to attend "Beats of Cochlea"?
Absolutely, I am so excited to learn more from musical experts from across the globe. I can't wait to share my music with them and to get feedback so I can improve even more. I also want to learn from other people's experiences in how they cope with their hearing loss, how they overcome challenges, and how they set and achieve their goals and accomplishments.
What are your goals in the future, in music and otherwise?
My ultimate goal would be able to inspire people by encouraging them to aim high and reach their dreams, whether they have a hearing loss or not. And I really hope that I can write more songs and collaborate with amazing singers such as Adele, Ed Sheeran, Taylor Swift and other world-class artists.
See some of the incredibly talented musicians at Beats of Cochlea 2016 here!
Sharlene has now released her first single called "Can We All Just Love?". You can download the song here.
Thanks for your message. We will reply as soon as possible.