Making New Friends Through Music And Cochlear Implants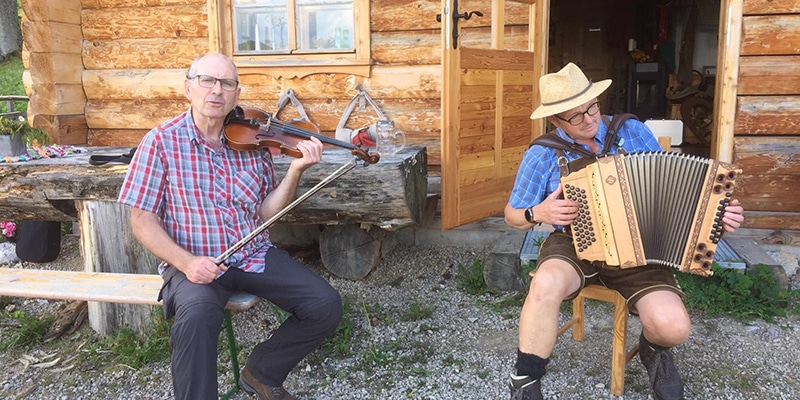 Heinz and Walter are two amateur musicians from Austria. The two of them don't only share a love for music. They also both use cochlear implants, and thanks to their hearing devices, can enjoy the world of music again. Both Walter and Heinz lost their hearing over the course of their lives. Both of them also struggled with the fact that they were no longer as independent, and found having conversations very difficult. At social gatherings they felt isolated. But it was the loss of music appreciation that hit them both the hardest. Not being able to play music and not being able to entertain people as part of their music groups was hard for the both of them.
And that's not all that Walter and Heinz have in common: Both of them also decided to get cochlear implants. And both were desperately waiting to discover their new way of enjoying music with CIs. At first, there was a feeling of disappointment. "After my first fitting I really didn't like listening to music, it didn't sound right", Walter recalls. His friend Heinz, who was implanted a couple of years later, agrees: "In the beginning my harmonica sounded terrible to me!"
But giving up was not an option for these passionate musicians. When Walter worked with a MED-EL research team, he met an audiologist who is a singer herself. She was dedicated to getting the most out of the audio processor software, especially when it came to music. Thanks to her, Walter was given a special MAP for music, and after many fitting sessions he worked hard on improving his musical hearing abilities. "Thanks to this MAP and the extensive music training, I really enjoy playing music again. I like to play the violin, the guitar and the saxophone for several hours almost daily. When the audience sings along enthusiastically, that really makes me happy."
Technology, Dedication And Hard Work For More Music Enjoyment
Heinz also put in a lot of effort to be able to enjoy music again. Together with a music therapist at his clinic in Austria, at home on his own, and even with a group during a three-week-long rehabilitation in Germany, he practiced regularly with his beloved harmonica. Step by step and after some time he could finally say: "It sounds good again!" The happiness he feels when he plays at social gatherings and spreads good spirits with his music is written all over Heinz's face.
Perseverance, a strong will to start listening to music from scratch and the dedication to regular intensive practice is essential for music enjoyment with CIs. However, there are also other important factors. The cochlear implant system needs to fulfill the technical requirements for the best possible music perception: a deeply-inserted electrode array, stimulating all areas of the cochlea and covering the entire spectrum of frequencies with high and low tones; a soft, atraumatic electrode array that preserves the delicate structures of the cochlea and that mimics natural sounds; and an advanced sound coding program that is also able to transmit even the complex details of music.
But Why Does Music Matter To Cochlear Implant Users?
For CI users who did not play music or did not enjoy it very much before their implantation, music might not be such an important consideration.
But recognising speech melodies, emotions and the meaning of a sentence, as well as better understanding in background noise, are only two of the many benefits regular music training might bring to all cochlear implant users.
Music Brings People Together
Music awakes memories and brings joy and happiness. In the case of Walter and Heinz it even brings new friendships. The two of them met at a local support group for CI users and soon discovered that they share a common passion: Alpine folk music.
During a short vacation with their families it wasn't just hiking, but also playing music, that was part of the program.  Their families, who still remember when Walter and Heinz couldn't hear, enjoyed seeing them playing music together.
During a short vacation with their families it wasn't just hiking, but also playing music, that was part of the program.  Their families, who still remember when Walter and Heinz couldn't hear, enjoyed seeing them playing music together.
Walter and Heinz also like to accept new challenges. Heinz recently participated in an alpine horn workshop and had a great time: "The workshop was such a special experience! Especially for CI users the alpine horn is a very difficult instrument. The conductor of the workshop is one of the best in this field. He is also the head of some choirs, so we also sang a lot during the workshop."
Walter now also shares his experience as music-playing and music-loving hearing implant user with others who have hearing loss. He answers questions from candidates who are curious about how music sounds with cochlear implants. And he gives personal and individual advice on how to best train listening to music with a CI.
Someone who also knows how users of hearing implants can achieve more music enjoyment is Johanna Boyer, a musicologist at MED-EL and a CI user herself. In this blog article she shares her favorite training material, apps and tips and tricks for music rehabilitation.
Last, but not least a tip for all music lovers: Have you discovered the MED-EL Spotify playlists created for hearing implant users yet? From sunny summer songs and Monday motivation tunes to the best of Beethoven – there is something for every taste in store, tailored to the hearing needs of CI users.
Thanks for your message. We will reply as soon as possible.
© MED-EL Medical Electronics. All rights reserved. The content on this website is for general informational purposes only and should not be taken as medical advice. Contact your doctor or hearing specialist to learn what type of hearing solution suits your specific needs. Not all products, features, or indications are approved in all countries.