How Kylie Regained 98% of Her Natural Hearing
In last month's article, 42-year-old CI user, occupational therapist, and singer Kylie told us all about her hearing journey and reaching her hearing goals with single-sided deafness. Today, she will share how close her CI hearing is to her natural hearing, what she did to reach this goal, and how her cochlear implant has impacted her singing and her daily life.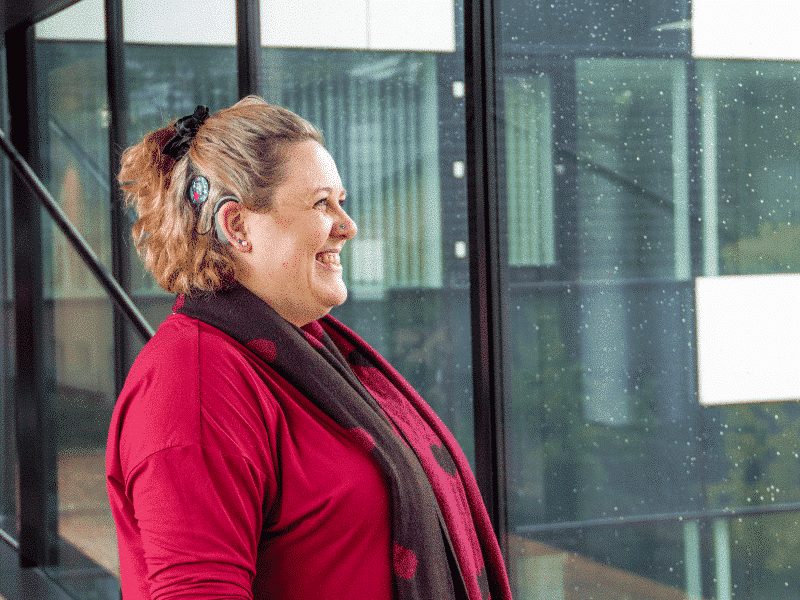 Music has been a big part of my life since I was a young child. My grandma, who was a pianist, inspired me to learn the piano. By the time I was in primary school, I had discovered singing, joined school choirs, and started singing lessons. Throughout my life, I have been in many different choirs to learn different styles, like classical, opera, and acapella.
Music as Motivation to Hear Again
When I lost my hearing, my biggest fear was that I wouldn't be able to sing and make music again. This was my biggest motivation in pursuing a solution through technology. I could not imagine my life without music. But singing was especially difficult. In the year before my surgery, I still went to rehearsals. But I couldn't hear people properly. I couldn't tell what volume I was singing at because I didn't have enough feedback. And I couldn't even tell if I was in the right pitch.
Nevertheless, I decided to stay in the choir and regularly go to rehearsals because it meant I didn't lose hope. Everyone supported me, and after I got my CI, I noticed that choir rehearsals really helped my development and my rehabilitation.
Training My Listening Skills With Unilateral Hearing Loss
The activation of my cochlear implant was nothing spectacular, as I had been able to hear normally for 38 years and only had less hearing for a year. Nevertheless, I was thankful that the activation was a success. I knew from then on that I wanted to do everything possible to get my hearing back.
This is what I did to train my listening skills:
I used different rehab apps like Angel Sound which were really good to start out with.
Since YouTube videos and documentaries have very few speakers, I watched them with the captions turned on. As soon as it got easier to understand, I turned off the captions and checked whether I could still follow the video.
After that, I listened to the same podcast many times to get used to one person's voice and understand them easier without any visual cues.
I found that deep male voices were much easier to follow, so I listened to them until female voices sounded clearer and I was able to understand them just as well.
Over time, I noticed I was able to understand and enjoy any kind of general entertainment and adapt to new voices quickly despite single-sided deafness.
98% Of My Natural Hearing
Compared to my natural hearing, I can't say it's exactly the same with a cochlear implant. Thanks to my research on the Hearpeers forum, I was prepared for this. But before my activation, I had no idea how close I would get to my natural hearing.
If I do something very challenging–for example, if it involves listening to music without my other ear–hearing with my CI is different. But this situation is not part of my daily life. Today, my hearing is extremely good in most situations, and I can't really hear a difference.
When I'm performing, my hearing with a cochlear implant is 98% of my natural hearing. When I'm at work or at home, my CI hearing is indistinguishable from my natural hearing.
Participating in Sound Sensation
I really enjoyed the idea that I could give something back to the community that has supported me and given me so much. I was happy to be involved in Sound Sensation, MED-EL's music festival in Vienna in 2022. I saw it as an opportunity to pay it forward to other people who might benefit from this festival.
My Hearpeers Experience
When I was new in the CI community and still pre-surgery, I spent a lot of time reading everything and chatting with other CI users on the Hearpeers forum. Everyone on the forum was so generous in responding and providing lots of support. And I found that so useful and reassuring. They have so many ideas to share with the community. It's a space where you can learn so much about new technologies and devices that can improve your life with hearing loss. We also share useful information on troubleshooting devices.
My experience on the Hearpeers forum has been very positive. It shows me that I'm not alone with my hearing loss and reminds me that there is a whole community that will always be there to understand and support me.
That's why I'm a Hearpeers mentor. I want to help others with hearing loss get the answers and the reassurance they need. And I want to give back to the community in this way. If you are looking for support for yourself or someone you might know, you can connect with me via my Hearpeers profile.
My Advice to Others With Hearing Loss
You can't ignore hearing loss. I recommend getting informed about your situation as soon as possible. Do research and talk to health professionals, other people with hearing loss, and cochlear implant users online. Only then can you decide what's best for you and the future of your hearing.
Thank you, Kylie!
Connect With Kylie
Do you also have single-sided deafness and are considering getting a cochlear implant? Hearpeers mentor Kylie will be happy to share her experience and answer your questions.
Get in touch
Thanks for your message. We will reply as soon as possible.
The content on this website is for general informational purposes only and should not be taken as medical advice. Please contact your doctor or hearing specialist to learn what type of hearing solution is suitable for your specific needs. Not all products, features, or indications shown are approved in all countries.