How Jodie Overcame Hearing Loss To Become An International Athlete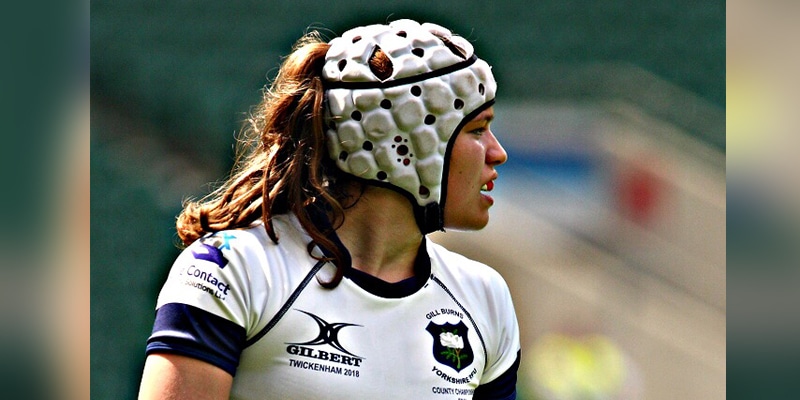 Meet Jodie Ounsley. She's a cochlear implant user and international athlete. After representing her country in several sports, Jodie is now at the start of a successful career in professional women's rugby. What's more, she's just 17 years old.
We sat down with Jodie to find out all about her sporting achievements, and to get her top tips for playing sport with a cochlear implant.
My name is Jodie Ounsley. I'm a 17-year-old deaf athlete from Dewsbury, West Yorkshire, England. I live on a college campus at Loughborough, training full time as a rugby player. In my spare time I like hanging out with my team mates.
Can you tell us about your hearing journey?
I was born prematurely and needed lots of antibiotics, one with well-known side effects connected to hearing loss. It was established in the first few months of my life that I was profoundly deaf on both sides.
My family didn't know how being deaf would impact my life so in the days following diagnosis they arranged a meeting with a health professional. I was fitted with a cochlear implant aged 14 months, which was quite young at that time. My parents had pushed for the operation to be done as soon as possible. It's more common now to fit early.
Have you always been interested in sport?
I've always been very competitive and interested in sports. I always hear about when I was two or three years old, I picked up a sack of carrots, put it on my back and started running around a dining room table at top speed. I just kept going and going. I think it was at that point they realized I was going to be an athlete.
I went on to do well in several sports such as athletics, and I was a former British champion in Brazilian jiu jiutsu. I represented Great Britain in 100m and 200m at the Deaflympics in Turkey. I qualified as a 15-year-old, which made me the youngest person in the athletics event.
I'm also a 5-time world coal carrying champion. It's a bit of a Yorkshire tradition, sprinting a course from the pub to the Maypole with coal on your back. I don't think it will be in the Olympics anytime soon!
How did you first become interested in rugby?
I always wanted to play rugby, it just really appealed to me. My Dad always tried to put me off. But once my younger brother started playing, he was coming home every week telling me about it, and it made me even more determined to have a go.
I think my Dad thought I'd give it a go and stop. I trained one week and was invited to a game as a substitute the next weekend. I didn't really know the rules other than you had to score tries. I came on the field in the last few minutes on the wing. Just when I thought I wouldn't get a touch, the ball came to me in my own half. I stepped a couple of players and ran the length of the field to score a try with my first touch. I was hooked.
What have been your proudest moments in rugby?
The last few years of rugby have been a bit of a whirlwind to me. I progressed very quickly through the levels: starting at my first club, Sandal RUFC, in the u15s, then Yorkshire, north England and England u18s at 15 years old. I've played at Twickenham, the home of England rugby, not once but twice in the last few weeks. Both times were finals for different teams. I was very honored to represent Yorkshire senior women in the county championships, with a 52-0 win over Surrey. I had a dream start by scoring a great try with my first touch.
I've also just recently returned from Australia. I represented England deaf women in 15-a-side and 7-a-side, and we won gold. But the experience for me was much wider than winning a rugby tournament. I don't regularly mix with other deaf people, but I felt very at ease and comfortable around other deaf players. We all have had to deal with similar issues in our lives around communication. The deaf England team are an amazing bunch of people who really helped and supported me as the baby of the team.
How does it feel to be competing at such an elite level of competition?
It's all happened so quickly for me. Rugby is an enormous part of my life now. Alongside my academic studies, it's my career and most of my main life goals revolve around future big rugby achievements. It's a very exciting time for me, I'm now regularly getting amazing opportunities to travel and play in big games with amazing players. Women's rugby has really taken off in recent years, it's a great time to be in my position.
Does your hearing loss affect you when playing sport?
In athletics it wasn't a big issue competing against hearing competitors. Sprinting doesn't need much communication. It's really the coaching and training which needs a bit of thought and planning if you want to learn.
At the Deaflympics, everyone had to remove all electronic devices to give a level playing field. This did feel very weird for me, as all I have ever known is my cochlear implant. Even running without it felt odd, I couldn't hear the wind sensation, crowds cheering, my breathing etc.
Rugby is a team sport, where communication is much more important. I've had to plan ahead and work out strategies to overcome not hearing as well as my hearing teammates. On the training field I tend to get new moves and longer explanations on the touch line face to face, rather than having them shouted across a field in bad weather with lots of other noises. There has been the odd embarrassing situation when I've missed the whistle and continued running to score a try but in the main it's all been good.
What advice would you give to other young deaf athletes?
Don't be put off thinking you won't be able to understand, communicate or keep up with what's happening. I've found the best strategy is to be open and upfront right from the start. Let everyone know what you can and can't do and what will help to make communication easier.
I always try and keep fairly light hearted about my hearing loss and maybe make a joke about me not ignoring everyone and explain I'm just mishearing things! It helps break the ice a bit. It is probably the case most of your team mates and coaches won't have any idea about hearing loss and how it affects communication. Most of my teammates still find it hard to comprehend I hear nothing without my processor!
Do you see your future in rugby?
What I thought was going to be a hobby is giving me career opportunities. I moved away from home at 16 to live on campus at Loughborough on a high potential sports program with elite rugby players. I train and study full time and have recently joined a premiership club, Loughborough Lightning.
My life is so busy and hectic at the moment but I wouldn't want it any other way. In the next few weeks I'll be playing for England in Bulgaria. I'm also receiving lots of exciting offers, so who knows what will happen next!
Thanks, Jodie!
Swimming, volleyball, or dressage? Check out our top tips for playing sport with a cochlear implant.
Find out more about how cochlear implants work and how they could help you or your child.
Thanks for your message. We will reply as soon as possible.
The content on this website is for general informational purposes only and should not be taken as medical advice. Please contact your doctor or hearing specialist to learn what type of hearing solution is suitable for your specific needs. Not all products, features, or indications shown are approved in all countries.