"Having my second implant was pretty mind-blowing": Ruth's Journey to Music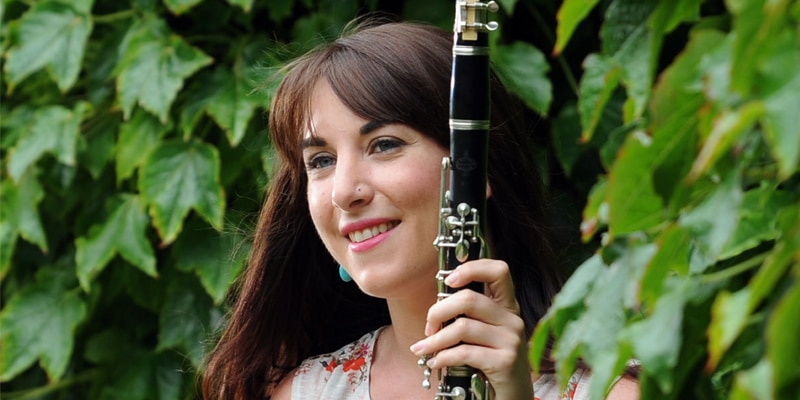 Ruth was born with profound hearing loss and also with great musical talent. Since the age of eight, she has been a passionate musician, playing the clarinet and saxophone in woodwind groups and orchestras. Getting bilateral cochlear implants has been "truly life-changing" for her as she is now able to hear music in stereo.
We talked with her about music and hearing loss and the impact both elements have on her life.
Tell us about your hearing journey—when did you start using a hearing implant and why?
I was born profoundly deaf so I've never known anything else. I went to a mainstream school and wore hearing aids, but it was very tiring and I never felt like I really integrated. I got my first cochlear implant aged 13 and have never looked back! Although I got a lot of benefits out of one implant, I always felt like having two would be even better. Luckily for me, NICE changed their guidelines to recommend two implants for children—so because I had received my first implant as a teenager, I had a second implant aged 23. Having two has been brilliant. It took a while to get the two ears to work together, but bilateral music with stereo sound is just amazing.
What worries and fears did you have before getting your hearing implant? What helped you to cope with these insecurities?
I was a bit worried about the operation, having my hair shaved, and having the time off school, then only
wearing one hearing aid while I was waiting to be activated. However, it all went smoothly, and I wasn't so worried about the second operation, just excited. By the time I had my second implant, the surgery had changed so that the incision was much smaller, and I had hardly any hair removed that time around. The recovery time was also much shorter.
I listened to quite complex and layered music, which was a real challenge, but which really helped my musical "ear" to develop.

What does music mean to you?
Playing music and listening to music has been a huge and integral part of my life since I was small. My parents found out I was deaf when I was very small and before I learned to talk. Mom spent a lot of time singing to me and teaching me pitch and melody. I can remember this so well that I can still recall the intervals she sang—thirds and fifths. I'm sure this early exposure to music really helped me to talk and communicate clearly. It also laid a solid foundation for musical training with hearing aids and later one, then two, cochlear implants.
Music was also a huge part of my peer group as a teenager—we used to go to live gigs together, and crowd into bedrooms and listen to mix tapes. My best friend would print the lyrics off and help me to follow them by pointing with her finger in time to the music. I listened to quite complex and layered music, which was a real challenge, but which really helped my musical "ear" to develop, so to speak.
My parents listened to lots of eclectic music and encouraged me to play the clarinet. I did my ABRSM exams and played in a woodwind group and orchestra. It never occurred to me that it was quite unusual for a deaf person to do these things, although I didn't know any other deaf musicians—I do now, though.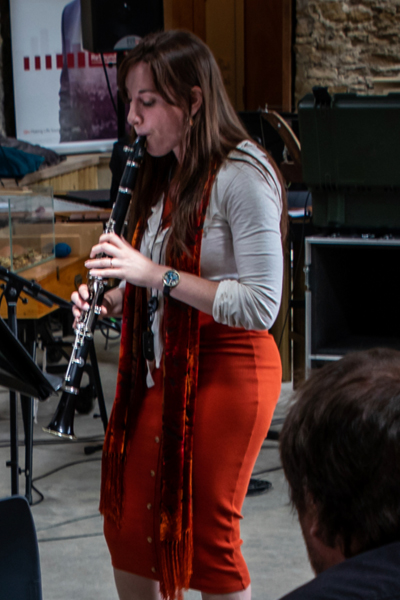 How has your music appreciation changed after getting cochlear implants?
Music sounded really different at first. Not bad, but different—the physical and sensory experience of hearing, and listening, through an implant is very different than through your ears. Eventually, it
really paid off because music was so much clearer.
I could hear instruments like flutes and tambourines that I'd never been able to pick out before. I could hear vocals clearly and follow lyrics. It was also important to me that music sounded beautiful—I am happy to say that I managed to achieve this with my cochlear implant. Having my second implant was pretty mind-blowing because I could finally hear music in stereo! That was truly life-changing.

Can you think of an especially memorable moment from your hearing journey? Was there a special moment connected to the appreciation of music?
Yes! When I thought a pair of headphones was broken because I could hear different things on each side. I emailed the company to complain, and then realized that they were not broken, I was just hearing stereo sound. I love hearing in stereo now! I can watch a movie with headphones and hear the direction a car is traveling in, for example. I still find this very novel and very rewarding.
Do you have any special advice for musicians who experience hearing loss?
Yes—work with what you have; don't focus on what you don't have. Focus on your abilities and not your perceived limitations. It's the only way you'll push yourself beyond what you thought was possible.
Being a deaf musician is different, but not inferior.

How has your personal story as a hearing implant user contributed to your hobby as a musician?
In the last decade or so, since having my second implant and rediscovering the clarinet, I have really enjoyed getting to know other deaf musicians through Hearpeers and the Association of Adult Musicians with Hearing Loss (AAMHL). I've also become involved in audiological research related to music and implants. I met Andrew Hugill, the inspiring founder of "Aural Diversity," in 2017, taking part in a couple of concerts in 2019.
I then went to the second "Music and Cochlear Implants" conference in Montreal in 2018. From there I became part of a research group that published a peer-reviewed paper in Frontiers in Neuroscience in 2019. I'm currently working on a further study with Dr. Kate Gfeller, and hope to present these research findings at the third Music and CIs conference at the University of Cambridge this year. My key takeaway from all of this? Being a deaf musician is different, but not inferior. I perceive, experience, probably even play music differently, and the incredible hard work that has gone into my journey so far is a testament to my strength and perseverance.
Do you have a favorite musical tool, app, music piece, or Spotify playlist song you can share?
My favorite app is Apple Music—I have also used Amazon Prime Music and Spotify. I like that all three tend to offer a lyrics feature on most songs. I also recommend an app called Cleartune. As a woodwind player without a piano, this is pretty indispensable! I tried singing lessons for a couple of years, too, and found a tuning app very useful before I started a piece.

Ruth is also a Hearpeers Mentor, supporting other cochlear implant users and candidates along their hearing journey. Want to learn more about the Hearpeers program or get in touch with a mentor? Head over to hearpeers.com
Thanks, Ruth!
The content on this website is for general informational purposes only and should not be taken as medical advice. Please contact your doctor or hearing specialist to learn what type of hearing solution is suitable for your specific needs. Not all products, features, or indications shown are approved in all countries.