Representing the Beauty of Hearing: Freddy's Design Cover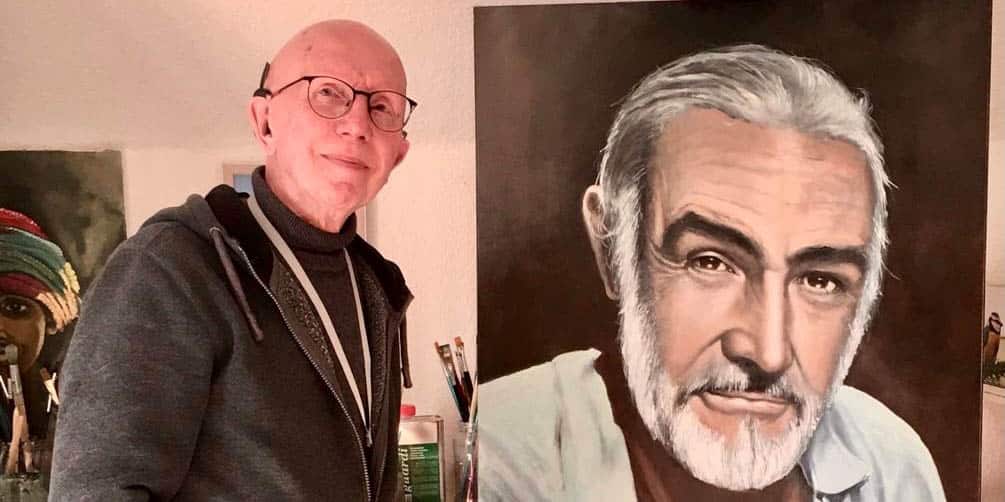 Meet Freddy Rode, one of the four artists behind our latest limited-edition design covers. As a bilateral cochlear implant user, Freddy is proud to have designed a cover that CI users all over the world will wear on their audio processors. In this blog article, Freddy shares his hearing journey with us, as well as his artistic background, and explains the message behind his design cover masterpiece.
My name is Freddy Rode, I'm from Germany, and I've been working as a freelance artist for 60 years. I studied painting with a focus on portraiture. I retired ten years ago, but I'm still painting and currently preparing two small exhibitions and a bigger exhibition for my 80th birthday. I find the motivation for my art in nature, literature, and everyday life.
Wearing My CIs With Pride
My hearing journey started in 1986, when I had a cancer surgery on my right ear, and I experienced hearing loss for the first time. I felt it slowly getting worse and that was the time my doctor mentioned cochlear implants to me. From that moment on, I used every opportunity to speak with people with a CI: I spoke to them on the street and on the bus as I wanted to find out more about their experiences.
I decided to get my own cochlear implant seven years ago, when I lost my hearing completely from one day to the next. To this day, I don't regret my decision. My CIs mean a lot to me. They are not just decoration on my head and not just deliberately kept dark so that they can be recognized more quickly, but they are a micro-technology that I simply admire every day.
Independence Thanks to Cochlear Implants
Being able to hear again means everything to me—it means to live again. Before I lost my hearing, I didn't take it so seriously, because while I'm working, I'm in my own world and I don't hear anything. The situation became hard for me when my hearing loss turned into full deafness, and I felt very restricted in my everyday life. Suddenly, I couldn't have conversations with my wife anymore. Instead, we started using our smartphones to type in what we wanted to say.
In larger groups, I got excluded more and more, since I wasn't able to hear questions and therefore be part of conversations. That's when I knew I can't let my hearing loss control my life. My cochlear implants have given me back my independence and the possibility to interact with people again.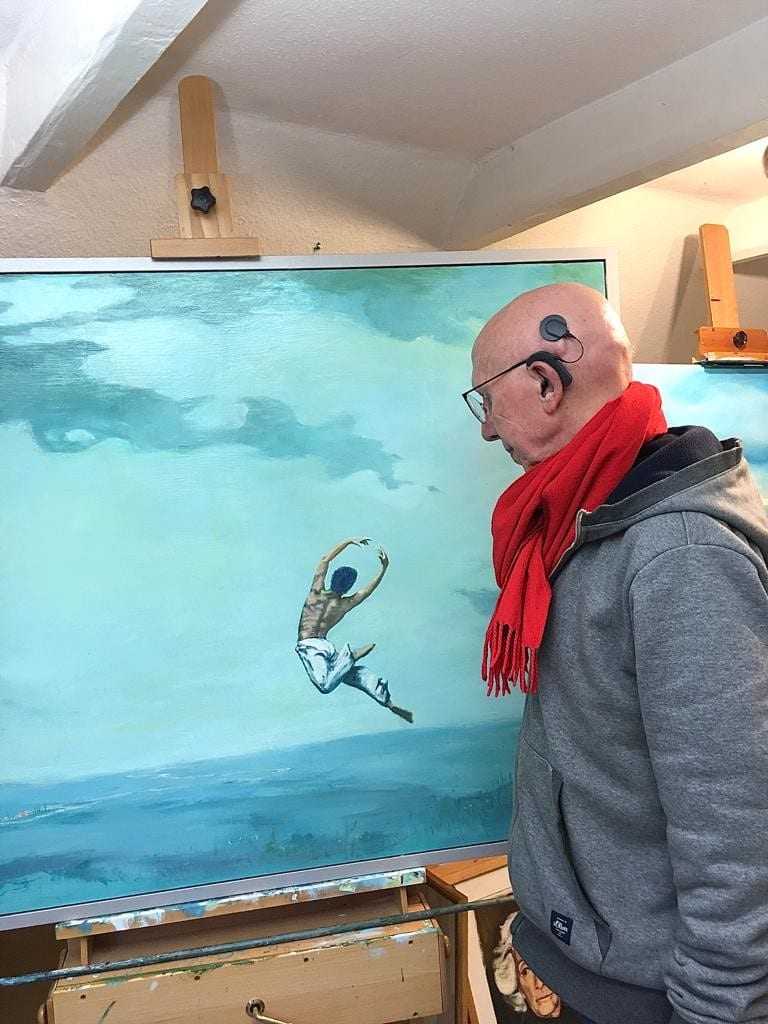 The Purpose Behind My Art
My artistic style is called Fantastic Realism. My art always has a meaning. As an artist, I have conditions to myself and to my work that have to be fulfilled. Usually, I have an idea or information that I want to get across, sometimes it's a complaint that I want to make—and I wrap this information up in shallow, bright colors, but always with a deep message behind it.
There's nothing better than listening to people at my exhibition talking about my art and understanding the message behind it. If I got the message across, I have achieved my goal.
The purpose of my life and why I'm an artist is to share my art and the messages behind it. With all the technical possibilities today, it is much easier to share art with a bigger audience. Artists of all kinds have the duty to inspire and make their audience aware of certain topics, and social media makes this so much easier.
The Meaning Behind My Lotus Blossom
The design cover I painted is a lotus blossom. For me, the lotus flower has something to do with Buddhism, namely it is a blossom that emerges from the darkness of the mud.
This darkness resembles the darkness of hearing nothing, the dull lack of sound. In this environment, the lotus blossom works its way up to the light and spreads its blossoms out one by one.
This thought reminds me of the feeling of waking up in the morning, the sun rising and me starting to hear the world. With my design cover, I want to represent the beauty of hearing, especially after such a long lifetime of silence.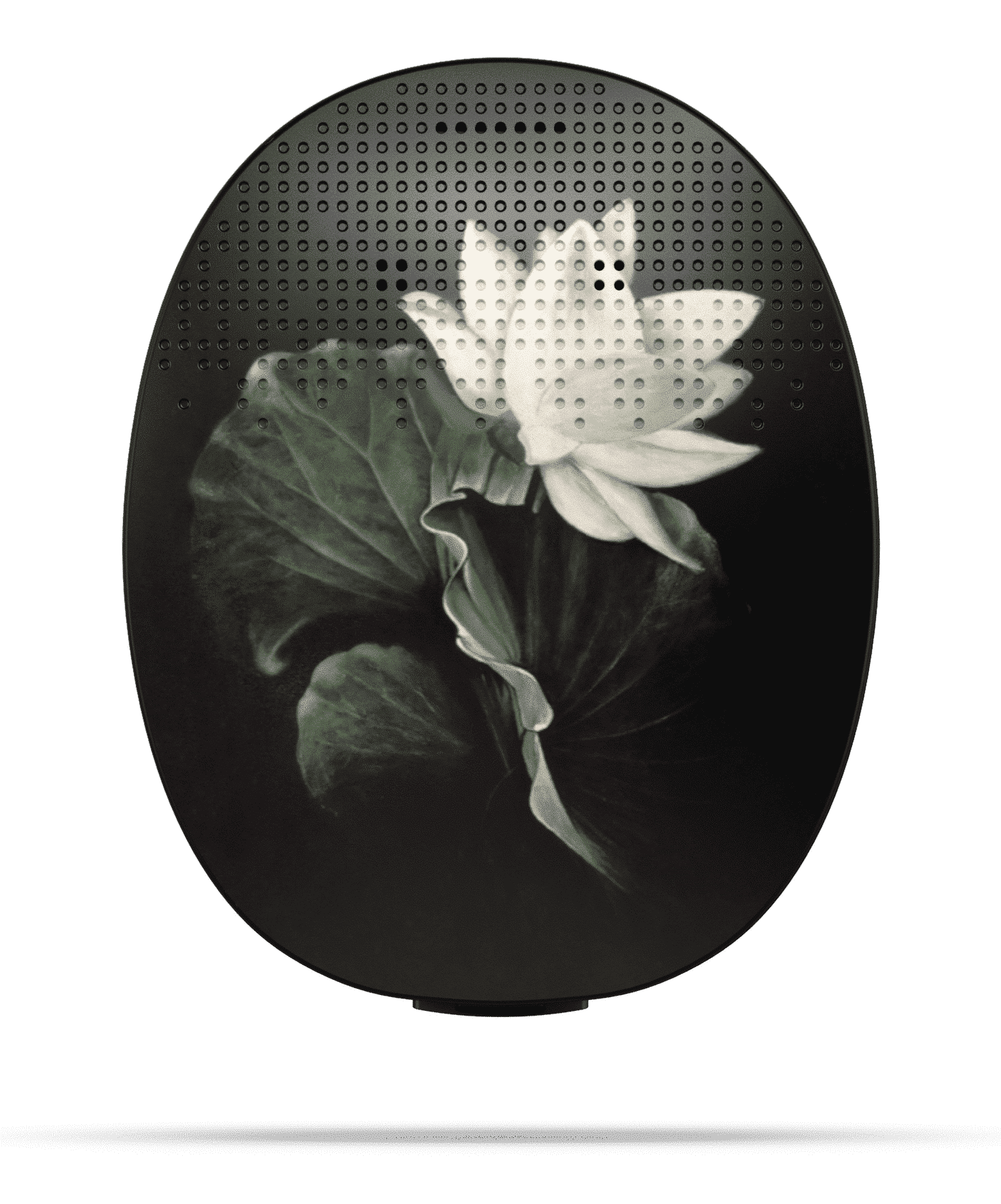 I would like to thank my doctors who have supported and helped me to get both ears implanted. This is very special at my age and I appreciate it a lot.
I would also like to thank my wife for her never-ending love and support throughout my entire artistic life. She has always given me the freedom I need as an artist. With her by my side, I'm able to live my artistic dream.
Thanks for your message. We will reply as soon as possible.
The content on this website is for general informational purposes only and should not be taken as medical advice. Please contact your doctor or hearing specialist to learn what type of hearing solution is suitable for your specific needs. Not all products, features, or indications shown are approved in all countries.