Cochlear Implants in Pakistan: Muhammad's Daughters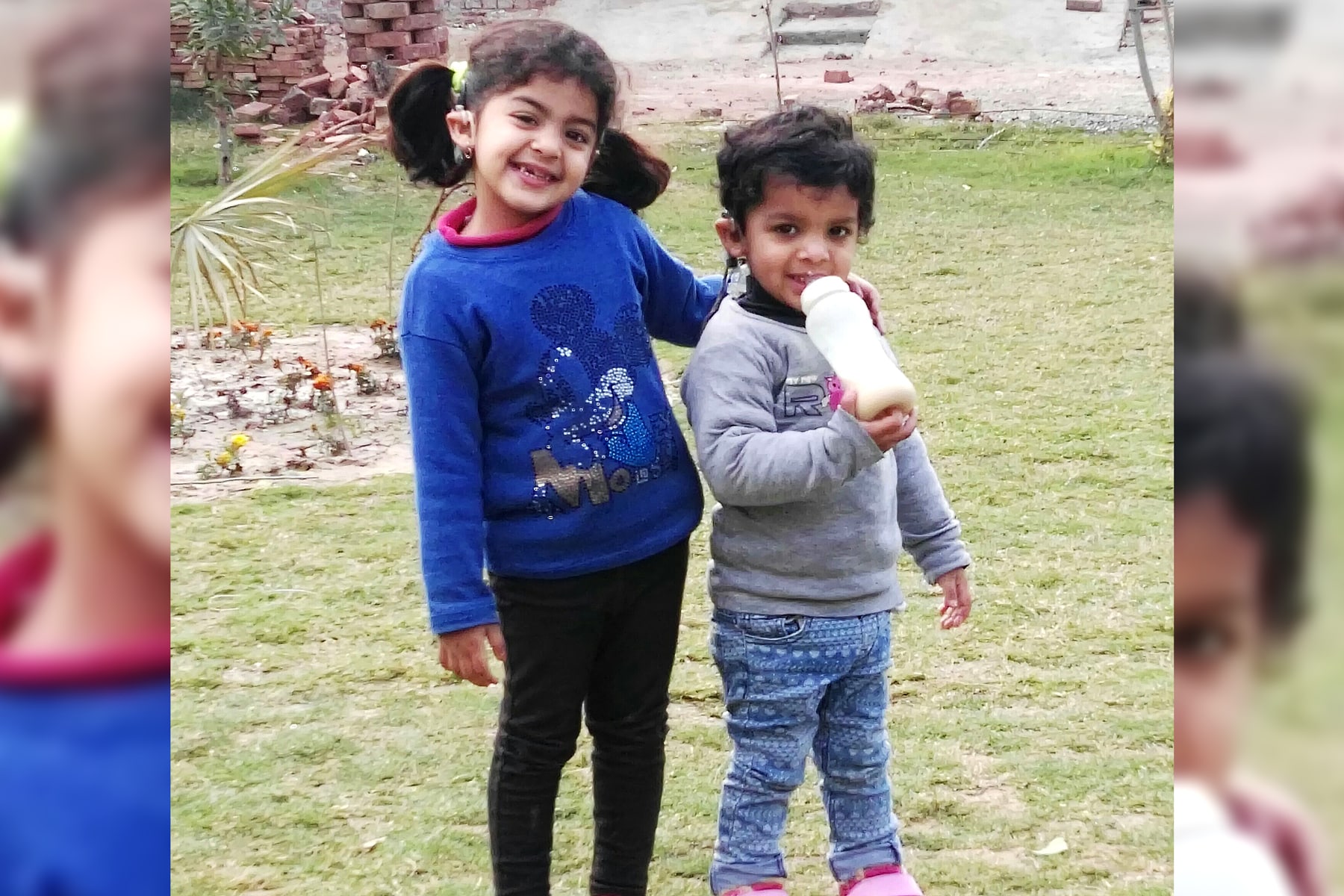 Muhammad Bilal Haider is the father of two young girls who were each born with sensorineural hearing loss. They live in Pakistan, and Muhammad had to search a great deal before learning about a treatment for their hearing loss. When he finally learned about cochlear implants in Pakistan, their whole world changed.
My daughter Hareem was born on April 25, 2012, and with time she seemed to grow into a very active and normal child.
When she was 6 months old, one of our close family members started to notice that she wasn't responding like the other children. So we took our daughter for a Brainstem Evoked Response Audiometry (BERA) Test to check her hearing. As neither my wife's nor my family have no history of hearing loss or any other genetic disorder, we went in with very peaceful minds.
However, the test results absolutely devastated us: her doctors told us that she had bilateral sensorineural hearing loss. So, we asked about the best plan of action.
A Lack of Information
Unfortunately, we consulted many doctors and each had a different view. Initially two doctors suggested that we try an expensive hearing aid. Although we couldn't afford it, we still managed to buy a hearing aid for our beloved daughter. We were ready to pay any price to give her a normal life.
Sadly, those hearing aids were too big for our little angel. Hareem found them painful and heavy. But, we still had her wear them because her doctors suggested they might help. Regrettably, no hearing aids worked so we took her in to have another BERA Test.
Learning about Cochlear Implants in Pakistan
We were really confused. We had millions of questions in our minds and so many fears, but no guidance. So we took our daughter to one of the best audiologists in Pakistan. We left our hometown, I had to leave my job, and we went through financial crises.
But then at last our efforts were fruitful. After struggling for a long time, we found good audiologists who suggested that hearing aids were not appropriate for Hareem's type of hearing loss. They said she needed a cochlear implant (CI). With the help of a cochlear implant and speech therapy rehabilitation, we were told she would be able to hear normally.
In the darkness of misery and despair we found the light of anticipation and hope. No doubt a cochlear implant would be an expensive treatment, but we would go to any limit for our beloved daughter's bright and healthy future. So, we visited The Audiology Centre in Lahore, Pakistan, one of the best institutes in Pakistan regarding hearing loss and cochlear implants. There, they decided for our daughter to receive a MED-EL cochlear implant.
Hareem's Cochlear Implant
After an MRI and blood tests, the doctors said it was okay for her to have the CI implanted. The implantation went well, and we couldn't wait anymore to hear our beloved Hareem's voice. She recovered really quickly. Just a month after surgery she was able to have her audio processor activated.
Until this point, she hadn't heard any sounds.
When she heard sounds for the first time in her life, we could see the spark in her eyes. She stepped into a new world, and it was as if she was born on that day. We were not able to control our tears; they were tears of happiness. She heard her mom and dad, and even her own voice, for the first time. We have no words to express our beautiful feelings.
Both of us parents have to work really hard, especially her mom. We found good speech therapists who guided us all along so that Hareem can now hear perfectly with her MED-EL processor. Now she is going through speech therapy, and her vocabulary is expanding so she can speak short sentences. And, one day, she will not only speak normally but will go to mainstream school with all other normal kids.
Muhammad's Second Daughter's Hearing Loss
Then on March 16, 2014, we were blessed with another daughter. Like Hareem, Maryam Bilal also had bilateral sensorineural hearing loss. So, when she was aged 18 months, she also received a MED-EL cochlear implant.
Now, Maryam Bilal is even more mischievous and active than Hareem. She couldn't control her laughter when she heard sounds for the first time. Many other children get scared by new sounds, but she loves to hear them. She is going through rehabilitation now and enjoying her life. No doubt, my girls are amazing. Thank you, MED-EL.
Thank you, Muhammad!
SUBSCRIBE to the MED-EL Blog for more inspiring stories like this one.
Do you have a cochlear implant story that can inspire others? Let us know in a comment below!
Thanks for your message. We will reply as soon as possible.