A Pianist with a Cochlear Implant: Elizabeth's Story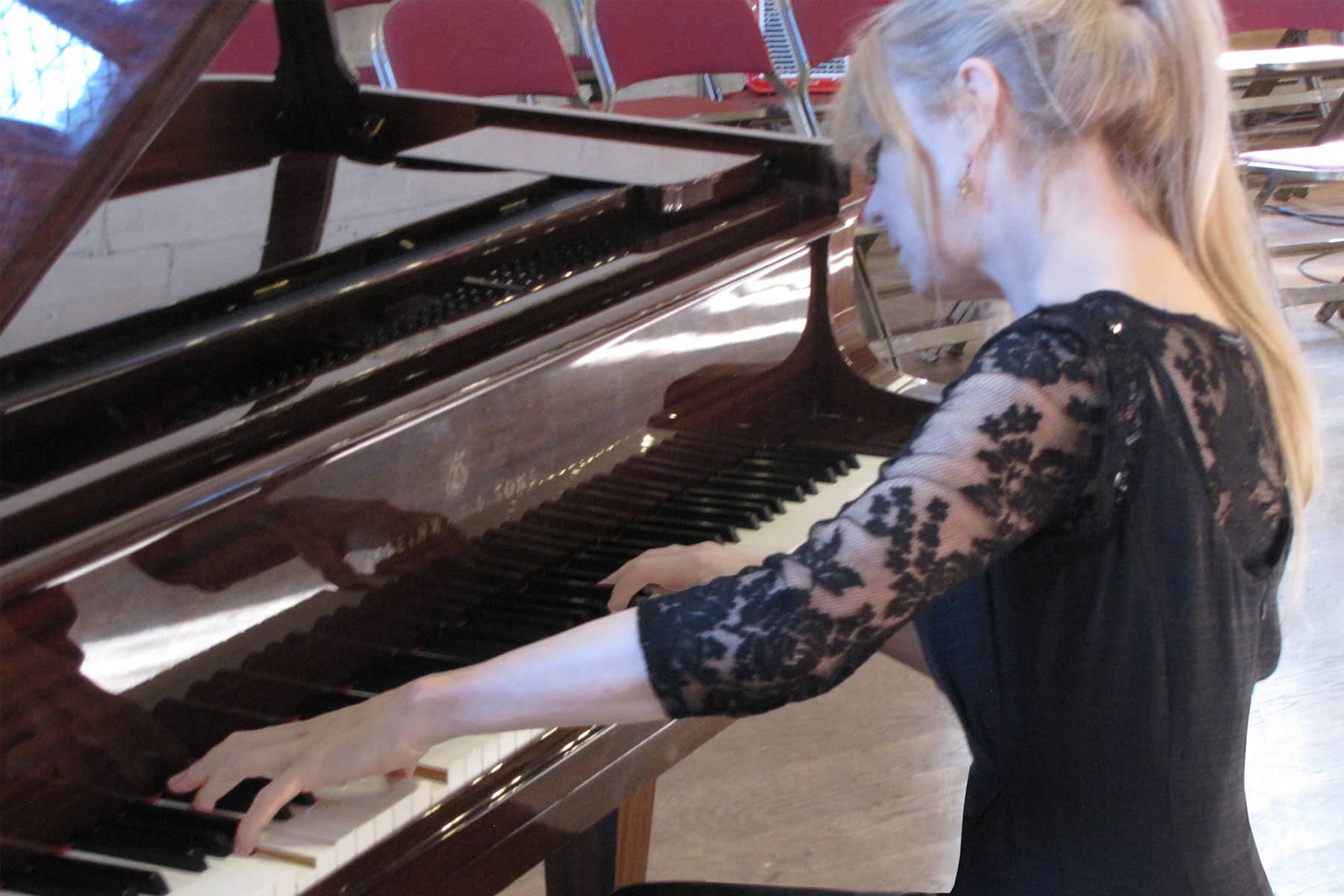 Elizabeth Elliott is a pianist with a cochlear implant from MED-EL. She recently performed at the Beats of Cochlea Music Festival and is currently helping to organize the Cowbridge Music Festival with her daughter. Here we're excited to share her story of hearing loss and her cochlear implant:
As a cochlear implant user, my first wish is to try and convey hope to other people who, like me became deaf, but now have an implant. Having as I do a lifelong love of music, my thoughts are specifically from a musical point of view.
My Musical History
I began lessons on the violin and piano when I was about 10 years old. Later, I went on to study violin and piano at the Guildhall School of Music and Drama, London. It was in my final year there that I started to lose my hearing at the age of 21.
When I graduated, my hearing loss was slight, but I was already experiencing difficulties. However, I pursued my career as a freelance violinist and also as a violin teacher, working as a full time musician in London.
At first, my hearing loss was gradual and I managed to keep my career going, but hearing music became increasingly difficult and I could no longer play my violin in the way I once had. By the time I was 25, I could not hear a symphony orchestra properly or the radio and television.
Hearing aids helped in the early stages, but were of no help at all as I became profoundly deaf. Devastated, I remember tears rolling down my face when I could no longer hear at a concert. My world had become silent and my career as a violinist was over forever. I was dependent on lip reading and people writing down what was being said.
I was therefore desperate to have a cochlear implant. There was a long wait, but finally in 2007 I received a MED-EL PULSAR 100 Cochlear Implant at the University Hospital of Wales. I shall always be grateful to have this implant and for the expertise of my surgeon, my technician and audiologists.
[mk_blockquote font_family="none" align="left"]It seemed like a very slow process. But each small step was an encouragement.[/mk_blockquote]
A Pianist with a Cochlear Implant
When the great day came for the implant to be switched on, I was over the moon to be able to hear sounds again. I could not understand speech at first and the piano was just a jumble of noise, like everything else—but as the days, months and years went by, my hearing became better.
Very gradually, I could have short conversations and begin to try to work out what music sounded like. However, I sadly had to abandon playing my violin forever, as I was not able to hear the fine tuning necessary for this instrument.
But it was the piano that was to become my redeemer. At first its sounds were so distorted that I nearly gave up. Nonetheless, I persevered over several years and the breakthrough came when I discovered that initially I could hear much better with an electronic keyboard. Within two weeks of acquiring my excellent Roland FP7F, I had practised and practised and given a concert on a ward at the University Hospital of Wales. I now play regularly at hospitals, hospices, cafes and events.
Being able to play again didn't come quickly. In fact it seemed like a very slow process. But each small step was an encouragement, and therapeutic for me too, with the realization that I would be able to make music again. In fact, now, eight years since my implant, my perception of music is still improving. I feel this is because I am continually practising, searching for the sound of notes, the sound of the melody, the sounds of the harmonies. I can now, for example, with a lot of work, play the music of Chopin and also I am able to play an acoustic piano again.
How I Hear and Learn Music
Learning a piece of music is like piecing together a jigsaw puzzle. I use all my abilities and put them together to achieve a result.
There are two important issues to begin with. Firstly there is the tone of the instrument. For example, I can now immediately tell a beautiful tone from an inferior tone. So that's fine. Tone quality is very good. The second issue is the actual hearing of pitch.  This is more tricky and has to be worked on in the following way.
[mk_blockquote font_family="none" align="left"]
My implant has completely transformed my life for the better. It has given me great happiness, and has enabled me to come out of a silent world and to communicate again, especially through playing the piano.
[/mk_blockquote]
First of all I hear the music in my head and then try to gauge the pitch and key. I hear the beautiful tone and I watch my fingers as they move from one interval to another. Using my eyesight is enormously important to my 'hearing', as is the feel of my fingers on the keyboard. Using these abilities and combining my memory of how it sounded before I went deaf with how I hear now, I piece the music together with hours of practice.
For me, all my hearing comes from my implant on the right side. I will memorize the right hand so that it looks after itself and I can therefore add the left-hand harmonies more easily. I need to work out in advance the different keys the piece goes through in order to relate to the changes in key as I play. I do have the benefit that I can remember how the music sounded before I went deaf and that helps me to interpret music now, so having  a musical training and music in my memory is obviously a great advantage to me.
But the sound I hear from my implant is the major piece in this jigsaw puzzle. If I were to switch off the power I would not hear anything at all and I would be completely unable to play. So the wonderful fact that I have this implant means that I am able to play.
My implant has completely transformed my life for the better. It has given me great happiness, and has enabled me to come out of a silent world and to communicate again, especially through playing the piano.
It is my greatest joy and consolation to once again be able to be a musician and I shall be forever grateful to my medical team and for my MED-EL cochlear implant.
Playing at the Beats of Cochlea Festival 
Playing at The Beats of Cochlear Festival came about as the happy outcome of having my cochlear implant. On a lucky day I had been out playing my piano at a hospital where there was a Med-El representative. One event led to another and  I was recommended to compete in the festival and to play Chopin. What a benefit it was as well to make friends with the other musical participants from all over the world who share the same passion for music.
And so to all of my dear friends at The Beats of Cochlea International Music Festival, I want to thank you from my heart for giving me the opportunity to take part in The Beats of Cochlea International Music Festival in Warsaw.
It was an incredible event and an inspiration that will stay with me always. It was such an honour and privilege to attend and I so loved playing the beautiful Steinway grand pianos.
I miss you all now that I am back home, but I have gone straight back to my piano with renewed thought and feeling. The enthusiasm and encouragement from you all has put new life into me.
I thank you most sincerely my dear friends for giving me this amazing opportunity.
The Beats of Cochlear International Music Festival and all your kindness will stay with me forever.
With my sincerest best wishes to you all
and thank you so much
Elizabeth
And thank you, too, Elizabeth, for sharing your story with us!
Elizabeth is a volunteer HearPeers Mentor. To chat with her about your hearing experiences and their life with an implant visit the HearPeers website.