Starting School: 9 Ways To Develop Reading Skills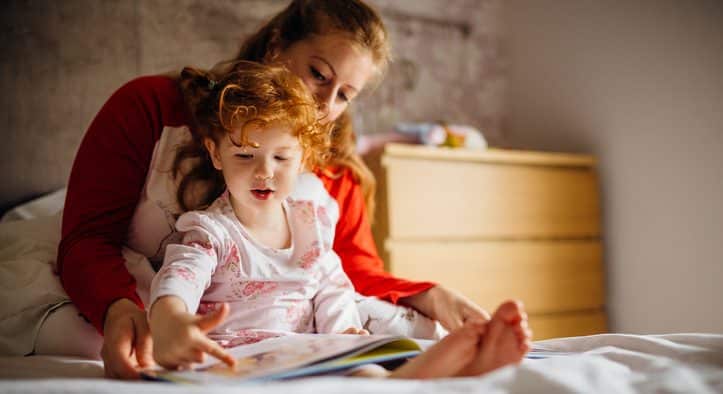 "What is the use of a book," thought Alice,
"without pictures or conversation?"
Lewis Carroll, Author
If your child is about to begin school, reading will be one of the first skills they will learn. As a parent it is important to be involved in this learning process from as early on as possible. You can start reading to your child when they are very young—they're never too young to start! Children under 6 months of age often prefer black and white pictures. After this, select books with big colorful pictures, textures, pull-out pieces, and photographs.
The strategies below are specifically for children who are entering preschool or kindergarten, but can also be used with children of all ages with a hearing implant. Reading aloud may not be a skill that comes easily for you as a parent, but with practice it will get much easier!
1.     Talk about the events happening in the book
As you read a story aloud, pause to talk briefly about each event. Encourage your child to describe what's happening, for example, "Why did the cat run away from the dog?" Talk about what you can see in each picture and describe the action and motions. This allows you to model and expand on the sounds your child makes, and teach them new language.
2.     Encourage your child to ask questions
When you turn to each new page, pause and give your child time to talk about the pictures. Let your child ask questions, even if it interrupts the story. Reading is more enjoyable when both you and your child are actively involved in the experience.
3.     Use wait time to let your child initiate conversation about the story
By waiting, it gives your child time to express their interest or feelings. If the pictures suggest something is about to happen, say "o oh!" or "oh no!" and look expectantly at your child. Wait for them to notice and see if they comment. If they show the correct emotion but don't talk, tell them what you are worried about or what you think is going to happen. This helps you to learn what words your child knows and which ones you still need to teach them.
4.     Relate the story to everyday life.
This gives your child the opportunity to connect their own experiences with what happens in the book. If the character buys red shoes, go and find your child's red shoes. If the story is about a grandmother, find photos of your child's grandmother and talk about them.
5.     Use gestures, facial expressions, and interesting voices.
Use your face to express the different moods or emotions of characters. You can also raise and lower your voice as you are telling the story to keep your child's attention. When we read dramatically to our children we are emphasizing the rhythm and patterns of spoken language.
6.     Remember that children love repetition- they love the predictable!
Sharing a book enough times to be memorized can be very engaging for a child. Although you may get tired of reading the same book over and over, remember that each reading is another opportunity for your child to hear the words and language again. They are using their auditory memory to remember each sequence and familiar phrase and it is an early reading strategy. You can also introduce new words each time when talking about the events or characters. If they recognize that you have added information then you will know what they can remember about the story. Invite your child to join in with repeated and predictable words, phrases and rhymes. Remember that reading together should be fun—don't use story time to teach how to read!
7.     Use open-ended questions
When asking questions, you may want to use more open-ended questions such as, "What do you think will happen next?" or, "Why is she doing that?" This extends your child's thinking and leads to more natural language learning. Book reading should be a discussion. Avoid asking direct questions with one-word answers like "What is she holding?" as this won't help with natural communication.  Instead, ask "Why is she holding that?"
8.     Explore a variety of books
Expose your child to a variety of book forms such as alphabet books, rhyming books, folk tales, realistic fiction, fantasy, wordless picture books, informational text, and books with predictable texts. Also share newspapers, magazines, and other reading material with them.
9.     Consider making Language Experience Books:
These are a great interactive way to make reading even more fun for your child! https://blog.medel.com/help-your-childs-develop-listening-skills-with-an-experience-book/
Liked this rehabilitation idea to develop the reading skills of your child?



Thanks for your message. We will reply as soon as possible.