Lynn Wood's Top Swimming Tips For Cochlear Implants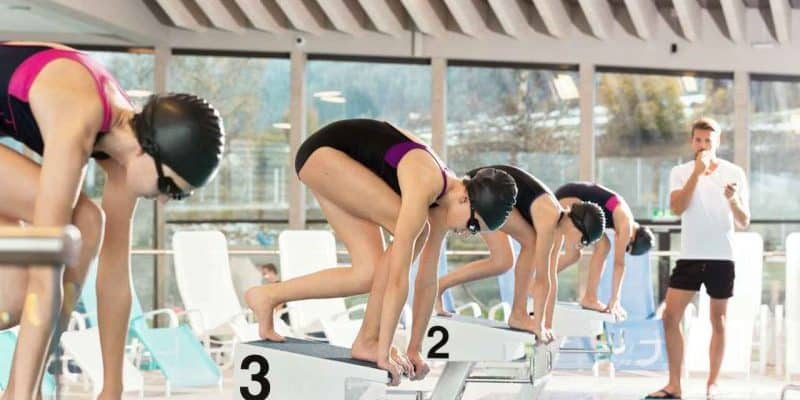 Is your child about to start swimming lessons? In a special guest post, rehab specialist Lynn Wood shares her top tips for making the most of swimming lessons with a cochlear implant, or other hearing device.
---
Swimming is an activity enjoyed by all ages around the world. Learning to swim is not only fun but an essential water safety skill for children. Auditory access to speech and environmental sounds is a game changer for children learning to swim. MED-EL's WaterWear accessory is a fully-waterproof cover for the audio processor that can be worn in the pool, lake, and ocean, allowing your child to hear in the water.
Outdoor bodies of water and indoor swimming pools are large spaces and difficult environments for listening and talking. In a quiet environment at home, pre-teach related vocabulary, instructions, safety rules and swimming routines before the child begins swim lessons.
Tips For Swim Lessons
Plan ahead and identify the swimming vocabulary and routines your child needs to know.
Visit the pool and observe other children in swim lessons.
Role-play swimming routines, expectations and instructions.
Prior to the first lesson meet the swim instructor along with your child. Share basic information about your child's hearing implant technology. Offer the following practical advice to the instructor:
Give instructions on the pool deck facing the child prior to getting in the water.
Use a predictable weekly schedule that is easy to follow. (A welcome song, then blowing bubbles, moving on to…)
Check for understanding. "What we are going to do after we blow bubbles?"
Provide vocabulary that will be used in the lessons to pre-teach at home (breath control, back float, flutter kick). This improves comprehension and the child's confidence during group instructions.
Agree on a signal to use to get the child's attention as the pool is a noisy environment
Listening and Spoken Language Learning Activities
Encourage swimming readiness while expanding your child's listening and spoken language skills. Here are some activities to try out.
Roleplaying allows you to teach your child foundational information about swim lessons and how they are to respond. Roleplaying can take place in a backyard plastic pool or with a container of water and small dolls at the table.
Talking about the weather: sunny, too hot, cool, cloudy, humid, breezy… "It's raining so no swimming today!"
Describing the water: warm/cool; deep/shallow; sink/float; above/below/ under…
Packing a bag for the pool. Brainstorm together what items go in the bag.
Putting on a swimsuit and describe the process step by step: "The straps go over your shoulders". Swimsuits can be called a bathing suit, a bikini, swim trunks…
Listening to directions. "Rub sunscreen on your face and shoulders." "Rub sunscreen on your toes after your nose."
Questioning Do you wear shoes or go barefoot at the pool? Talk about sandals, flipflops, water shoes…
Acting Out splashing, paddling, floating, diving, a cannonball…
Identifying through hearing; words that sound similar—sun, sunny, sunscreen, sunburn, suntan, sunglasses…
Reading books are an excellent source of new vocabulary. It allows your child to hear new words in new contexts and expands language primarily through listening.
Thanks Lynn!
For more tips and tricks, follow Lynn on Twitter @HearSayLW or visit her blog over at www.HearSayLW.com
SAMBA has just joined the WaterWear family! Find out what you need to know before diving in.
Find out more about how cochlear implants work and how they could help you or your child.
Thanks for your feedback.
The content on this website is for general informational purposes only and should not be taken as medical advice. Please contact your doctor or hearing specialist to learn what type of hearing solution is suitable for your specific needs. Not all products, features, or indications shown are approved in all countries.