What If Your Child Doesn't Want to Take Off His or Her Audio Processor?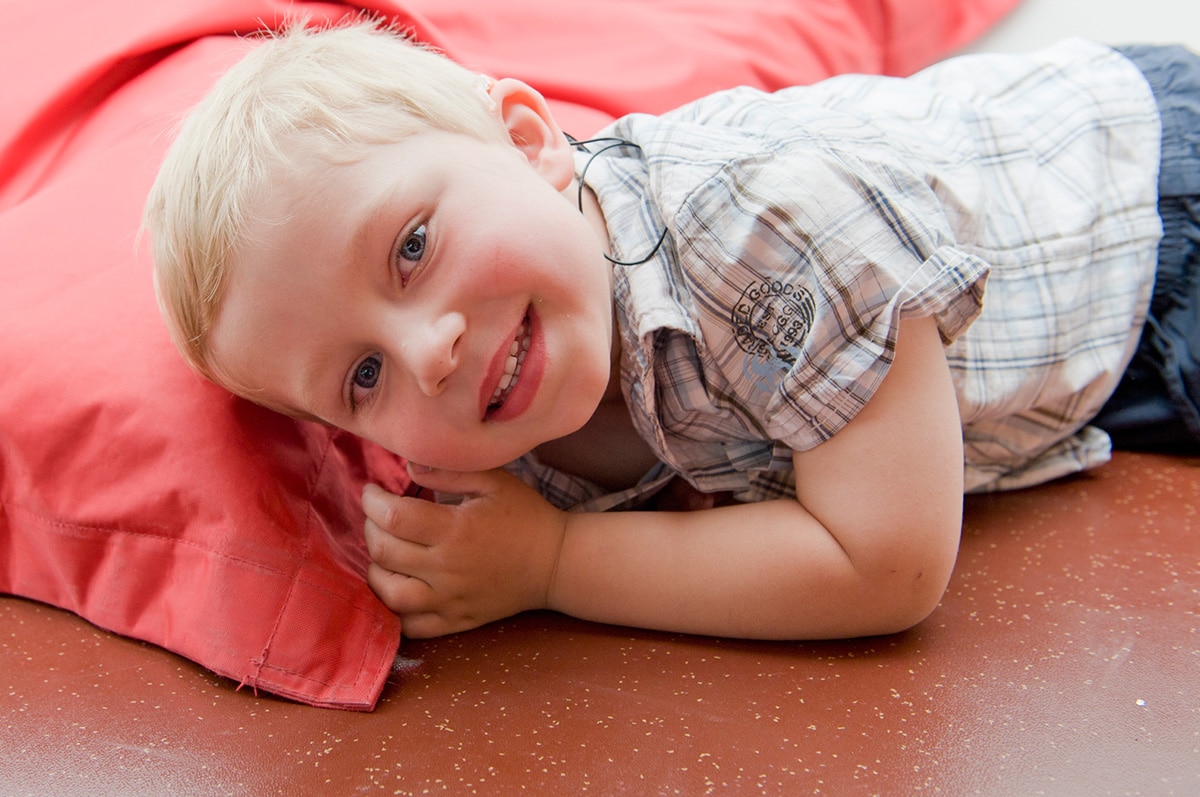 Earlier I showed why a CI recipient should wear his or her audio processor as much as possible. However, there are some times when it's inevitable that the processor will need to be removed—like at night or during a fitting. Sometimes, children love their processors so much that it can be a challenge to take them off during these times. So, if you have a child with a cochlear implant, what can you do to help in the times when it's necessary to remove the processor?
Bedtime is "Processor Off" Time
When it's time for bed, some children can't imagine removing their audio processor. Who can blame them, when they have to go hours without sound? You can help alleviate some of these feelings by reassuring your child that he or she will be able to hear again just as soon as the audio processor is put back on. You're only removing it because it might not be practical or comfortable to wear it while sleeping.
And, by developing a routine from the very first day of activation, you can help to ease your child into removing the audio processor each night. By equating daytime with audio processor "on" time and nighttime with audio processor "off" time, you can help make your child as comfortable as possible each time the audio processor is removed.
For younger children, this routine can extend well beyond just removing the audio processor. Have the removal be one small part, the final step, in a longer bedtime ritual. Start by reading a bedtime story or talking about the day's events, then say that you'll remove the audio processor, and finally remove it while showing where you've put it.
For older children, using rewards as positive reinforcement is a good way to continue these habits. Use a calendar, for example, to use a sticker for every evening or morning when your child takes off and puts on his or her audio processor by himself or herself, and give them a treat or prize at the end of each week or month. This way you'll both build independence and let them be comfortable with actively taking off or putting on his or her processor.
It might also help to leave the audio processor in a designated spot, like in a drying kit, each night. This way, if your child wakes up in the middle of the night they'll know exactly where their processor is and can put it on by themselves. Also, some clinics recommend keeping the audio processor in a specific place, so it's a good idea to ask your child's audiologist for recommendations.
Mapping Doesn't Mean The Audio Processor Is Gone Forever
Another time it's common for children to not want to take off their audio processor is during a mapping session. For some children, it can be especially difficult to take off their audio processor during the day.
Just like when going to bed, it can always help to let your child know in advance that you'll remove the audio processor and that you'll give back the processor back soon. By putting it down in a place where your child can clearly see it, you can help emphasize that it's never gone forever. Or, you can use a clock or egg timer to display a countdown to when it's time to put the processor back on.
Talk With Your Child's Audiologist
If your child is especially resistant to removing his or her audio processor, don't hesitate to talk with your child about his or her feelings. And, it might help to bring this up with his or her audiologist. Have any questions? Why not contact your local MED-EL representative?
Thanks for your message. We will reply as soon as possible.