5 Ways To Make The Most Of Early Intervention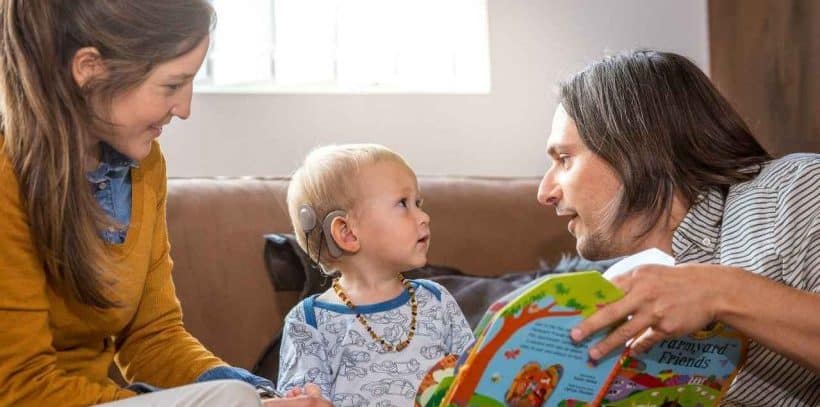 Your newborn or toddler was just diagnosed with a hearing loss. Now it's suggested that a stranger comes into your home several times a month to do language therapy with you and your baby. This is known as early intervention.
Inviting an early interventionist into your space can be difficult, especially if you're in a delicate state of grief over your child's diagnosis. But although the idea seems strange at first, having therapy sessions at home is one of the best ways for you to learn how to become your child's best teacher. Here are some ways you and your family can be successful with an early intervention program.
1. Knock-Knock… Who's There?
When meeting your early interventionist, ask them about their background. How long have they been doing this type of work? What type of children do they have experience with? Invite your therapist to explain your child's type of hearing loss, and their cochlear implant or other hearing device. You may have missed much of what was said in the audiologist's office and it can be helpful to hear things in a different way. If your therapist cannot explain these basics, consider seeking out someone who has more experience working with children with hearing loss.
2. Don't Sweat It
If your house isn't immaculate, don't worry. Yours is not the first home they've been in with Cheerios in the couch cushions or syrup on the coffee table, and it certainly won't be the last. The early interventionist is not there to judge your living conditions. But they are paying attention to the level of interaction between you and your child. It's impossible to be fully present and involved in the session if you're stressing about when you last vacuumed.
3. Make It Work
There's been a recent shift toward "routine-based" or "family-centered" early intervention. This means that instead of bringing materials into your home with a set lesson plan, the therapist simply joins in with whatever you'd normally be doing that day. Some examples of a routine include: putting away laundry, having lunch, changing a diaper, or playing outside in a sandbox.  It doesn't matter what's on the agenda for the day, anything you do regularly is an opportunity for learning language. ANY activity can work!
If communication or listening strategies are integrated into daily routines, there should be plenty of chances to practice during the day! Feel free to point out to your therapist which routines went smoothly with your child and which are particularly difficult. You can then brainstorm solutions together. If your therapist isn't using your natural routines as the basis for therapy—suggest it!
4. Get Real
Be completely honest and candid with your therapist. If you have not done any of the activities suggested for the week, don't try to hide it. Talk about why you resisted or overlooked them. It's important to discuss why something hasn't worked, in order to adapt! Maybe your child has not worn their cochlear implant consistently at all this week, or you feel your child doesn't need to wear it. Let your therapist know! The only way to a solution is to have an open line of communication. Don't just tell them what you think they want to hear.
5. You're An Expert Too
Your early interventionist should be your partner in this process. They are a professional, but YOU are the expert on your child. If something's not working, or could work better if done differently, make those suggestions confidently. Your therapist may know the next developmental step, or the theory behind a strategy, but you know your child best. Feel free to adapt the plan based on your gut.
Want to find out more about working with therapists? Check out our top 10 tips for cochlear implant therapy sessions.
Thanks for your feedback.
The content on this website is for general informational purposes only and should not be taken as medical advice. Please contact your doctor or hearing specialist to learn what type of hearing solution is suitable for your specific needs. Not all products, features, or indications shown are approved in all countries.