3 More Everyday Objects For Cochlear Implant Rehabilitation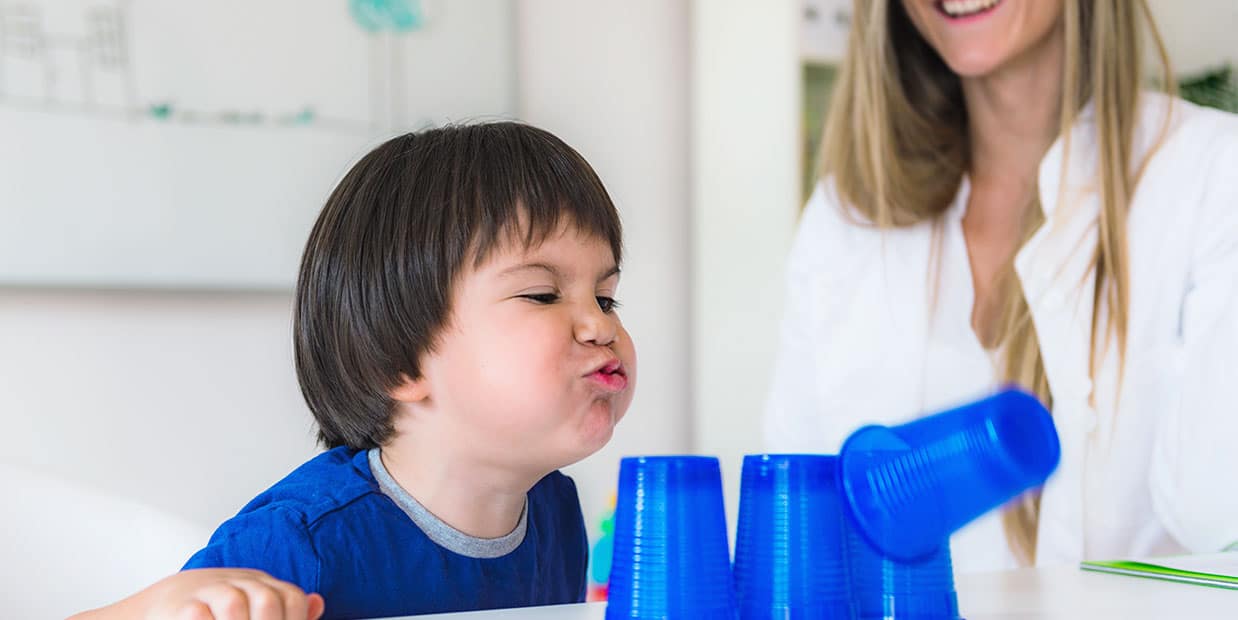 A few weeks ago we posted about How To Use 3 Everyday Objects For CI Rehabilitation At Home. It was so popular that we are back with another 3 objects, which you can use for simple and fun cochlear implant rehabilitation activities with your child.
Almost any household object can be used to help your child develop their language skills with their cochlear implant, and help them to speak clearly. But remember, whichever items you use, the most important part of the activity is YOU. Talking to your child, modelling new vocabulary and phrases for them to listen to, and having 'back and forth' conversation with them is essential for your child to master new language skills.
1. Plastic Spoons, Cups, and Paper Plates
For infants: Use plastic cups during sand or water play for digging and scooping. Use words to describe your actions such as pour, splash, more!
For toddlers: Build towers with your child from plastic cups. Introduce the concept of heights "The tower is getting very tall!", "My tower is shorter than yours" and problem solving "The tower is wobbly, what should we do?". Nest small cups in larger cups to teach problem solving and how to sort by size.
For young children: Encourage your child to help set the table at mealtimes to develop their ability to follow directions through listening. For example, ask your child to:
Find the items you need, for example "Get 4 plates from the cupboard and put them on the table".
Give them instructions about where to put them, for example "Put the small plate next to the large plate".
2. Shoelaces, Strings, and Ropes
"Lacing toys" are designed to build fine motor skills like coordination and grasping. These types of toys have a thick string or rope, which children must handle as they pass it through a hole.
For toddlers and young children: Invent your own "lacing toy" by tying a knot at one end of a shoelace, piece of yarn or rope. Then search your home for something to thread, for example:
Use pasta or beads to thread onto the shoelace

Weave the shoelace through something flat with holes cut in it (e.g. felt or cardboard).
Here you can focus on building your child's vocabulary for location words such as through, under, over and direction terms such as backwards, forwards.
3. Kitchen Supplies
For toddlers:
Add a small amount of food coloring to water to make water play more exciting. Talk to your child about how the water will change color, teach color concepts, and model verbs such as pour, drip and stir.
Freeze plastic toys in water. Talk to your child about the concepts of temperature cold, hot, melting, ice, freeze as you play with and watch the ice melt in the sun or melt the ice together with a hair dryer.
For young children: Use flour, salt and water to make play dough, or water and cornstarch to make slime with your child. Involve them in the cooking process to teach:
Verbs such as stir, mix, measure, knead, roll.
Mathematical concepts such as half, one third, a quarter.
Cooking vocabulary such as ingredients and method.
Think creatively for new ideas!
As you go through the cupboards, closets, and shelves at home, always keep an eye out for what objects you could use in cochlear implant rehabilitation activities. You are the expert on what your child loves to do, and what objects they like.  Share your ideas with your therapist and ask them for ways to use these objects to build your child's language skills.
Thanks for your message. We will reply as soon as possible.
The content on this website is for general informational purposes only and should not be taken as medical advice. Please contact your doctor or hearing specialist to learn what type of hearing solution is suitable for your specific needs. Not all products, features, or indications shown are approved in all countries.