Telephone Tips for Cochlear Implant Recipients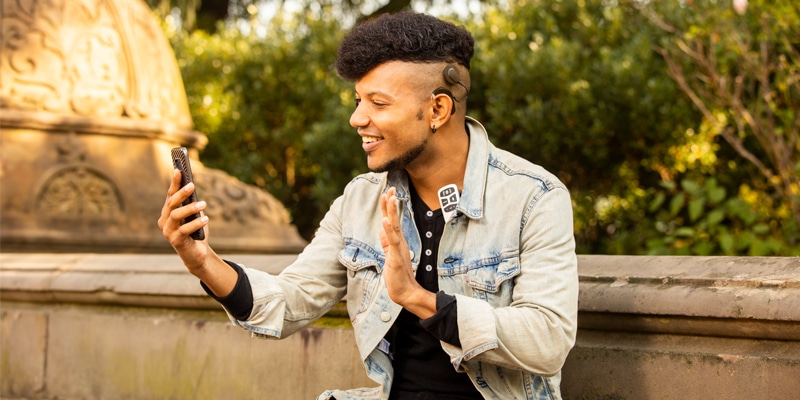 Talking on the telephone is one of the most challenging listening situations. No visual cues, unfamiliar talkers and, at times, a poor connection. However, studies have shown cochlear implant recipients demonstrate a significant shift towards use of a telephone after getting their implants. Here are some tips for practicing your telephone communication.
How To Practice Phone Calls
Practicing simple conversations on the phone with a friend or family member will:
Boost your confidence when talking on the phone
Allow you to practice listening in a controlled situation
Help you to build a repertoire of conversational repair strategies and practice these strategies
Increase your assertiveness when talking on the phone
Use the list below as a guide on how to work from the easiest listening tasks to the more difficult ones. Choose topics that are interesting and relevant to you to keep your practice fun and interesting. With a family member or friend, start by practising:
Hellos and good-byes.
Simple questions: Ask your telephone partner simple yes/no questions. Your telephone partner answers with either "Yes, yes" or "No". The responses should differ in their length and pitch. The questions you ask could be anything.
For example Did you go to work today? Your telephone partner answers either "yes, yes" or "no".
Do you like chocolate cake? Your telephone partner answers either "yes, yes" or "no".
Short, simple conversations
Prepare conversations with written text. Have the conversation on the phone and follow along with your telephone partners responses in the text.
Answer simple yes/no questions about a predetermined topic e.g. your trip to the cinema e.g., Will you go by train?
Answering either/or questions e.g., Will you go by bus or train?
Answering closed-set questions e.g., Which day do you want to go?
Answering open-set questions with a clue e.g., Where shall we meet?
Practice making an appointment or making an enquiry with your telephone partner
Practise using a range of repair strategies:

Ask for repetition. Can you say that again please?
Ask for rephrasing of the sentence. Can you say that in a different way please?
Ask the speaker to simplify the sentence. Can you tell me again with a shorter sentence?
Ask for clarification by repeating the message back. Did you say that you went to the zoo?
Ask the communication partner to modify their speech (e.g., slowing down speech rate, speaking louder).
Repeat back what was said for confirmation of the information.
Progress from simple to more complex conversations, such as from prepared sentences to more open conversation.
I found success with talking on the phone because I wanted it and I practised regularly. I practised with my T-Coil, with my direct connect cable, in different environments, with different people, and with streaming technology. Daily practice is the key to success!

Keri, CI User
Daily Calls
Plan ahead to make your phone calls effective. Here are some tips:
Before calling, write down information to be obtained and questions to ask.
Consider likely topics to anticipate vocabulary and questions.
Use a notepad and pen to write down information.
Prepare an introduction to use to inform your telephone conversation partners of your hearing impairment and that they may need to clarify key information (if required).
Many businesses now offer text messages to confirm appointments made over the telephone. Enquire about whether these services are available.
In work situations, request to use video conferencing for additional visual cues and request the agenda ahead of time so that you are familiar with what will be discussed and can follow the conversation more easily.
Practise using assistive listening devices (ALDs) such as a T-Coil and your phone placement over your processor in preparation for calls.
Assistive Listening Devices (ALDs) can improve speech recognition and ease of listening on the telephone. Talk with your audiologist about the range of ALDs available to assist you in telephone communication. Practice using and connecting ALDs to feel more confident using them in everyday life. Assistive Listening Devices include
Telecoil
Direct connect audio cable
Bluetooth streaming with a neckloop
Interested in more tips and tricks for your auditory training at home? Find free listening exercises for your active listening practice at home here!
You can also find out more about communication strategies for every day conversations in this blog post.
Thanks for your message. We will reply as soon as possible.