Cleaning Your Audio Processor: Special Guidance Relating To COVID-19 (Coronavirus)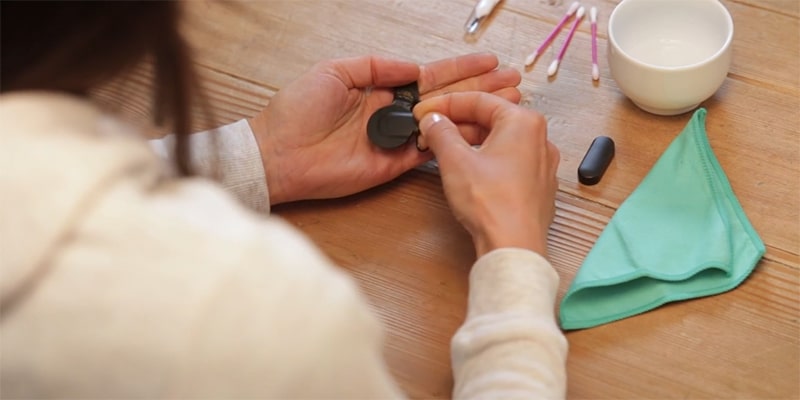 During these unprecedented times, the World Health Organisation (WHO) have communicated their guidelines on hygiene and how we can all protect ourselves and others from becoming infected with COVID-19. This information can be found here.
Some of our users have also asked how they should take care of MED-EL's audio processors during the coronavirus pandemic. To help you during this time, here is some extra guidance.
Cleaning Your Audio Processor
Before handling the audio processor or any of its accessories, we recommend that you clean your hands, as shown in the instructions provided by the WHO.
Clean and dry your audio processor according to the specific instructions provided for the model you have, as shown in your user manual (see the chapter "Care and Maintenance", section "Maintenance").
You can also get additional information and practical tips and hints on cleaning your audio processor by watching the hands-on videos provided by MED-EL. Simply click on your audio processor below to read these tips and instructions:
There are no additional cleaning instructions which specifically apply during the current pandemic.
Drying kits provided in MED-EL user kits for recent audio processor models (flow-med dry-space uv and dry-star uv) use ultraviolet light during the drying process. According to the manufacturer, this ultraviolet light "removes all germs, bacteria and fungi up to 99.9%". It is therefore likely that this radiation will kill at least some of the SARS-CoV-2 viruses on the device's surface. However, this has not been specifically tested by MED-EL.
Disinfecting Your Audio Processor
By following the cleaning guidelines carefully, there is generally no need to disinfect your audio processor on a frequent basis. The long-term and frequent use of disinfectants is not tested by MED-EL and may lead to degraded materials, discoloration and cracks in the housing of the device. Degraded materials could cause skin irritation and/or injury.
However, if you feel your processor may have been contaminated, and you would like to disinfect it, please follow the steps shown below.
Materials
MED-EL recommends the use of ready-to-use cleaning wipes saturated with a solution of 70% isopropanol alcohol and 30% deionized water. If such wipes are not available in your area you may use dry wipes and dip them into a similar cleaning fluid.
The Environmental Protection Agency (EPA) of the United States has published a list of possible disinfectants that can be used against SARS-CoV-2 (coronavirus).
However, substances other than mixtures of 70% isopropanol alcohol and 30% deionized water are not tested by MED-EL and may lead to degraded materials, discoloration and cracks on the housing even with single applications. If you notice any discoloration while cleaning, immediately stop applying the disinfectant, and let any remaining liquid on the device's surface dry up.
Instructions
Wash or clean your hands and clean the audio processor as stated above in "Cleaning the Audio Processor".
Use the cleaning wipes to moisten the surface of the device carefully.
Let the liquid dry on the device's surface. Do not wipe dry immediately as the cleaning fluid needs time to act on the surface to have a better disinfecting effect:

Do not apply too much liquid on the surface as this may damage your audio processor.
Be especially careful when you are applying the disinfectant close to openings such as the microphone opening. Never clean over the microphone openings.
Be careful when wiping close to the membranes so you avoid pushing dirt and residues further into the membranes.

If the recommended disinfectant is used and not too much liquid is applied, the substance will dry by itself. If not, please use a soft dry cloth to dry any residual liquid.
The disinfection process is now completed. Now wash or clean your hands after disinfecting the device.
If you have further questions after referring to your user manual and this additional guidance, please contact your local MED-EL representative or customer service team. You can find their details here.