Seven Hacks for Your SONNET 2 Audio Processor
Want to get the most out of your MED-EL audio processor? We hear you! Here are seven quick and easy tricks for using SONNET 2, from checking your microphones to changing your batteries. Oh, and most of these hearing hacks work for SONNET as well.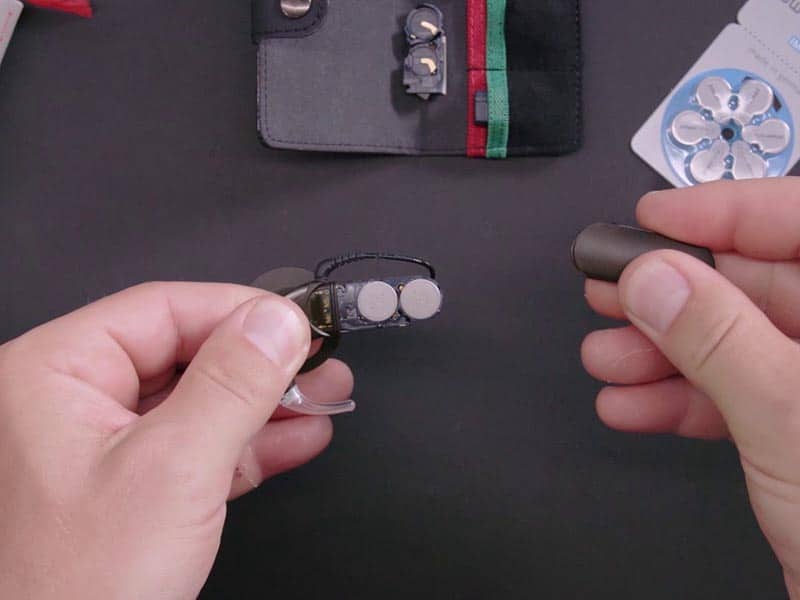 1. Change Your SONNET 2 Batteries in Seconds
Use disposable batteries? Then this hearing hack is for you. When you change the batteries, use the coil magnet to pull them out of their compartments in seconds. No more fiddling or batteries rolling around!
2. The Battery Bounce Test
While we're on the subject of batteries, here's a smart way to tell whether a battery is empty or ready to use: Bounce it on the table. If it bounces a lot, the battery is empty, and you should get rid of it. But if it hardly bounces at all, it's full, and you can use it with your audio processor.
3. Store the Pin on the Coil
Another useful trick courtesy of the coil magnet. This time it's for one of the smallest parts of our SONNET series audio processors, the earhook pin. While you're changing the earhook, store the pin on the coil magnet. This will make it easier to find and easier to pick up again, too.
4. Use Mellie to Store Your SONNET 2
Did you know that Mellie the MED-ELephant has her own cochlear implants? And they're even magnetic. Hook your (or your child's) SONNET 2s around Mellie's ears and attach the coil to her hidden magnets. It's the perfect place to keep your audio processors while you sleep!
5. Hold Your SONNET 2 Right
Stretching the cable of your SONNET or SONNET 2 can lead to damage over time. But holding the coil and the rest of the device together will stop it from over-stretching. Here's how it's done:
6. Ready for Takeoff!
Heading on vacation? SONNET 2 comes with a flight mode so you can turn off its wireless functionality. Here's how:
Switch off your processor, wait two seconds, and then turn it on again.
Repeat this three more times.
After a few seconds, the indicator light will blink red to confirm that flight mode has been activated.
7. Check SONNET 2's Microphones in Seconds
Want to quickly see if your SONNET 2's microphones are working? Just get out your FineTuner Echo, place the SONNET 2 coil on top of it, and speak into the microphones. If you see a green light flickering to the rhythm of your voice, it means your microphones are working as they should be. If not, check out our support pages for troubleshooting tips.
Get More Hearing Hacks
Want to know more tips and tricks for using your MED-EL audio processors? Then follow us on Facebook for more hearing hacks.
Follow MED-EL
The content on this website is for general informational purposes only and should not be taken as medical advice. Please contact your doctor or hearing specialist to learn what type of hearing solution is suitable for your specific needs. Not all products, features, or indications shown are approved in all countries.