Roger™ 21 from Phonak: Frequently Asked Questions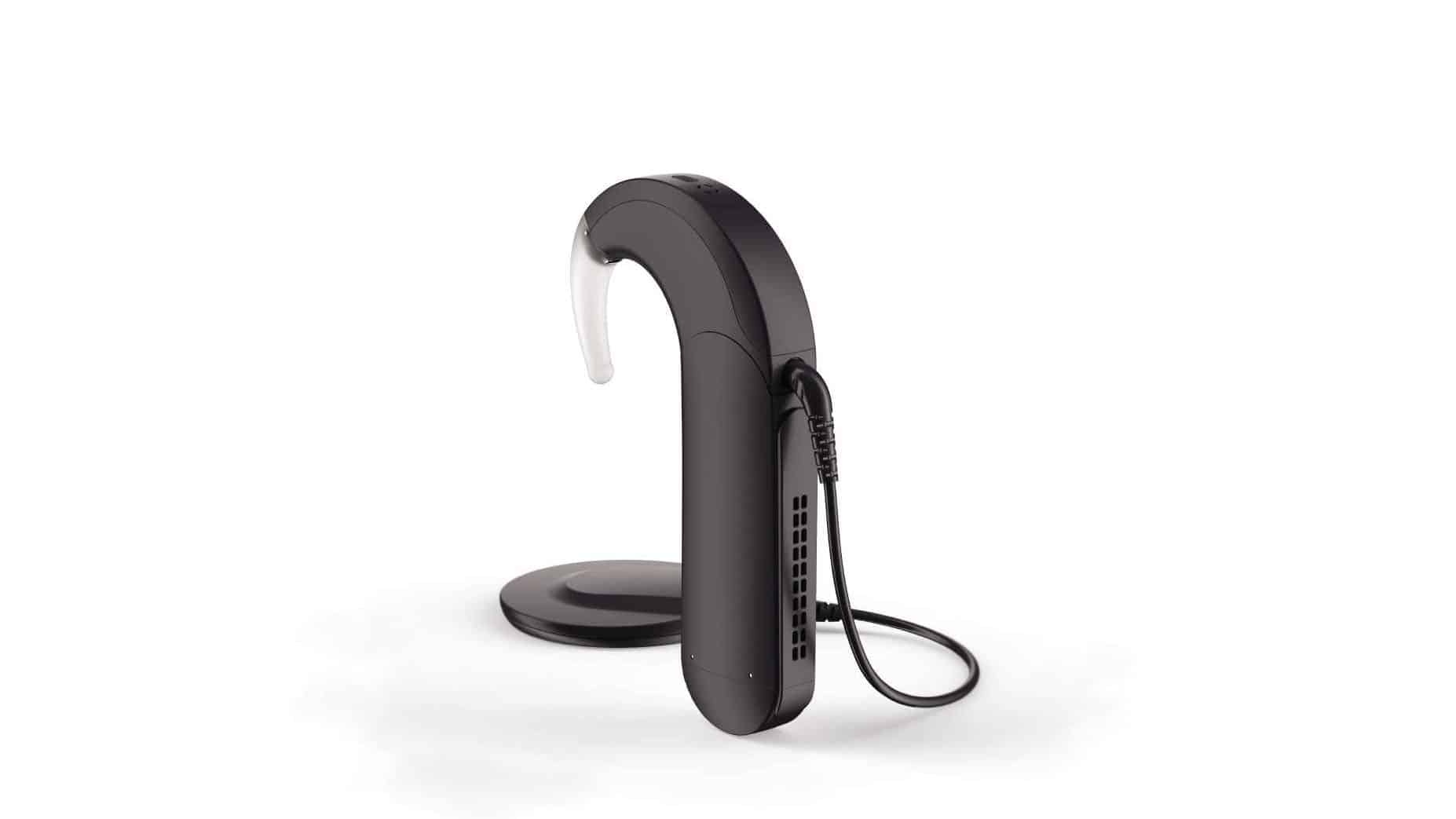 What is it?
Roger 21 is a wireless receiver from Phonak that is built into a battery pack cover for SONNET. Roger™ 21 from Phonak is a brand-new wireless receiver which plugs into and works with the SONNET audio processor. It enables you to connect SONNET with various microphone devices to offer improved listening in challenging listening environments. This includes talking on the phone, work meetings, dinner table conversations, school environments and more.
One of the world's largest hearing aid companies, Phonak produces a range of assistive listening devices for hearing in all different settings, used by hearing aid users and hearing implant recipients around the world.
Who is it suitable for?
Roger 21 is suitable for any MED-EL cochlear implant user who has a SONNET audio processor. Because of the various microphone devices on offer, Roger 21 is suitable for all ages from school children through to older adults.
How do I set up Roger 21 with my SONNET?
Connecting the Roger 21 with your SONNET audio processor is very easy. Simply remove the battery pack cover of your SONNET audio processor and replace it with the Roger 21.  We recommend using the SONNET Standard Rechargeable Batteries or disposable batteries when using the Roger 21.
What Roger microphones are compatible with Roger 21?
All Roger microphones offered by Phonak are compatible with Roger 21: Roger Pen, Roger Touchscreen Mic, Roger Table Mic and Roger Clip-On Mic.
Mic 1: Roger Pen
Roger Pen is a discreet, wireless microphone that delivers superior speech-in-noise and over distance performance. It's the ideal solution for an all-inclusive listening experience that uses BluetoothTM connectivity.
Mic 2: Roger Clip-On Mic
The Clip-On mic is a discreet and lightweight stand-alone microphone best used for when you're communicating with one other person.  It is also great for speech-in-noise and over distance performance.
Mic 3: Table Mic
Roger Table Mic is a wireless microphone designed for people with hearing loss who participate in small and large meetings.
Mic 4: Touchscreen Mic
This easy-to-use wireless teacher microphone gives students with hearing loss the opportunity to hear their best in the classroom.
How do you set up Roger 21 with Roger microphones?
To set up and connect the Roger 21 with the Roger wireless microphones, you simply need to turn on the microphone, hold it within 10 cm of the Roger 21 and then press the connect button. You will hear a beep when it connects. The Roger devices use 2.4 GHz technology, which kind of works like a radio frequency that you can tune in and connect to.
Do I need to change the settings of my SONNET?
No, the Roger 21 works automatically with your SONNET audio processor – no additional settings are required.  Once you have plugged in the Roger 21, the SONNET recognizes the device. As soon as the Roger microphone is switched on, the SONNET will change automatically to omnidirectional mode, meaning that the recipient can hear the sound from the Roger microphone as well as other environmental sounds via the SONNET's microphone. As soon as the Roger 21 switches into sleep mode, the SONNET will automatically set back to the settings which were in previous use. Also, once the Roger 21 is removed and replaced with the standard battery pack or rechargeable battery pack, SONNET will automatically revert back to using the previous microphone setting.
Why should I go with the Roger 21 system over other competing products?
The Roger System is one of many assistive listening device technology options available on the market. But what makes the Roger system different is its undeniable versatility. With a range of microphones to choose from, it's easy to boost your hearing in many different environments whether in the classroom, at work or in a restaurant with friends. Roger products are also compatible with many popular hearing aids, so if you wear both a CI and a hearing aid, both devices can pick up sound from the same Roger microphone.
What environments is it best to use it in?
Roger 21 enables you to connect and benefit from improved hearing with a range of microphones, each designed for different hearing environments. Here are some examples of when Roger technology may help out:
Listening to a distant talker
Listening to the television
Talking on the phone (Roger Pen only)
At a dinner with a friend
Small group work in a classroom
At a work meeting with 10+ people
Make sure to subscribe to the MED-EL Blog to receive reviews of some of these products from MED-EL cochlear implant users.
What are the main benefits?
The main benefit of the Roger 21 is improved hearing, no matter the setting or listening environment. Roger technology can help to reduce those frustrating and tiresome experiences where it is tough to hear voices or sound clearly. The range of microphones available can improve your listening experience in many ways, from watching the television, to meeting in a café with friends, to hearing in a classroom, to being at a work conference.
How long does the battery last?
The Roger 21 is a wireless receiver that attaches to the SONNET and works off this battery. Battery life can vary depending on what batteries you use (rechargeable batteries or different disposable battery brands) and the duration of use. In general, if the Roger 21 with SONNET is used all day, it will reduce the SONNET battery life by just a couple of hours.
Where can I order it?
You can contact your local MED-EL Representative to find out more information regarding availability in your country and prices. Phonak will be able to give you information regarding prices and advice on the most suitable assistive listening devices for your needs.
Want to learn more about ALDs? Check out AudioLink, the latest connectivity device designed especially for MED-EL cochlear implants.
Have you heard about SONNET 2? Discover how our latest cochlear implant audio processor is made for you.