Here's What Our CI Users Think Of The New AudioLink Connectivity Device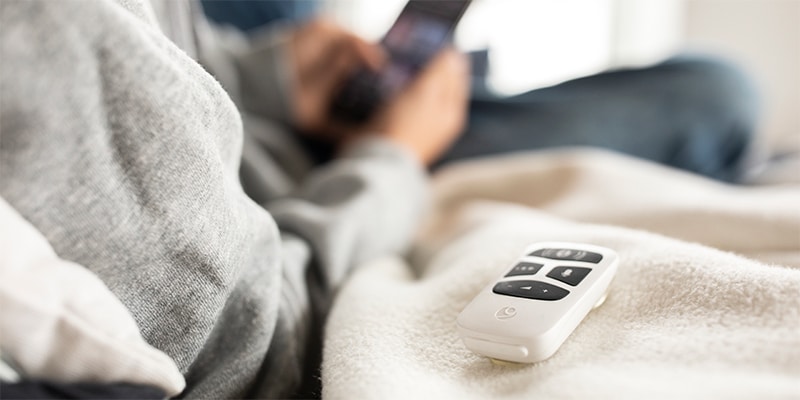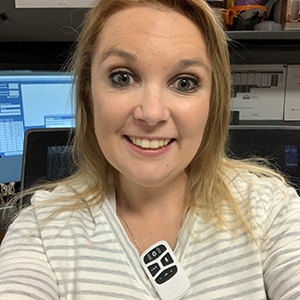 Morgan, USA
Bilateral implants, using SONNET and AudioLink
"I love it for watching TV. Even after I tried it out for the first time, I didn't need to have the captions on."
| | |
| --- | --- |
| Convenience | |
| Ease Of Use | |
| Sound Quality | |
I love listening to music but hate having to wear big headphones to go around my CIs. The AudioLink  is great for listening to music! Depending on the type of music you listen to, it may not be crystal clear at first. I found that if you play with the equalizer settings on your phone, this helps the music not sound so bass etc.
When using AudioLink for watching TV, it sounds like the people speaking are right next to me, I love it. Everything sounds so clear and I hear things from the TV that I never knew were there, like a door closing or birds chirping.
Regarding the size, it's smaller than I thought and super convenient to have it clipped on my shirt or pocket.
Luka, Croatia

Bilateral implants, using SONNET 2 and AudioLink

"I love to use it when playing role-playing games in multiplayer mode on my computer.
I can hear the tiny little noises as footsteps now as well – such noises other players almost never hear."
Michael, Australia
Bilateral implants, using SONNET  2 and AudioLink
"AudioLink  has made my life so much easier when doing day to days things with my kids and family."
| | |
| --- | --- |
| Convenience | |
| Ease Of Use | |
| Sound Quality | |
I use my AudioLink for everything  – watching TV, making phone calls  and streaming my music. It's great. The sound is amazing and music is a lot clearer than before.
I love the remote microphone. The first time I tested it at a local pub where I met my friends for lunch. It was very busy and quite loud as well. I placed my AudioLink on the centre of the table and was amazed at how it worked!
When I'm around the house I can give my kids the AudioLink and if they need me they speak into it – that's awesome and the kids love it as well.
I was surprised how small the device is – it fits in my pocket.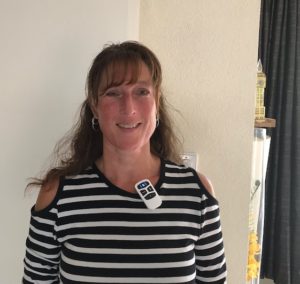 Barbara, Germany
Bilateral implants, using RONDO 3 and AudioLink
"What I like best are the stress-free phone calls. There is nothing better than AudioLink for talking on the phone."
| | |
| --- | --- |
| Convenience | |
| Ease Of Use | |
| Sound Quality | |
I really like the versatility of AudioLink, the great ways to use it. The size and weight are also perfect, it fits into every pocket. I also like the sound quality, it's very good. Pairing AudioLink with my Android smartphone and connecting it to my TV was easy.
I use the remote microphone function a lot, for example when traveling in the campervan with my partner. I put AudioLink on the steering wheel, so I can perfectly understand what he is telling me while driving without any disturbing background noise. That's a great relief!
Michaela, mother of Florian (8), Austria

Bilateral implants, using SONNET 2 and AudioLink

"When testing AudioLink for the first time, Florian started dancing. That was fun! It really works great for music and also on the phone – he understands speech much better."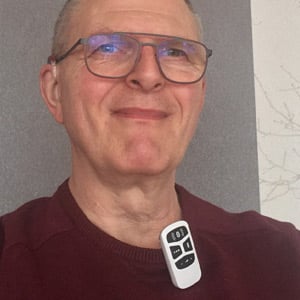 Thomas, Germany
Bilateral implants, using SONNET/SONNET 2 and AudioLink
"The AudioLink is just so practical. You can carry it anywhere and use in all sorts of situations."
| | |
| --- | --- |
| Convenience | |
| Ease Of Use | |
| Sound Quality | |
AudioLink is really easy, intuitive, and comfortable to use. I love the handy design of it and that I do not need any additional battery pack covers or so.
When using AudioLink to listen to music, the sound is clearer because there are no distortions. The sound quality is very good, and I prefer it to my Roger Select and Roger 21 system.
AudioLink immediately became my best companion in the car. With my hands-free system, there were always distortions. Now with AudioLink, they are gone.
Adi, Austria

Unilateral implant, using SONNET and AudioLink

"I love the remote microphone function. I can hear speech much clearer when I'm in a noisy room. That's great!"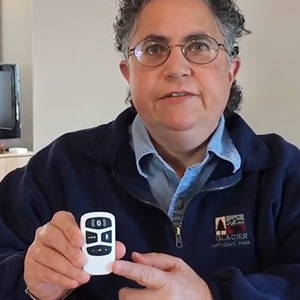 Mary Beth, USA
Bilateral implants, using SONNET and AudioLink
"My favourite feature of the AudioLink is that you get true stereo for right and left processors. "
| | |
| --- | --- |
| Convenience | |
| Ease Of Use | |
| Sound Quality | |
The neat thing about the AudioLink is that we don't have to put on any special battery cover on our SONNET or SONNET 2 because the receiver for the AudioLink is already built-in.
I enjoy the true stereo of music with the cables but when using a conversion app via Bluetooth it is more like listening to music through a phone.
My tip for using AudioLink?  Shrink the distance between the person's voice and its microphone to hear the best. So when someone is wearing it clipped onto them, things are going to sound better than when it's on a table and picking up other sounds that are happening around the table too.
If you are a bilateral user, AudioLink makes hearing on the phone even easier, because you're going to hear the phone call on both sides at the same time.
Father of Valentin, Austria

Bilateral implants, using RONDO 3 and AudioLink

"With RONDO 3 and AudioLink, Valentin has the opportunity to make calls, for example with his grandparents. That's a totally new experience for him. The sound quality is excellent, that's something that also others noticed when speaking to Valentin on the phone."
Thanks for your message. We will reply as soon as possible.
© 2023 MED-EL Medical Electronics. Alle Rechte vorbehalten. Der Inhalt dieser Webseite dient nur zur allgemeinen Information. Es werden keine medizinischen Ratschläge gegeben. Kontaktieren Sie bitte Ihren Arzt oder Hörspezialisten und lassen Sie sich dort beraten, welche Hörlösung in Ihrem Fall geeignet ist. Nicht alle der gezeigten Produkte, Produktfunktionen oder Indikationen sind in allen Ländern zugelassen bzw. verfügbar.