Visiting The Sound Factory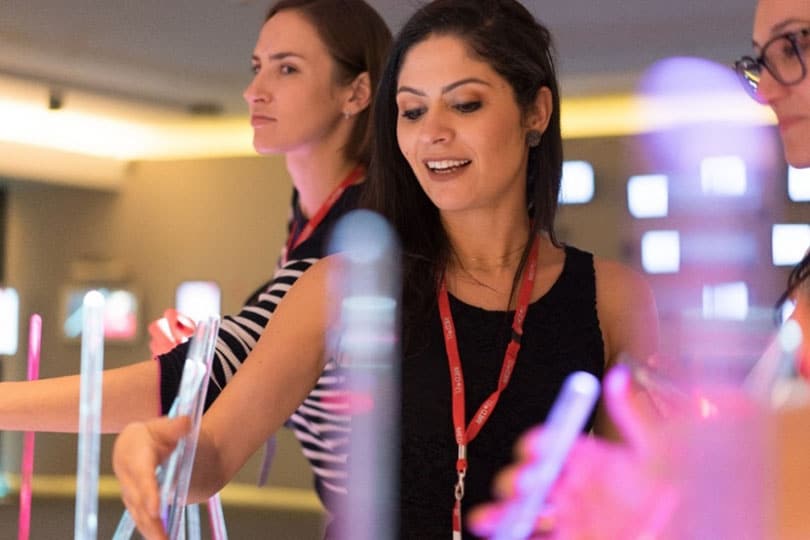 Have you ever imagined visiting the factory where your cochlear implant (CI) is developed and made? And getting to know the person who invented your implant? I don't know about you, but I dreamt of it for many years! And if there's one thing life has taught me, it's that we should always keep on dreaming, because when we least expect it, dreams do come true. And in October 2018, my big dream came true! Only it was so much bigger than I could ever have imagined. Let me tell you more:
It would have been like any other Wednesday, if it wasn't for a phone call I got in the late afternoon. On the other end of the line I heard, "Hi, Sheila! Everyone's trying to contact you! You were selected to represent Brazil at the first-ever MED-EL Meetup in Innsbruck, Austria! The company will open its doors and bring 15 people from all over the world together for an unforgettable experience. You have until tomorrow to fill out the form".
Do I need to say that I almost died of happiness? From then on, I couldn't think of anything else except practicing my English and packing. I would meet Professors Ingeborg and Erwin Hochmair, the creator of MED-EL and the modern cochlear implant! Every moment that thought came to my mind, my heart overflowed with joy and made me want to cry.
Meeting For The First Time
After 60 days of anticipation, the trip finally arrived and I flew to Europe.
In the weeks leading up to the Meetup, I was able to interact with other participants coming from around the world through an online group. But there was nothing like the thrill of meeting and hugging each other personally at the opening cocktail party. And there was no way not to be thrilled on the first day, listening to Veronika, an implant user from Austria, playing a song on the hotel piano that she had composed herself.
Several MED-EL employees were there to greet us, and they did so with so much care and attention that even in the midst of so many languages ​​and accents it all worked out, and I had no doubt that incredible days were ahead of us.
And I think I really brought the spirit of Brazil to the event as I was so excited and enjoyed every second. I think I really spread that spirit there. Especially when I met the first participant arriving at the hotel: Barbara, an implant user from Argentina. Can you imagine how amazing this was?
We joked that the rivalry between Brazilian soccer player Pelé and Argentina's Maradona is now over, because since we first met, we had this special connection and it became a true friendship. It's the kind of friendship that leaves you wondering why it didn't start earlier. I remember how much we laughed when we're singing and dancing songs from Latin America such as "Macarena" and "Ai se eu te pego".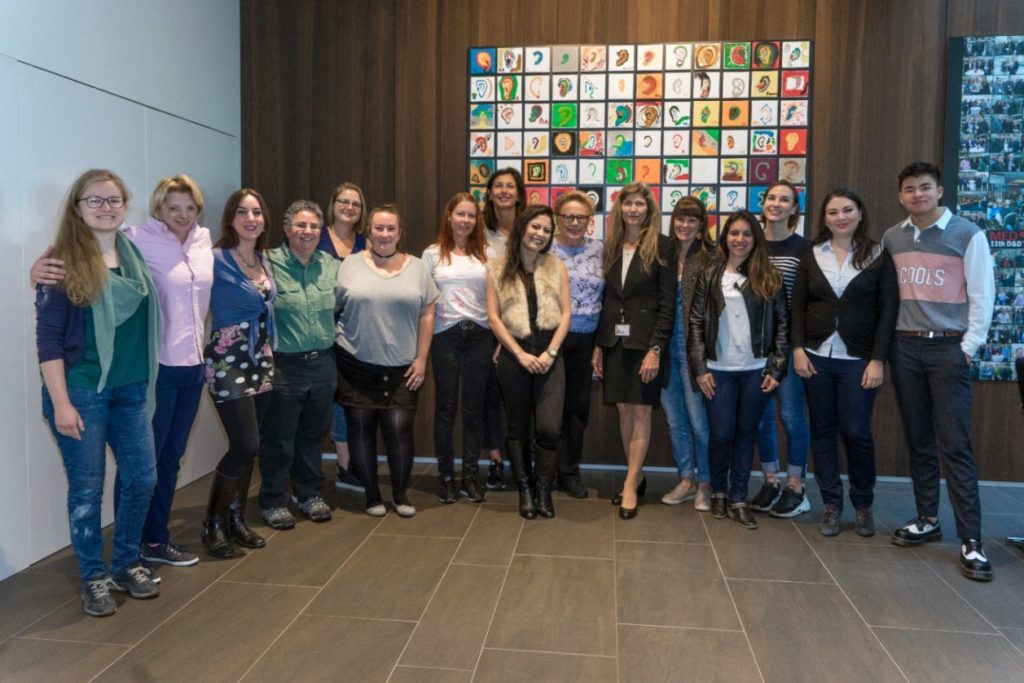 And then I made 14 special friends from around the world and united by sound: Laura, Patricia and Ruth (UK), Veronika (Austria), Anette (Denmark), Ivana (Croatia), Colleen, Chella and Mary Beth (USA), Barbara (Argentina), Maaike (Netherlands), Carolien (Belgium), Zhanna (Kazakhstan) and Zoya (Russia).
So many nationalities, languages and experiences that all had, despite being unique on their own, one thing in common: the joy of being able to hear.
The MED-EL Factory
During the MED-EL Meetup, we got to know the factory and saw step by step how a cochlear implant is produced and how technology has evolved over the years. Did you know that a single cochlear implant device takes about three to four weeks to be completed? And that we are already more than 170,000 MED-EL implant users worldwide in about 121 countries?
We learned from Peter and his team how an electrode array is inserted into the cochlea, and we became "surgeons for a day", using simulators from the MED-EL training center. Great, right?
We also participated in recordings, group discussions and workshops on how to handle daily situations to improve our communication. We talked about how to talk about deafness and cochlear implants to other people with hearing loss. We received tips and guidance on handling and care of the speech processor and accessories, and we also experimented with other assistive technologies available to increase our quality of life.
The Fantastic MED-EL Team
And you will not believe it! We had the privilege of meeting and having lunch with very important people from the factory, like the employees who spend the day on the production line making the CIs; the technical support team, who fix our processors whenever we need it; the marketing team who organized the event in a sensational way; the rehabilitation team, designers, producers and publishers of MED-EL videos and publications. And also with the researchers who spend day after day testing and developing new technologies so that we can listen. What a thrill!
Getting to know them all was special because we were able to kill our curiosity, take pictures, ask a lot of questions and thank them for the work they have done so we can hear. Amazing, isn't it?
Learning About AUDIOVERSUM
We also spent an entire afternoon at AUDIOVERSUM, an interactive science museum where we were able to learn a lot of interesting things about our senses, especially the sense of hearing. There are several multimedia activities, games and interactive exhibits that mix art, technology and science.
You can navigate a 3D ear, hunt for invisible birds or try to break out of a maze using only your hearing to guide you. You can feel the vibrating intensity of different things, hear a melody through giant hair cells, or test how loud you can be in a Scream Box. I was the one that screamed the loudest – I discovered a new gift! It was a lot of fun.
If you ever go to Innsbruck, be sure to visit!
Geoffrey Ball – The Legend
Going to the MED-EL factory and not meeting Geoffrey Ball is like going to the Louvre Museum and not seeing the Mona Lisa. Geoff is an engineer at MED-EL and, like me, lost his hearing as a child due to a severe fever. Although he heard better with hearing aids, he was never satisfied with the quality of the sound he heard.
Time passed, he majored in Engineering and for many years devoted himself to research in the field of hearing technology. There were countless nights he had been testing in his own electronics lab. Until in one of them, after several failed attempts, it finally worked. Today, he can hear thanks to his own invention, the VIBRANT SOUNDBRIDGE, and to me he is a model of persistence and non-conformity. That kind of unique person in the world who was born especially with a mission: to bring sound to life!
He gave me his signed autobiography, No More Laughing at the Deaf Boy chatted and even danced with me. That's right! And you know Which dance it was? SAMBA.
This is Geoffrey Ball, the legend…
When The Dream Comes True
And the last day? It's Impossible to think about it and not be thrilled, because that's when I met Dr. Ingeborg and Dr. Erwin Hochmair, who created the cochlear implant in the 70s, and then founded MED-EL. That was my biggest dream come true on this trip. I always told myself that one day I would be able to say THANK YOU to these two enlightened people who returned my hearing and my future to me. I imagined that I would eventually run into them at some congress or conference, but no! Fate was more generous and made it happen within the "Sound Factory" itself!
How to thank them? How to talk without crying?!
And so, the idea came to me to record the main moments of my life with the cochlear implant in a photobook. After a brief speech, not only me but each of the Meetup participants had the honor of talking to Ingeborg, taking a picture and saying "Thank you".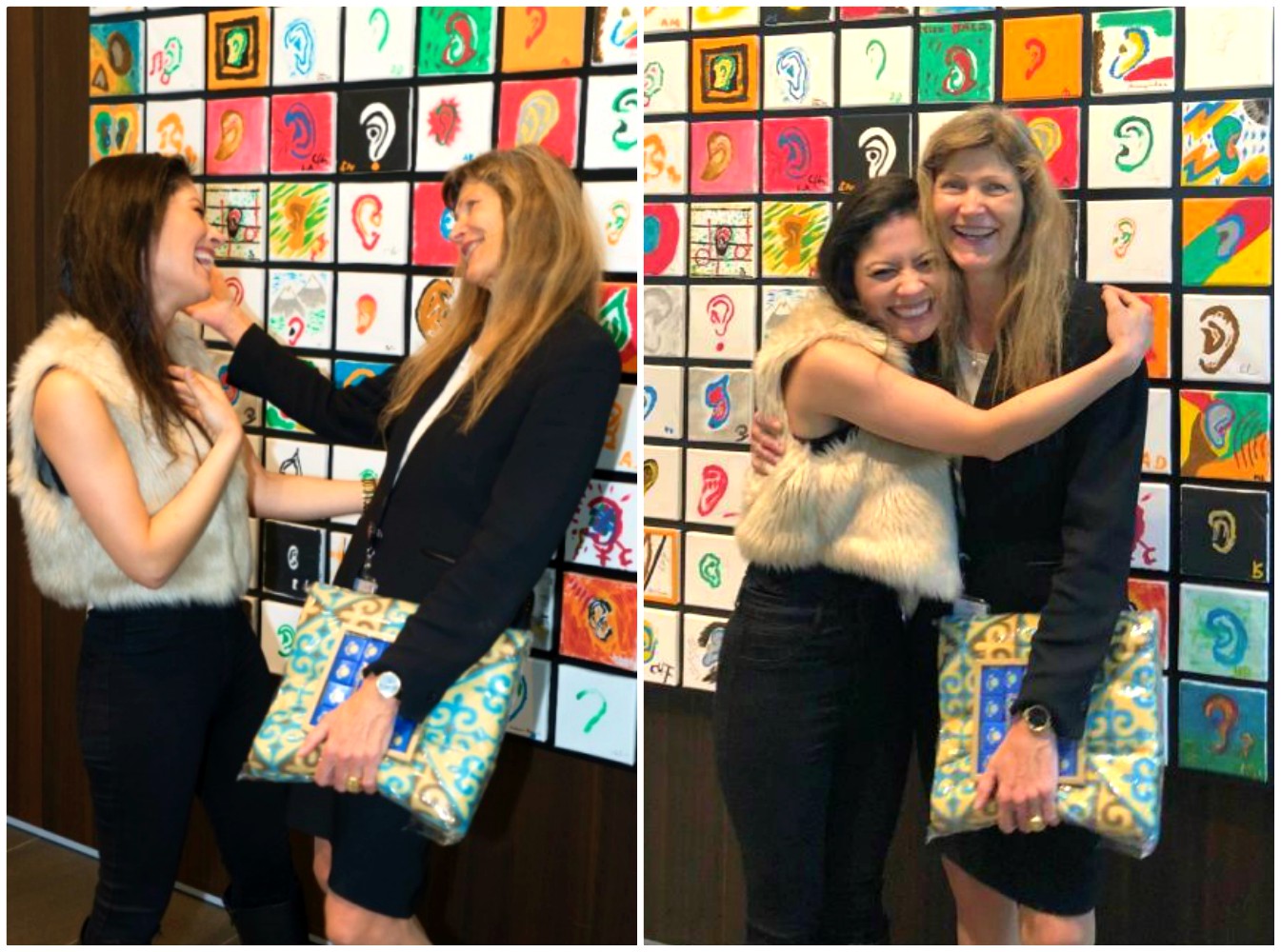 You know… It's hard to explain the feeling of being there, of meeting the exceptional MED-EL team and 14 newly acquired friends, wonderful people and fantastic life stories. Maybe Charles in the Incredible Chocolate Factory, Alice in her Wonderland or Peter Pan in Neverland can understand me. Because just like them, when I least expected it, I found my "Wonderland" and Innsbruck will forever be it.
Sheila de Souza Vieira
About Sheila 
Deaf at 13 years old due to meningitis and cochlear implant user for 20 years.
Master in Nursing (UFSCar).
PhD in Human Communication Disorders (UNIFESP).
She is currently a nurse at the Court of Justice of São Paulo and is studying speech therapy.