Teaching and Playing Music With Cochlear Implants: Laura's Story
38-year-old Finnish musician Laura has been using SONNET audio processors with an EAS system to learn to hear music with her cochlear implants. In last month's article, she told us all about the system, how she hears with it, and how the cochlear implants impacted her life. Today, Laura will talk about her rehab and which steps she had to take to rediscover music with her cochlear implants.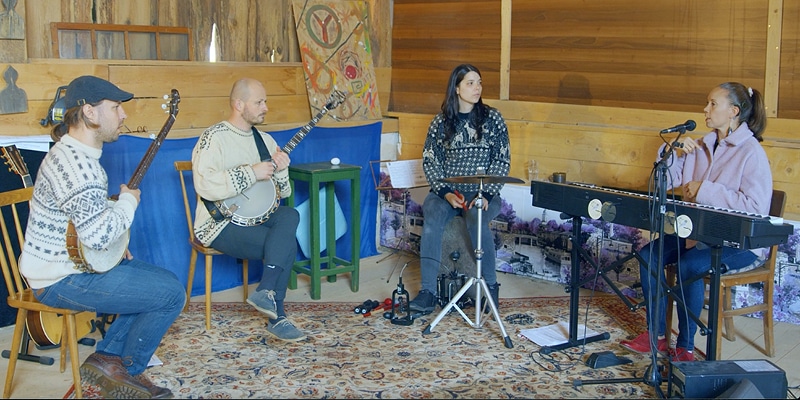 The Miracle of Hearing Again
As a musician and mother of two children, life was challenging with hearing loss, so I quickly decided to get cochlear implants. I immediately noticed how wonderful it was just to hear again.
Even though everything sounded strange at first, I was happy to be able to communicate again. This felt like a miracle! I finally felt I was part of the world again!
The Challenge of Hearing Music
Even though everything sounded different in the first months compared to how I used to hear before, it only took me four to six months to understand speech again.  With music, I needed more time, and I didn't know how long it would take to get back to hearing music again. It was very hard for me to accept that learning to hear and make music with my CIs was going to be a challenge. Not being able to hit the notes when I was singing was truly devastating for me. I almost gave up music, but luckily I had many people around me who pushed me in the right direction.
The Results of One Year of Music Rehab
When I found an expert who made CI adjustments and found the right settings for music, I was relieved. I was finally able to work on my intonation and understand music. I also used the amazing Meludia App which really helped me to keep on training with music. I did speech therapy, used apps, listened to audiobooks, and had music therapy. As my children were still small and my partner was at work, I couldn't spend as much time in rehab as I wanted to. But at least my ears got some "noise therapy" with my children.
After one year of rehab, most sounds already sounded quite natural, but I am still discovering new sounds after four years with my CIs. Hearing music and certain instruments is still an ongoing process.
Practicing With Great Results
To fully get back to hearing music, I had to start from the very beginning. First, I just played my piano to get used to the sound. I trained all the intervals one by one. Then I started to sing some easy songs. Step by step, I got results, and my perspective started to look better. I slowly  started making music with my partner again. My band waited for me to be ready, and we had a future again. Two years after my implantation, I returned to music school and was able to teach music and singing again. Now—four years after losing my hearing—I am proud to say that I fought to get my life back. I teach pop and jazz vocals again, have recorded new albums with my band, am performing again, lead a choir, and write new music.
Music Without Boundaries
I'm a lead singer in a band called Satuo. The name means "tale" in Finnish. We call our music Alternative Folk because we mix so many genres. When I compose, I like to combine jazz with music from my home country of Finland. I love traditional jazz, but modern and modal jazz also have a place in my heart. Music has no boundaries!
Raising Cochlear Implant Awareness and Offering Advice
We're currently producing my band's fourth album. It will be released in June of this year, and after that, we will try to play as many concerts as possible. If you read this and you're into music, check out our website or follow us on Spotify or social media. We will be sharing some insights on our work in the next months and hope to play a tour after that. Also, feel free to contact me or our organization TRA Kulturlogistik if you have any questions about making or listening to music with cochlear implants. This organization raises awareness for CI and hearing topics through workshops in schools, concerts, and dance groups.
My Advice to Other Musicians With Hearing Loss
Talk openly about your rehab or your worries. Contact other users and experts. You are not alone; our community is getting bigger and bigger. Soon, you will also be proud of being part of this community. We are here for you.
Thank you, Laura!
Thanks for your feedback.
The content on this website is for general informational purposes only and should not be taken as medical advice. Please contact your doctor or hearing specialist to learn what type of hearing solution is suitable for your specific needs. Not all products, features, or indications shown are approved in all countries.