Sound Sensation Music Festival: Meet the Stars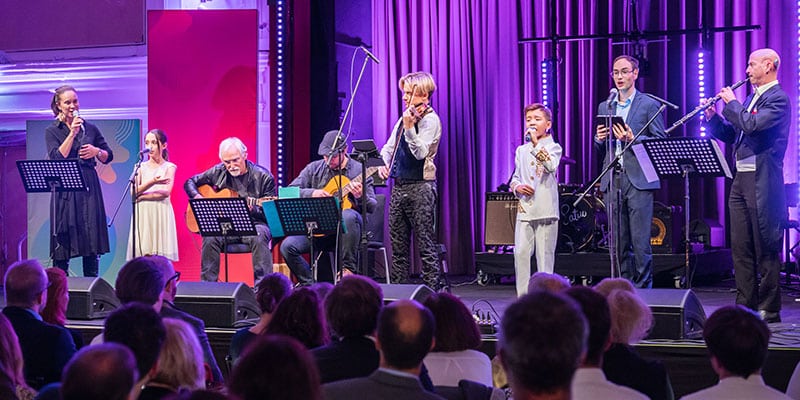 For the past few days, we've been celebrating music and hearing implants at Sound Sensation. The online festival brought together performances from implant recipients, interactive workshops, and a music-packed talk show. It all culminated with a Grand Finale of world-class music. Let's meet the inspirational hearing implant recipients who performed at this incredible event, and showed the world that even with hearing loss, they can perform sensational music.
Music is a way of life for UK-born Russell. A professional oboist, he rehearses and performs every day, and listens to music as much as he possibly can.
When he lost the hearing in his left ear in 2018, he thought his career would be over. But thanks to a cochlear implant and lots of training, he was able to return to music. He finds that everything has a much rounder sound and that he can hear more tones, which lets him appreciate music to the fullest. Today, he works as the principal oboist at the Orquestra do Norte in Portugal.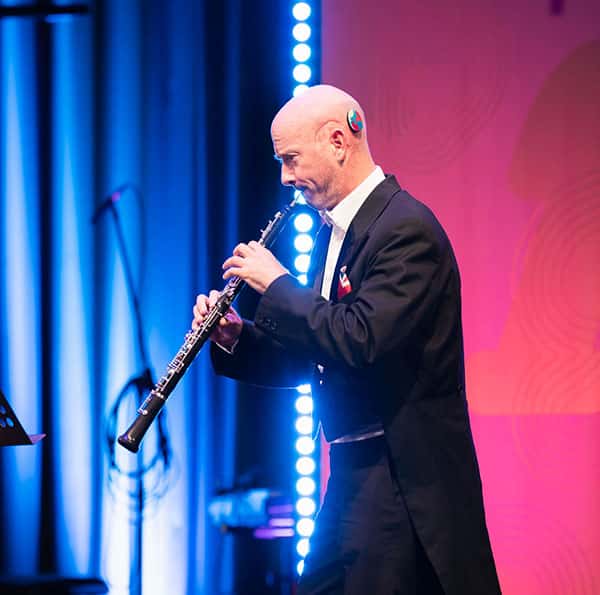 "Having the implant has benefited my musical career. People can see it, so they think I'm not able to hear. But actually, it has helped me hear better."
Jonas Pietersteiner, Singer
Medicine student Jonas from South Tyrol is a multi-talented musician. He sings and plays the guitar, piano, and the French horn. But around a decade ago, he noticed fluid coming from his left ear. It turned out that he had a cholesteatoma—or growth of tissue in the middle ear. After six unsuccessful middle ear surgeries, he tried a hearing aid.
However, Jonas soon found that the feedback from his hearing aid made music difficult for him, so he decided to get the VIBRANT SOUNDBRIDGE middle ear implant. Since getting his SOUNDBRIDGE, Jonas finds it much easier to hear the fine details and the intonation in music.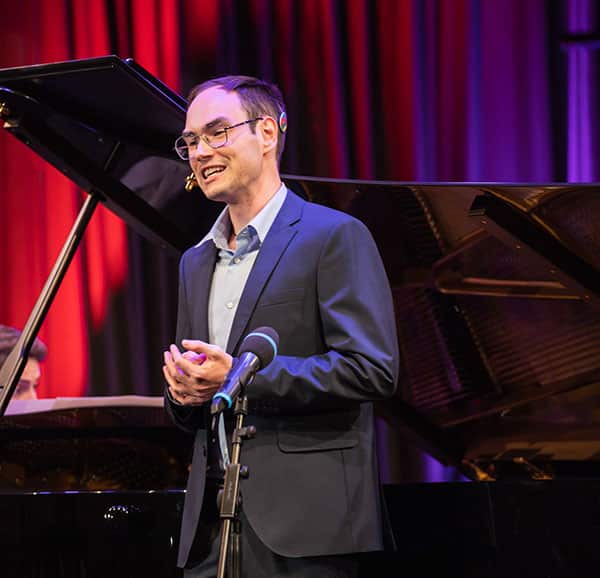 "The implant has turned my life around. Firstly, listening is less exhausting, and a lot of things have gotten easier. I understand people more easily, and making music has gotten easier."
33-year-old Grzegorz from Poland was misdiagnosed with autism as a child. He couldn't hear consonants and didn't speak but developed a love of the piano. Finally, at 14, Grzegorz was diagnosed with profound sensorineural hearing loss and started to use hearing aids. Still, he couldn't hear high-pitched sounds, which meant he couldn't get into music school. The solution was a cochlear implant.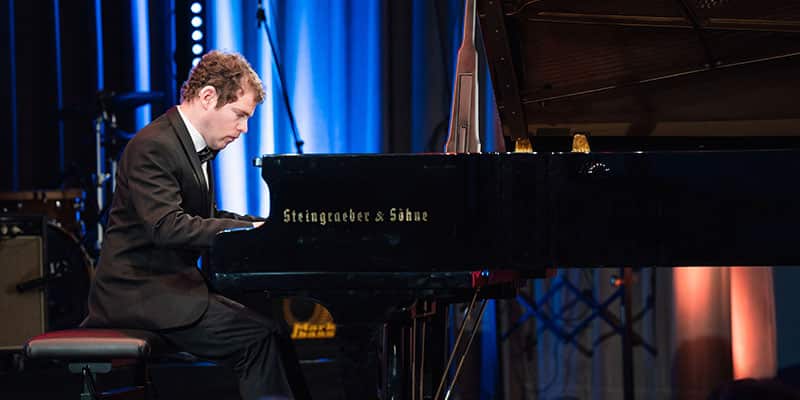 After surgery and rehab, Grzegorz could attend music school and master his favorite piece, Beethoven's Moonlight Sonata. His inspiring story has since been turned into an award-winning film, SONATA.
"This implant gave me the ability to hear high tones to such a degree that it is possible for me to tune the piano."
Roy Smith, Guitar & Banjo Player
Music has been a part of Roy's life from when he first heard someone play the banjo live. The sound and rhythm won him over, so he learned to play it himself. His hearing loss was gradual, but after 30 years, it got to the point where he couldn't take part in work meetings, and he struggled to communicate with his wife.
"(Before my CI…) music began to sound just like noise. I put my instruments literally in the basement, put my aspirations in the closet, and just gave up the idea of playing music again."
After getting a CI, Roy's word recognition improved almost immediately, but music took longer. Roy trained his ear with music he knew—and then ones he didn't—until he could learn songs by ear again. Now he has music back in a very real way, and he has even released an album, Mended Spirit.
As a singer and music teacher, music means everything to Laura. Originally from Finland, Laura has lived in Austria since 2009, where she's the lead singer of folk band Satuo. Satuo means fairytale in Finnish—which is the perfect name, since Laura wants to tell stories through the band's music.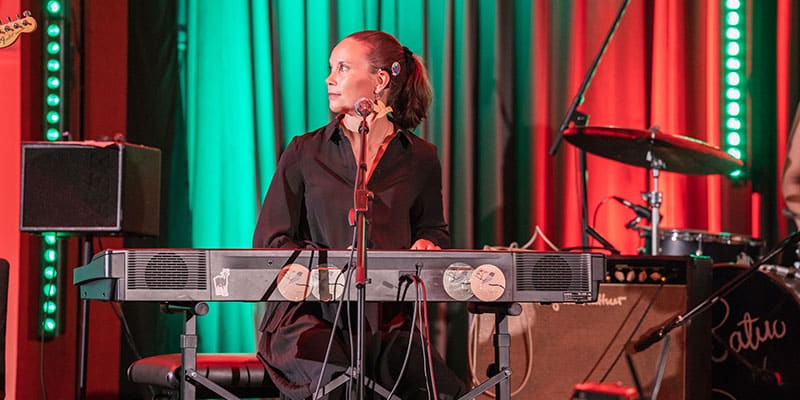 For a few years though, hearing loss halted Laura's musical career, and she almost gave it up completely. But thanks to her hearing implants—a cochlear implant combined with the SYNCHRONY EAS system, she can enjoy music once again.
"Without my implants, I wouldn't have a career. I lost music. With my implants, music came back to me. And now I know that music enriches my life."
12-year-old Chingiz from Kazakhstan got his first cochlear implant at the age of four, and his second when he was seven. Thanks to the efforts of his loved ones and teachers, the rehabilitation worked well, Chingiz could attend mainstream school, where he loves to hang out with his friends.
"Thanks to my implants, I can go to school, and communicate with my friends. We can hang out and talk to each other."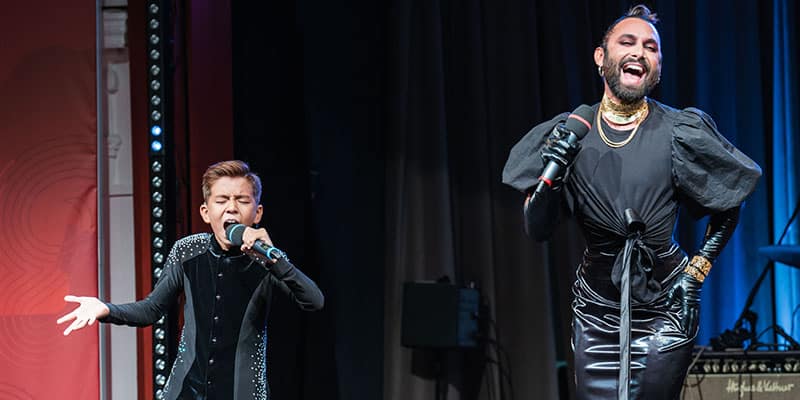 When Chingiz's parents noticed his musical talents, they encouraged him to take up dancing and singing. Before long, he was entering and even winning music competitions both in Kazakhstan and internationally. One of Chingiz's favorite songs to perform is "Rise Like a Phoenix", by Conchita Wurst, because it has a lot of energy and fills him with confidence.
Watch the Grand Finale Now
See Chingiz, Laura, Roy, Grzegorz, Jonas, and Russell perform at Sound Sensation: The Grand Finale in this video:
Thanks for your feedback.
The content on this website is for general informational purposes only and should not be taken as medical advice. Please contact your doctor or hearing specialist to learn what type of hearing solution is suitable for your specific needs. Not all products, features, or indications shown are approved in all countries.