School Routine And Family Life With Hearing Implants: A Mother Reports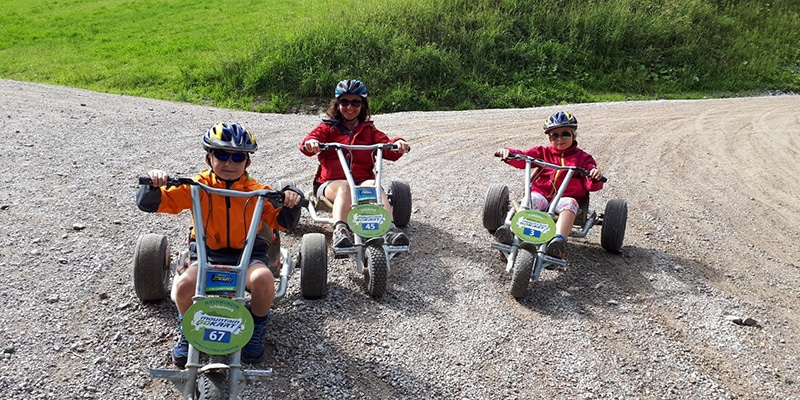 Michaela from Austria knows what really matters for children with hearing implants. After all, she is the mother of two cochlear implant users herself. In today's guest article she talks about why she decided to get their children implanted with CIs, how her family masters school and family life, and what the real challenges are.
My name is Michaela. I live in Lower Austria along with with my husband Bernd and our children Victoria and Florian. And there is one more member of our family: our dog Zeus. In our free time we love to spend time outdoors and enjoy hiking, skiing, ice skating or going for walks with Zeus. We also like to meet friends or relax at home.
Diagnosis: Hearing Loss
Shortly after our daughter Victoria was born, a routine newborn screening was carried out. The results showed that more tests would be necessary. Eight months, a hearing test and a BERA test later we were told the diagnosis: profound hearing loss in both ears. The reason: a genetic defect.
When you are told that your child is deaf, it really feels like someone pulled the rug out from under your feet: What does hearing loss mean? How can we cope with day-to-day life? What about our child's future? Will they be able to attend a regular school? Suddenly, you have to deal with so many things you never even thought about before. When Florian was diagnosed with hearing loss too, it was also difficult. But we knew what was coming and had a good network of doctors, early intervention support and knew what to expect from Victoria's hearing journey.
Two Children, Four Cochlear Implants
After our daughter was diagnosed with profound bilateral hearing loss, we were soon confronted with the question of whether we wanted her to get cochlear implants or not. It was not an easy decision, and I had many sleepless nights thinking about it. In the end we decided to go for it. We would not have been able to forgive ourselves if we had denied our children access to all the great music in the world, the birds singing, and the variety of sounds out there. With Florian the decision was easier for us, because we knew what to expect and how the CIs would support him in his development. So both children were bilaterally implanted when they were around one year old.
Family Life With CIs
The CIs – or "Hellos", as we like to call them – have always been part of our family life. I keep telling my children that it's fine and normal to wear audio processors. Some people need glasses to see, some need help walking and others need cochlear implants to be able to hear. Everyone is different and that is fine!
When it comes to the everyday handling of the audio processors, I am the go-to person in the family. When the children were younger, I changed the batteries and took care of everything. But by the end of kindergarten and beginning of elementary school, the children started to take care of the audio processors themselves. Now, in the third grade of elementary school, Florian takes care of his audio processors, removing the batteries and putting it in the drying kit. Victoria knows how to exchange and charge the rechargeable batteries, and just recently she explained the correct handling of the FM system to her new English teacher.
For both children the CIs are very important, after all they mean being able to hear and participating in "normal" life.
Kindergarten And School
Both Victoria and Florian have attended a regular kindergarten and elementary school from the beginning, and they are taught according to the regular timetable. I always informed the staff in kindergarten and school about my children's special needs. I also made sure to always have enough batteries in kindergarten, I wrote information sheets with the most important aspects of handling the audio processors. So far I have also joined most kindergarten trips and school excursions.
When starting school, it was important to make sure that both kids got a FM system for school and we applied for special needs education. For me it has been great to see how the teachers and headmasters have always assisted and supported my children. Everyone has showed lots of understanding.
Of course there are a few things to consider at school: For example, that the child should be seated close to the teacher and ideally have a quiet neighbor, who can help if your child doesn't understand everything. Listening to recordings can be particularly challenging for children with CIs. After school the kids are often very tired, and it's important to make sure that the children have some quiet periods.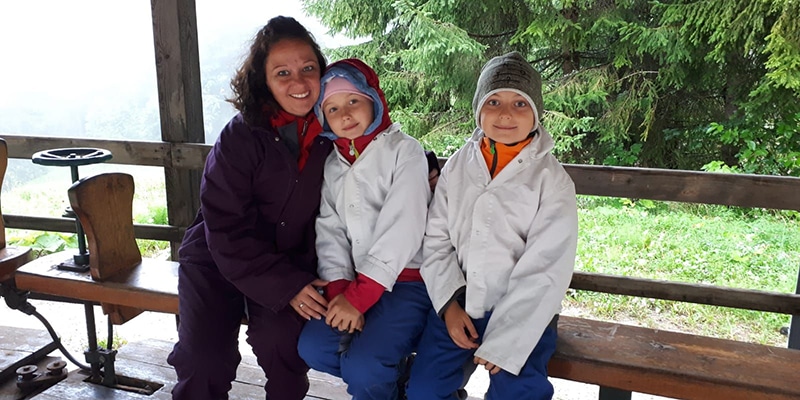 Open Communication About Cochlear Implants
For us as parents it was very important to communicate openly about our kids' hearing implants. We have explained to everyone in our social circle what a CI is and what to pay attention to.
At school, I explained CIs to the other children with the help of MED-EL books, e.g. Mellie Goes To Preschool. Children always want to know everything, and I have the impression that they deal better with a topic if they get an explanation and are allowed to ask questions. Vici's and Flo's friends also know that my children are "offline" if they don't wear their processors, e.g. while playing at the swimming pool. So their friends make sure to keep eye contact while talking to Vici and Flo, and the communication works quite good that way.
Advice For Other Parents
If I could give other parents of children with hearing loss some advice, it would be the following:
Get early intervention for your children as soon as possible.
Always have enough spare batteries at home.
Enjoy spending time with your children, talk to, sing and laugh with the kids.
Make the most of the situation, no matter if you decide to get an implant or not.
And last but not least: Live your life to the full! In our family my husband always helps with that. He encourages our children to do fun things that I worry about e.g. going on the big waterslides or playing in the waves. But the kids love it!
Thinking about the future, I hope that we all stay healthy and that my children's developments keeps going well. That they will have honest, loyal and understanding friends by their side and that they will be able to live a "normal" life. And that they will be able to pursue a career they enjoy, and that they have a family that supports them. In other words: a happy, fulfilling life!