MED-EL Gave Me My Life Back: Bertus' Story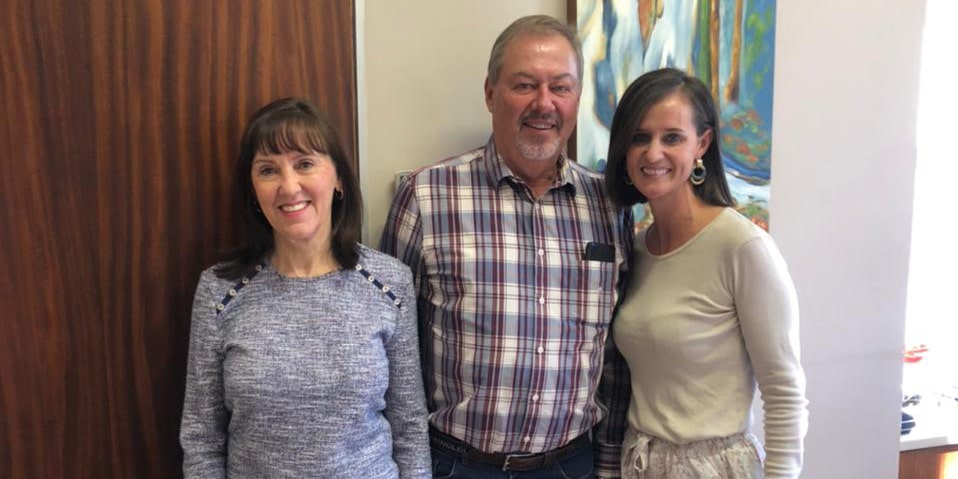 Bertus from South Africa decided to get a cochlear implant after being diagnosed with profound hearing loss at the age of 66. In this article, he tells us openly how he decided on a cochlear implant, how it improved his life, and what he wishes for the future.
My name is Bertus and I'm from Pretoria, South Africa. My lack of hearing before the implant forced me to retire. I've subsequently restarted my business of selling and supporting computer software solutions and it's doing well. In my free time, I play golf, cycle, and visit the South African game parks.
From Mild to Profound Hearing Loss
My hearing journey began in 2016 when I began to mishear syllables and softer sounds during conversations. I started to find it difficult to participate in conversations and conference calls. At that time, I was in the denial stage and blamed everything except my hearing.
When I was 61 years old, I reluctantly went for a hearing test and was then fitted with 'entry-level' hearing aids. Five years and three sets of hearing aids later, I went from mild to profound hearing loss in both ears. I could only hear low-level sounds. My doctors told me that hearing aids aren't going to do anything more to help me and I should consider getting a cochlear implant.
The Impact of Hearing Loss
My hearing loss over the last five years particularly reduced me to avoiding many social situations and being on my own without my wife. It also had a huge impact on my career. Doing business via e-mail and WhatsApp is certainly not ideal.
The Covid lockdown situation benefited me, as we did not socialize at all, and I could work remotely using mostly e-mail. I tried to avoid online meetings, which were extremely difficult to participate in.
Preparing for a Cochlear Implant
My desperation drove me to investigate the cochlear implant route to see if there was a possibility of regaining some hearing and getting my independence back.
I created a to-do-list:
Read as many international cochlear implant blogs as possible
Investigate the pros and cons of each cochlear implant supplier
Communicate with cochlear implant groups online
Talk to someone who has a cochlear implant to hear a firsthand experience
Decide on a supplier and act!
From the above process, I decided to go with MED-EL. Three major factors influenced my decision.
Technology leadership (leading edge)
Local support
References from existing MED-EL users
The next step was to locate a reputable audiologist who dealt with MED-EL. I contacted the Pretoria Cochlear Implant Unit (PCIU). Tania Swart from the PCIU tested my hearing and referred me to Dr. Anton Smit (ENT). Dr. Anton Smit then implanted one MED-EL SYNCHRONY 2 cochlear implant in my left ear and a month later I returned to the PCIU for the switch-on. After wearing hearing aids behind the ears for nearly six years, I decided to go for an 'off-the-ear' audio processor, the MED-EL RONDO 3.
Hearing Sounds and Voices Again
My switch-on was on 14 April 2022, done by Tania Swart from PCIU. It was a bit of a shock because people sounded like chipmunks, but the many blogs prepared me for that. I was also shocked by how much I liked it!
After my first re-map, the chipmunks disappeared, and people sounded like people again.
I immediately heard more sounds and voices than I could with the best hearing aids.
Roelien Needham from MED-EL attended my switch-on, as well as my first re-map a week later. A nice touch that proved MED-EL's local support. My first reaction was, "Right, let's get on with life now."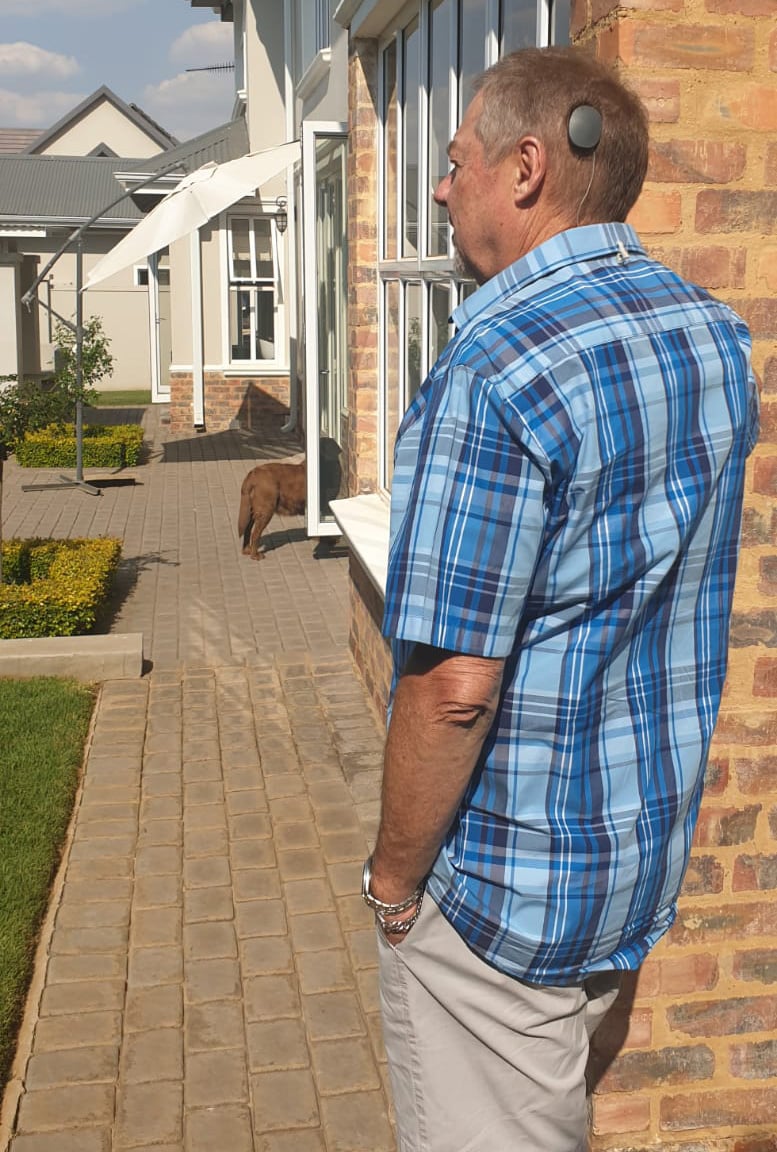 Quick Results With My Cochlear Implant
After four re-maps (a total of seven weeks later) and lots of practice listening to music and audiobooks, I'm now able to:
Hear and understand voice clearly instead of lip-reading (both one-on-one and in groups of up to four people)
Have conversations with passengers in my car whilst driving
Make phone calls to friends and family as well as businesspeople
Actively engage in online meetings using the AudioLink device
Listen to most music
Hear bird calls and other high sounds clearly
For the first time in five years, I can hear sounds like the microwave or my car indicator
Never in my wildest dreams have I ever expected such a huge result in a short time. But, as most blogs suggest, the results differ from one person to the next. With every re-map, I experienced a dramatic improvement, to the point where I now only need to visit the audiologist in three months' time.
My wishes for the future are to improve musical sounds, understand speech in noise better than now and finally go for a second implant next year.
I want to advise everyone with hearing loss to investigate the cochlear implant route sooner rather than later. It beats ANY hearing aid on the market.
Thank you, MED-EL, for your support and excellent technology. YOU gave me my life back.
Thank you, Bertus!
Thanks for your message. We will reply as soon as possible.
The content on this website is for general informational purposes only and should not be taken as medical advice. Please contact your doctor or hearing specialist to learn what type of hearing solution is suitable for your specific needs. Not all products, features, or indications shown are approved in all countries.