Living and Feeling Free With a Cochlear Implant: Alessia's Design Cover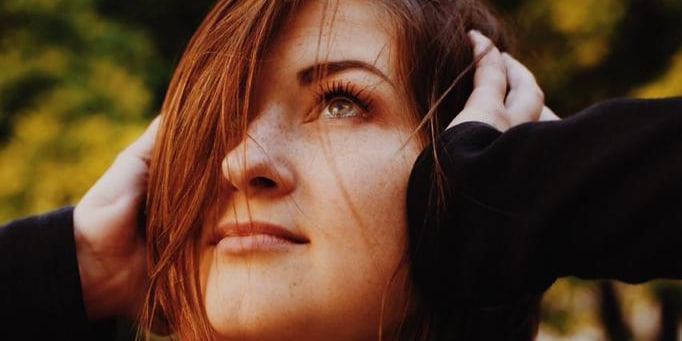 Read about how cochlear implant user Alessia Florea moved to Italy to live her artistic dream, despite being unable to hear. Now one of our four limited-edition design cover artists, Alessia tells us how she lost her hearing, how art helped her, and what her design cover masterpiece represents.
My name is Alessia, I am 31 years old and originally from Moldova. Currently, I live in Turin, Italy. I am a painter, and I recently finished my master's at the Academy of Fine Arts of Brera in Milan. I currently spend my time painting, looking for inspiration, and traveling.
When I was three years old, a fire in my family home changed my life forever. Doctors saved me in the hospital, but I lost my hearing. I had to change schools many times because the two hearing aids I used did not help much. I couldn't control my voice, which is why my classmates bullied me a lot.
Thankfully, my mother was very engaged in my speech and development every day. She did not give up and took me to speech therapists. Unfortunately, I still could not hear anything I was saying. I started painting to express my feelings and deal with the difficult situation, and my mother noticed my talent.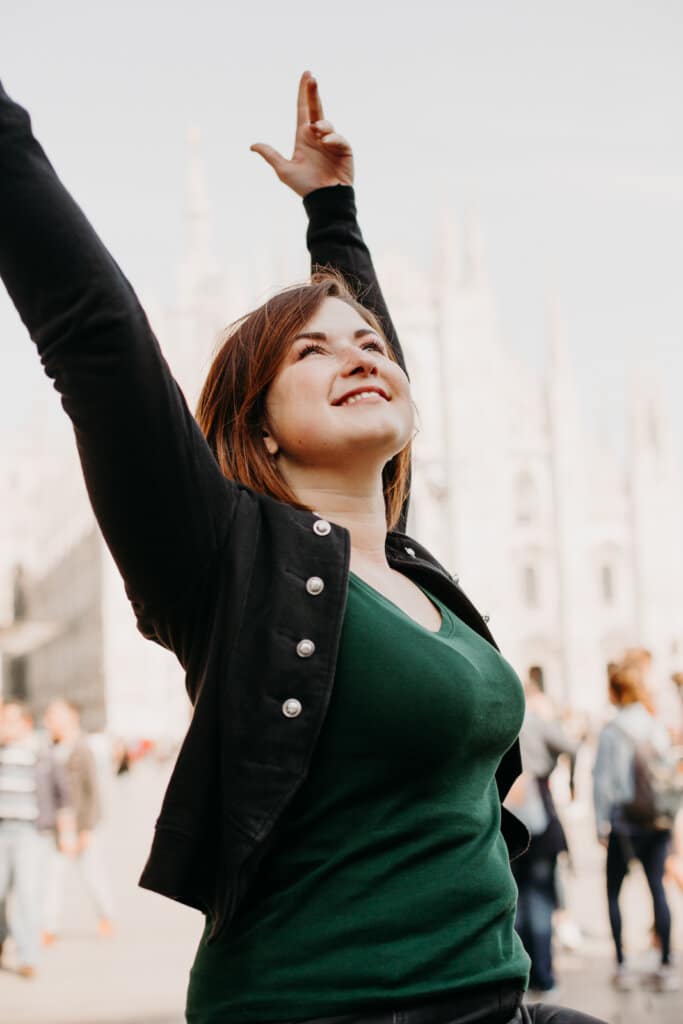 As I was always a huge fan of Italy and its cultural attractions, I decided to move there at the age of 19. I was so confident in my abilities that I gathered all my energy and quickly learned Italian by communicating with locals.
Although I couldn't hear, it did not stop me from learning a new language by lip-reading. This was my first big success. I began to absorb the new culture and the inspiring country that I now lived in.
I soon decided to apply to the Albertina Academy of Fine Arts in Turin, and they accepted me! During this wonderful time, I learned about cochlear implants (CIs). After weighing all the pros and cons, I decided to take the important step and get an implant. I got my first implant at age 22 and the second at 27. These two surgeries have completely changed my life.
Just Like Learning a New Language
On activation day, I was anxious and afraid but also happy to finally discover sound. I am still unable to put its meaning into words. When my implant was activated, a very quiet sound interrupted 20 years of silence. My auditory nerve needed some time to adjust to the new sensation. Each sound represented something different, and it was like I began to learn a new language. Now, for me, sound means to live and understand the world.
Thanks to MED-EL's cochlear implant, my life has taken on a new meaning—many doors to new opportunities are now open to me. My favorite thing is that my cochlear implant allows me to collaborate with the people around me. I also have a great advantage: I can use my CIs when I need them, but when I need silence to study or concentrate, I can turn them off. My implant has proven repeatedly to be very useful and gives me a sense of autonomy and freedom.
My implant allows me to live an independent life anywhere in the world. It gives me the ability to talk to people and learn new languages. Especially during the pandemic, I was happy not to rely on lip-reading, which was impossible with masks. This extra option of using my implant made it very easy for me to communicate with friends and family.
Being deaf and then getting your hearing back is a great gift. So many people in this world have this great gift but don't use it. Every day, I appreciate having my hearing as much as I did the very first day that I received it. There are many people who would love to receive the gift of hearing but can't.
My favorite artist Amedeo Modigliani has a quote that fits perfectly to that:
"La vita è un dono dei pochi ai molti: di coloro che sanno e che hanno a coloro che non sanno e che non hanno."
The translation: "Life is a gift: from the few to the many, from those who know and have to those who don't know and don't have."
My Cochlear Implant Painting
On my design cover, you can see a girl in Modigliani's style. The girl is like a portrait of myself, especially with her green eye color. Her bright red hair represents the brand MED-EL as it reminds me of the company's colors, while the hair's snail shape resembles a cochlear implant. The dove next to the girl stands for peace and freedom.
My art has a deep connection to my hearing loss. I did not choose my path; I had to experience a lot of suffering throughout my life. I was bullied and teased, and during that time, art supported me. During these tough times, I painted and expressed all my emotions on a piece of paper. Painting has helped me get through many years of pain and now thanks to my cochlear implant, I can live and feel free.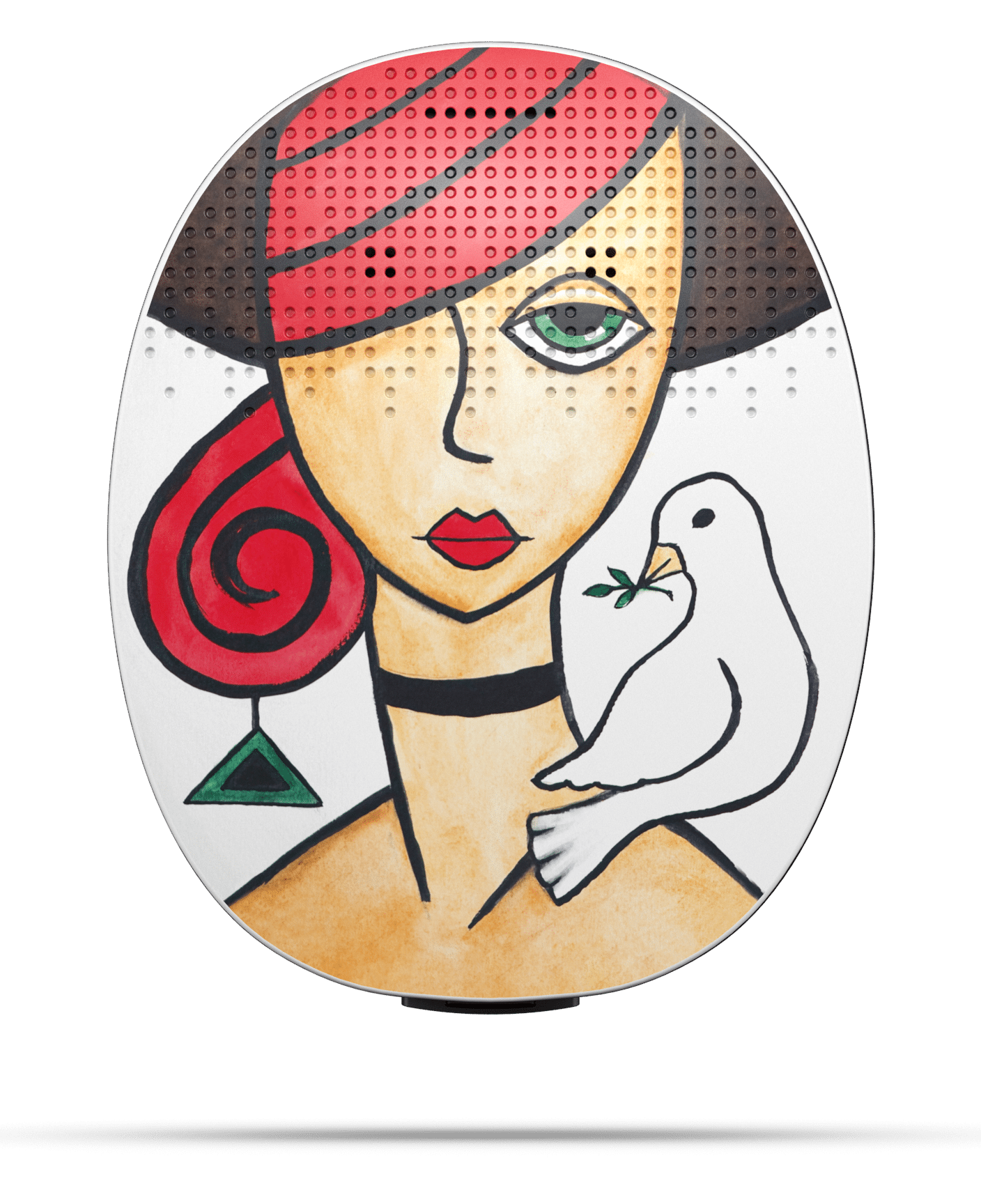 My artistic style has changed a lot over time. After I finished my classical and academic studies, I found my own style via artistic influences. As a deaf person, I really like expressionists. Today, my style is a mix of expressionism and realism.
My goal in life connects to art: I want to travel everywhere I can to visit museums and see many original paintings. During my studies, I have only seen art in books and visited Rome, Paris, and Florence, but there are still more cities and art out there waiting for me.
I want to leave an important message to all people who struggle with hearing loss. You should know that there is no reason to be afraid of making the choice to get a cochlear implant. I understand the situation; I had difficulty with a lack of support from family and friends. It took me a long time to decide on the surgery, but now I have loved every year of the past decade with my cochlear implant. Considering how independent I am today, I now understand that I made the right choice.
Thanks for your message. We will reply as soon as possible.
The content on this website is for general informational purposes only and should not be taken as medical advice. Please contact your doctor or hearing specialist to learn what type of hearing solution is suitable for your specific needs. Not all products, features, or indications shown are approved in all countries.