I Like the Fact That I Hardly Notice My BONEBRIDGE: Mirco's Story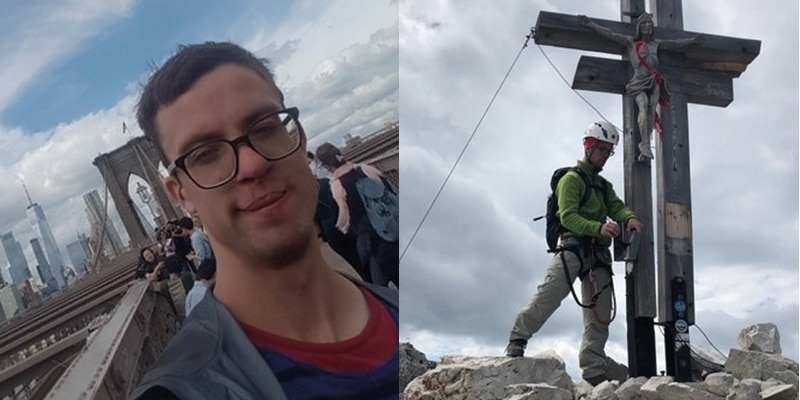 Mirco is among the first people in the world to receive a BONEBRIDGE hearing implant system. He received the two bone conduction implants in 2012 and 2013 whilst studying. At this point, it was clear that conventional hearing aids wouldn't provide a sufficient solution for his hearing loss. Mirco manages wonderfully with his two SAMBA 2 audio processors today. What he appreciates most about the BONEBRIDGE is the natural hearing quality and the comfortable feel. But let's let him tell his own story…
My hearing loss began early: As a child, I already had problems with hearing, especially if I had a winter cold, which was initially noticed more by my parents. I myself became more and more aware of it at school. Especially in noisy classrooms with a lot of background noise, I found it increasingly difficult to follow the lessons.
No Success With Hearing Aids
After primary school, I received a conventional hearing aid. However, this was an unsatisfactory solution for me. I ended this "experiment" very quickly because on the one hand my hearing could only be improved to a limited extent and on the other hand wearing the hearing aids was unpleasant for me for various reasons.
When I was 16, I was prescribed hearing aids once more—with the explanation that technology had advanced and would now provide a better hearing experience. But even at that point I was not convinced by this solution. I also had a negative experience when the hearing aids let me down during my practical driving test. After that, I abandoned this attempt as well. The hearing loss was generally a problem whenever I wanted to talk to other people in noisy environments. This applied to classroom learning as well as conversations at parties or in clubs, bars, and restaurants. This also affected my social life in certain situations.
New Start in Hanover
During my studies, I was encouraged by my best friends and acquaintances to deal with my hearing loss. This positive support, in combination with the new technical possibilities, prompted me to look for a solution once more.
In the process, I came across Prof. Thomas Lenarz and had myself examined and advised by him at the ENT clinic in Hanover. The best possible solution was to first try to correct the hearing loss with a middle ear implant, which replaces the function of the ossicles. During the operation, it was found that the implant could not be inserted due to special anatomical conditions. I was then recommended the BONEBRIDGE implant, which was brand new at the time, and I quickly became enthusiastic about it.
It was important for my decision that the implant sits completely under the skin and does not partially protrude from the scalp as with other systems. My family supported me in my decision, as well as my circle of friends.
The support of friends and acquaintances made me look for a solution again.
Immediate Improvement With BONEBRIDGE
At the activation of my BONEBRIDGE my parents and I noticed the difference immediately. It was a moment of great joy and relief for me. I was immediately aware that I had gained a much higher quality of life.
It wasn't difficult for me to get used to this new way of hearing. In everyday life, I had no negative experiences and was able to enjoy the hearing experience and the newfound quality of life a lot. Still, I find that I tire more quickly in noisy environments when there are many or loud sounds to process. That's despite the very good technology, which has improved even more with the newer audio processors (SAMBA 2) Compared to the previous device, the independent alignment of the microphones to speech has again been significantly improved. The overall sound quality is very natural and balanced, even soft sounds and voices are reproduced clearly.
Can't See This Video?
Having problems viewing this video? Watch it on YouTube.
Great Support at Work and in Free Time
Communication with my fellow human beings is much easier for me now. I can follow conversations much better and it doesn't stress me out as much to actively participate in them, which makes my social life much easier. In my office job at a dairy company, I'm in contact with many people and have to be able to respond to them. Without my BONEBRIDGE, it wouldn't be possible for me to practise my profession as I do today.
I use the SAMBA 2 GO connectivity device every day to make phone calls in the office, but also for video conferences and to play videos or podcasts. Without SAMBA 2 GO, I would have to listen to many of these things through loudspeakers, which would disturb both me and my colleagues.
In my free time, I wear SAMBA 2 for everything I do—for sports as well as for listening to music at home. I find it particularly good that I can listen to music again without headphones at a volume that is also acceptable to the people around me. When hiking and mountaineering, the hearing quality of SAMBA 2 is very important for me, as it is especially necessary support others in the group and warn each other of dangers.
Without BONEBRIDGE, it would not be possible for me to practise my profession as I do now.
Part of Everyday Life
In everyday life, BONEBRIDGE hardly needs any maintenance or care, I usually only have to change the batteries once a week. The settings are updated at the annual check-up, which is usually sufficient. After I found a magnet that suited me, I didn't have to change it again.
What I like most is that I hardly notice BONEBRIDGE in everyday life, so it doesn't restrict or hinder me in any way. I don't normally notice wearing SAMBA 2, which is of course perfect. This way, I can wear SAMBA 2 for an average of 15 hours a day without finding it disturbing. This is also a significant advantage over hearing aids I have worn before.
My Advice
I would recommend anyone to consider a BONEBRIDGE if it is suitable for their particular hearing loss. Even today, the SAMBA 2 processors are technically very good and the constant further development guarantees that the system always remains up to date. In everyday life, the devices are almost unnoticeable, so you get a big improvement in quality of life.
In addition to the aspects already mentioned, I also find MED-EL's excellent customer service worth mentioning. The staff are always friendly and courteous, and spare parts and replacement devices are usually there the very next day.
Thank you, Mirco, for sharing your story!
Thanks for your message. We will reply as soon as possible.
The content on this website is for general informational purposes only and should not be taken as medical advice. Please contact your doctor or hearing specialist to learn what type of hearing solution is suitable for your specific needs. Not all products, features, or indications shown are approved in all countries.