How Bone Conduction Hearing Solutions Transformed These People's Lives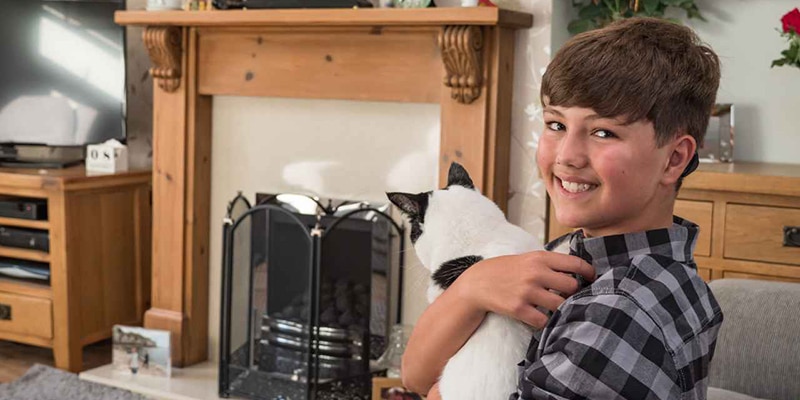 Bone conduction is an impressive technology. We've already looked at how it's used in everything from nature to scuba diving but through devices like ADHEAR and BONEBRIDGE it has also had a huge impact on the lives of those with microtia, atresia, and cholesteatoma.
Read on to find out how these innovative bone conduction hearing solutions have given back hearing to five people from around the world.
"Playing music with SAMBA fills my whole body with positive energy."
Niraj has had hearing loss since birth, but he never liked wearing hearing aids. When he started learning the guitar he struggled with the rhythm. He decided to get the BONEBRIDGE bone conduction implant in early 2018 and was thrilled with the results.
"The most memorable moment was when I wore my SAMBA on that very first day," says Niraj. "I felt like I was in heaven. I could hear everything, like the sound of traffic, bird song, and people talking around me, which I did not experience before."
Meet Niraj-he's a student, a guitarist, and a BONEBRIDGE user from India. Niraj's amazing guitar skills won him a place at this year's Beats of Cochlea music festival, where he will join other musicians with hearing implants from all over the world.
"My life has improved in ways that I never imagined"
Ross was diagnosed with microtia and atresia in his right ear at birth, but it wasn't until he was at university that he really noticed his hearing loss. He tried several solutions, including the CROS and then the BAHA headband. He also considered getting the BAHA implant but had concerns about care and infections. In 2015, after careful consideration, he decided BONEBRIDGE was the option for him.
After a successful surgery and activation, Ross was able to hear on his right side. " I left the hospital and was astounded to hear both my left and right footsteps. I was finally hearing on both sides—this was an amazing auditory experience!" describes Ross in his blog post.
Hi! My name is Ross, I am 55 years old and live in Saskatoon, Canada. I am married and have four sons. I work for the federal government of Canada where I conduct research on insects associated with agricultural ecosystems. I am an active person and do various sports.
"Since using ADHEAR, William is so much happier"
William was one of the first people in the world to try ADHEAR, a non-surgical bone conduction device. He'd tried other bone conduction solutions before, but they required wearing a headband. "Wearing the headband every day was socially challenging, and it made him very unhappy," writes his mom Lorraine. "For the first time William's hearing loss was visible. He was really isolated at school as he felt different. His peers did not understand his hearing loss and he struggled to make friends."
With ADHEAR, William can just stick the device behind his ear—he sometimes even forgets he is wearing it. "He has more energy every day after school and has fewer headaches from over-concentrating to hear in class," says Lorraine.
William was one of the first in the world to try out the revolutionary bone conduction hearing device stuck on behind the ear-ADHEAR. We chat with William's mom, Lorraine, to find out about how ADHEAR has changed her son's life. 1: How did you first find out William had hearing loss?
'Now Lola has her own superhuman hearing"
Seven-year-old Lola is another young kid who is loving life with ADHEAR. She was born with microtia in her right ear and used a BAHA headband to help her hear. "Lola was getting fed up with having to wear a Softband hearing device so we thought it would be a good idea for her to trial the new ADHEAR device," her mom Frankie told the Daily Mail newspaper.
As you can see in this adorable video, ADHEAR was an immediate hit with Lola. "The advanced technology means she can hear better, which is great—but Lola is happier to lose the headband, it really ruined her street cred," says her mom.
22.6k Likes, 256 Comments – People Magazine (@people) on Instagram: "This little girl has the best reaction after receiving an advanced hearing aid. ❤️"
"The acoustician said my hearing has improved by 70%"
Six years ago, Robert found out he had cholesteatomas—growths on the tissue of the middle ear—on both his ears. He had to have seven operations to remove them, which left him with a hearing loss of 85 dB on the left side, and 55 dB on the right. It had a huge impact on his life. "The simplest things suddenly became the biggest hurdles. I was overwhelmed by the situation. I'd always been sporty and healthy—and suddenly everything changed. That hits you psychologically," writes Robert.
Following his seventh surgery, he tried ADHEAR, and it was an instant success.  "When I tried the device for the first time, it brought tears to my eyes," describes Robert. "I suddenly realized all the things I hadn't been able to hear: birdsong, dogs barking—all these sounds had been missing."
After seven cholesteatoma operations, Robert didn't want to have surgery ever again. So when he discovered ADHEAR -a bone conduction hearing device he could use without having any more surgery-he knew it was the right decision. Find out how ADHEAR has revolutionized Robert's hearing, and his life.
Want to find out how bone conduction could help you? Read more about ADHEAR and BONEBRIDGE.
Thanks for your message. We will reply as soon as possible.
© MED-EL Medical Electronics. All rights reserved. The content on this website is for general informational purposes only and should not be taken as medical advice. Contact your doctor or hearing specialist to learn what type of hearing solution suits your specific needs. Not all products, features, or indications are approved in all countries.