How ADHEAR Helped Me Gain Confidence At University: Núria's Story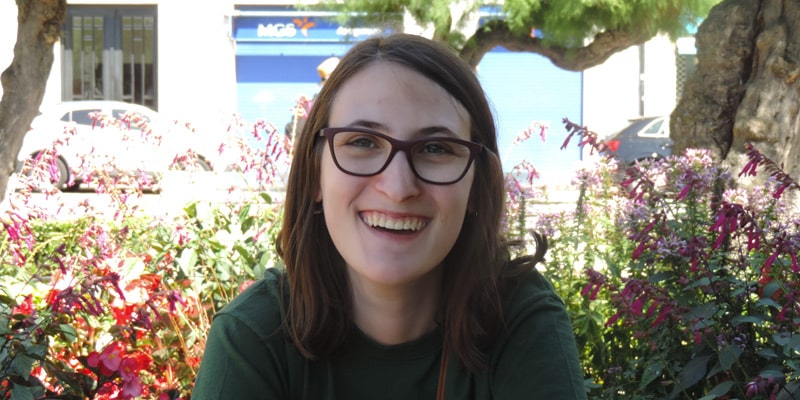 Núria from Spain is studying biomedical analysis at the University of Barcelona and started using the bone conduction hearing system ADHEAR a few months ago. Here she talks about her (hearing) journey and explains why ADHEAR has become an integral part of her university life.
---
My name is Núria, I am 21 years old and come from a small city near Barcelona. In my free time I like going out with friends, reading and playing the guitar. I also enjoy travelling and getting to know other cultures.
Hearing Loss Because Of Cushing's Syndrome
I have a twin sister called Neus, and we were both born with bilateral conductive hearing loss. This is caused by a rare genetic condition called Cushing's Symphalangism (Cushing's syndrome), which makes the bones of the middle ear grow together instead of separately. This makes it difficult for sounds to be transmitted. It can also affect your finger joints, causing them to grow together, and is very similar to Otosclerosis.
When Neus and I were little, we didn't talk much. At first, this was not that worrying because twins usually develop their own language. But after observing us during playtime at kindergarten, our parents were advised to have our hearing checked. Shortly afterwards, the team at our children's hospital diagnosed us with conductive hearing loss.
At the age of three, we both had one ear operated on, and the function of the ossicles was restored in a surgery called a stapedectomy. The other ear was left unoperated because doctors weren't sure if it was the right solution. Soon, however, it turned out that the surgery had been the right choice.
A Typical Childhood
Thanks to the stapedectomy, my sister and I quickly learned to speak, and we grew up as expected. We attended both mainstream primary and secondary schools and didn't need hearing aids. We got good grades, graduated from high school, and today we are both university students.
Human physiology and genetics have always fascinated me, so I decided to study Biomedical Science. I am in my third year at the University of Barcelona, and I find it very interesting to learn more about the human body and scientific developments.
University Life With Hearing Loss
At university I felt a bit insecure about my hearing loss for the first time in my life. Sitting in large lecture halls filled with people, I was often worried whether I had heard everything and whether my notes were correct or not. I often had to ask my fellow students if I had understood the professors correctly.
I was about two years into my degree when I decided that I had to do something about my hearing loss and insecurity at university. My doctor then showed me ADHEAR. She recommended I try this hearing solution instead of undergoing surgery again. My doctor always supported my sister and me and was absolutely right about ADHEAR. Thanks to the experts at my hearing center in Barcelona, I was able to test it for some time to see if it would help me.
More Self-Confidence With ADHEAR
Before ADHEAR, I had no experience with hearing solutions, as I had always done well at school without hearing aids. It was a bit strange at first, but soon it was clear: ADHEAR is perfect for me! I can hear much better in my everyday life at university. I no longer have to ask my fellow students or sit in the front row but can choose for myself where I want to sit. Whether in the first or the last row, with ADHEAR I can easily follow the lecture and take notes. It gives me so much more self-confidence!
What I also like about ADHEAR is that it is hardly visible, especially with long hair. In the few months that I have been wearing ADHEAR at university, I was only asked about it once, and so I don't have to make my hearing loss an issue if I don't want to.
My Advice For Students With Hearing Loss
A piece of advice I would like to give other students with hearing loss: Don't be afraid of the new university environment, but make sure that you understand all the speakers and are able to take notes. Unfortunately, many universities here in Spain do not take the needs of people with hearing loss into account. And since you are kind of "anonymous", especially in larger universities, you often have to fend for yourself and search for your own solutions. I found such a solution–ADHEAR was definitely the right step for me!
Thanks, Núria!
Interested in another ADHEAR story? Meet Robert from Austria, who returned to hearing with ADHEAR.
Thanks for your message. We will reply as soon as possible.
© MED-EL Medical Electronics. All rights reserved. The content on this website is for general informational purposes only and should not be taken as medical advice. Contact your doctor or hearing specialist to learn what type of hearing solution suits your specific needs. Not all products, features, or indications are approved in all countries.