Five Years of ADHEAR: William's Story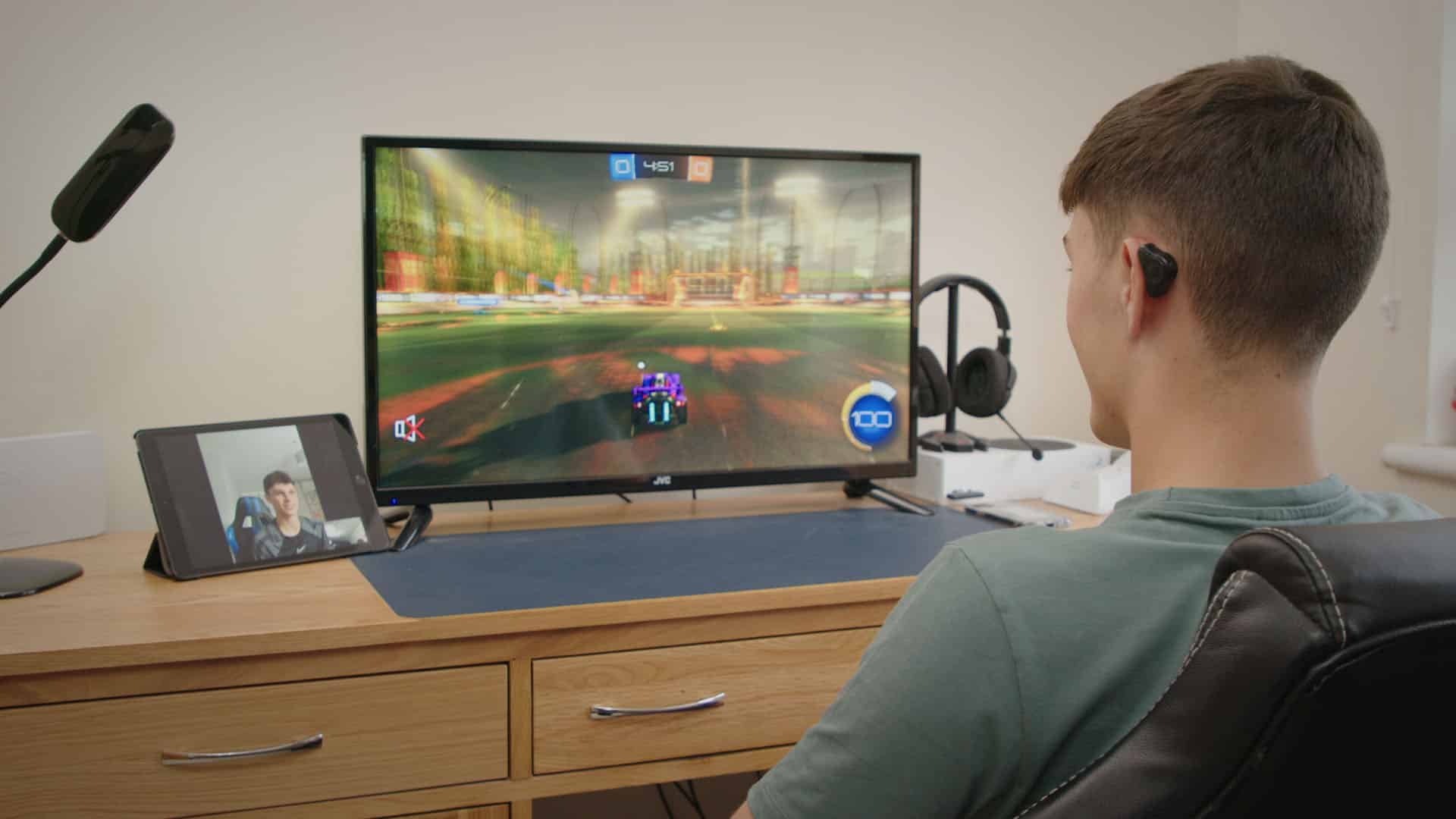 When he was 11 years old, William from the UK started using ADHEAR, our revolutionary bone conduction device designed for people with conductive hearing loss. Now, five years later, he shares his experience with the device and how it changed his life.
My name is William, I'm 16 years old and live in the UK. At the age of 2, I was diagnosed with a cholesteatoma, which took my hearing in my left ear. Now I hear with bone conduction, which is why ADHEAR is the perfect solution for me.
First Impressions of ADHEAR
After the cholesteatoma, I used a bone conduction softband to send sound to my ear. I was never really happy with it, though. When my consultant told my mum and me about this new type of bone conduction system, I was excited to give it a go. I became one of the first people to get ADHEAR when it came out five years ago. This is how I got on:
Everyday use of ADHEAR is pretty simple: it easily clips onto a sticker behind my ear, so I can absolutely use it on my own. I have no problems with it as it doesn't get in the way. With my ADHEAR, I have no discomfort—sometimes I even forget that it's there.
Exceptional Sound Quality
Five years after using ADHEAR, I can still confirm that the sound quality of the device is exceptional. When I was little, I tried guessing what people were saying as I could not pick up every word, but now I can hear people clearly, and louder and understand everything that is being said. Communicating has become much easier now, no matter if the person speaking is in front of me or if the conversation is online or on the phone.
Better Grades With ADHEAR
Thanks to its great sound quality, ADHEAR has helped me at school as I can interact during lessons now, no matter where I'm sitting in the classroom. I'm grateful for my ADHEAR, because, without it, I wouldn't be as focused in class. My grades would be way lower, and I wouldn't have absorbed as much knowledge as I did over the last few years.
Sports With a Hearing Device
Apart from the educational advantages, this device has also helped me boost my confidence. I can now talk to people and interact with others without fear. I'm thankful that ADHEAR has also given me the possibility to play all kinds of sports, including rugby. This wouldn't have been possible with some of the other bone conduction solutions we looked at, which use metal screws, like BAHA hearing implants.
Playing on the Xbox and talking with my friends on FaceTime has become easy for me. Even talking to multiple people at once online is not a problem anymore with my ADHEAR as I can hear everything clearly.
My ADHEAR has improved my life a lot. It has helped me gain confidence and given me opportunities I always dreamed of!
Thank you, William!
ADHEAR is ideal for people of any age with conductive hearing loss. There's no implant, making it especially useful for people who want to avoid—or can't undergo—surgery. The system is made up of an adhesive adaptor that sits on the skin behind the ear and an audio processor that clicks on to it. The audio processor picks up sound waves, converts them into vibrations, and send them to the bone via the adhesive adaptor. The bone then transfers the vibrations through the skull to the inner ear where they are processed as normal sound.
Thanks for your message. We will reply as soon as possible.
The content on this website is for general informational purposes only and should not be taken as medical advice. Please contact your doctor or hearing specialist to learn what type of hearing solution is suitable for your specific needs. Not all products, features, or indications shown are approved in all countries.