Behind The Scenes At The First-Ever MED-EL Meetup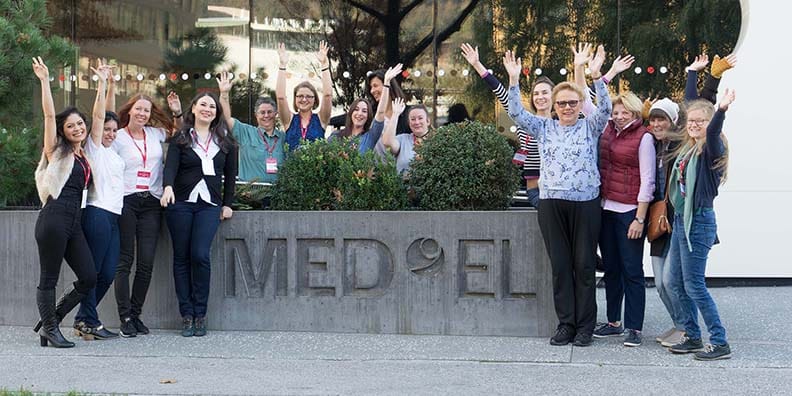 15 people. 11 countries. One amazing event. Last month we invited MED-EL recipients and users from around the world to our headquarters in Austria to show them the technology behind their hearing implants. Here's a little taste of what happened.
Backstage at MED-EL
All MED-EL's implants are made at our state-of-the-art manufacturing facilities in our HQ in Innsbruck, Austria. So naturally one of the first things on the agenda was a behind-the-scenes tour to watch some of our hearing implants being made.
View this post on Instagram
"Viewing a shelf of completed implants made me smile knowing each one would be life changing to a future user. We were surprised to learn that we have helium, argon and quite a bit of gold in our heads!" said Mary Beth from the USA, who describes the whole experience on the HearPeers Forum.
Zoya from Russia was impressed by the attention to detail that goes into the process; "Safety is at the highest level. For example, if an employee drops a pen on the floor of the clean room, they cannot simply lift it from the floor. There is a special protocol: what to disinfect, how, where to note such an incident. Each group of specialists is engaged in one specific operation. Production is strictly controlled at every stage."
View this post on Instagram
Then it was into the Training Lab, a room where ENT surgeons come to learn the latest techniques. Our guests had a go themselves, using our special equipment to try inserting an electrode into the cochlea, and simulating surgery with the help of virtual reality.
As Laura from the UK described it: "We found out what exactly happens during surgery and got the chance to play "surgeon" and practice inserting an electrode into a cochlear, which is more challenging than I ever imagined!"
Hearing Heroes
The MED-EL Meetup was also a chance for the attendees to meet the people behind their hearing implants. As each implant produced by MED-EL has its own serial number, we were able to actually trace exactly which MED-EL employees made which hearing implant, and several of them joined us for a very special coffee break.
Carolien, the mother of a cochlear implant recipient in Belgium, describes the experience in her Instagram Story: "Then we got to meet the makers. The people who actually make the CIs. Not just any CI but my son's CI. I can tell you, it got emotional."
Things got more emotional still the next day when Ingeborg Hochmair, MED-EL's CEO walked into the room.
"You could've heard a pin drop as everyone realized Inge Hochmair stopped by to visit with us," writes Mary Beth. "I met Inge and tried to express my deepest gratitude for her life's work which has changed my life. I thought I would have this incredible experience for a minute or two since there were 15 of us. But after I finished trying to put into words how much my life has changed and how grateful I am, she asked me questions about my hearing journey. She was interested and took time to hear my experience. I could not believe I was standing there talking with Inge Hochmair! There are no words to describe my feelings. A dream come true."
View this post on Instagram
It was also a poignant moment for Colleen, whose son Liam has two cochlear implants. "As long as I live I will remember this moment," says Colleen. "This is me with Ingeborg Hochmair, the INVENTOR of the first multichannel cochlear implant. I'm showing her a video of Liam, thanking the people who made his implant. Tearfully I told her how she not only changed Liam's life, she changed our whole family's life.
"Because of this woman my son doesn't have to choose and we don't have to worry that he always feels a little removed from us. Because of her he hears every word in our home, every "I love you," every "good morning" and "good night" whether they're spoken to him or someone else. Because of her his hearing loss is a very surmountable obstacle. And today Liam and I got to thank her."
Friends For Life
With dinner on the mountaintop and an afternoon exploring the city of Innsbruck, there were plenty of opportunities for the attendees to discuss their experiences, share tips and tricks, and get to know each other better. "I connected with amazing people, I spoke three languages ​​at the same time, I heard stories that I took for my new script, I laughed out loud, I cried hard, I lived intensely," said Barbara from Argentina.
View this post on Instagram
There was even an impromptu piano performance in the hotel bar from Veronika, a unilateral CI recipient from Austria.
It was a huge mix of people from all over the world, covering an age range from 19 to 70 years old. For Laura from the UK, this was one of the highlights of the whole event, who said "I also got the opportunity to meet so many wonderful people from so many different countries (Brazil, Argentina, USA, Croatia and Kazakhstan to name a few), all with a different hearing journey but all united by MED-EL."
A huge thank you to each and every one of the MED-EL Meetup attendees for making the event so special!
Want to hear more from the MED-EL Meetup participants? Check out this post from Mary Beth about music with a cochlear implant.
Find out more about how cochlear implants work and how they could help you or your child.