Speech Therapy for Babies With Hearing Loss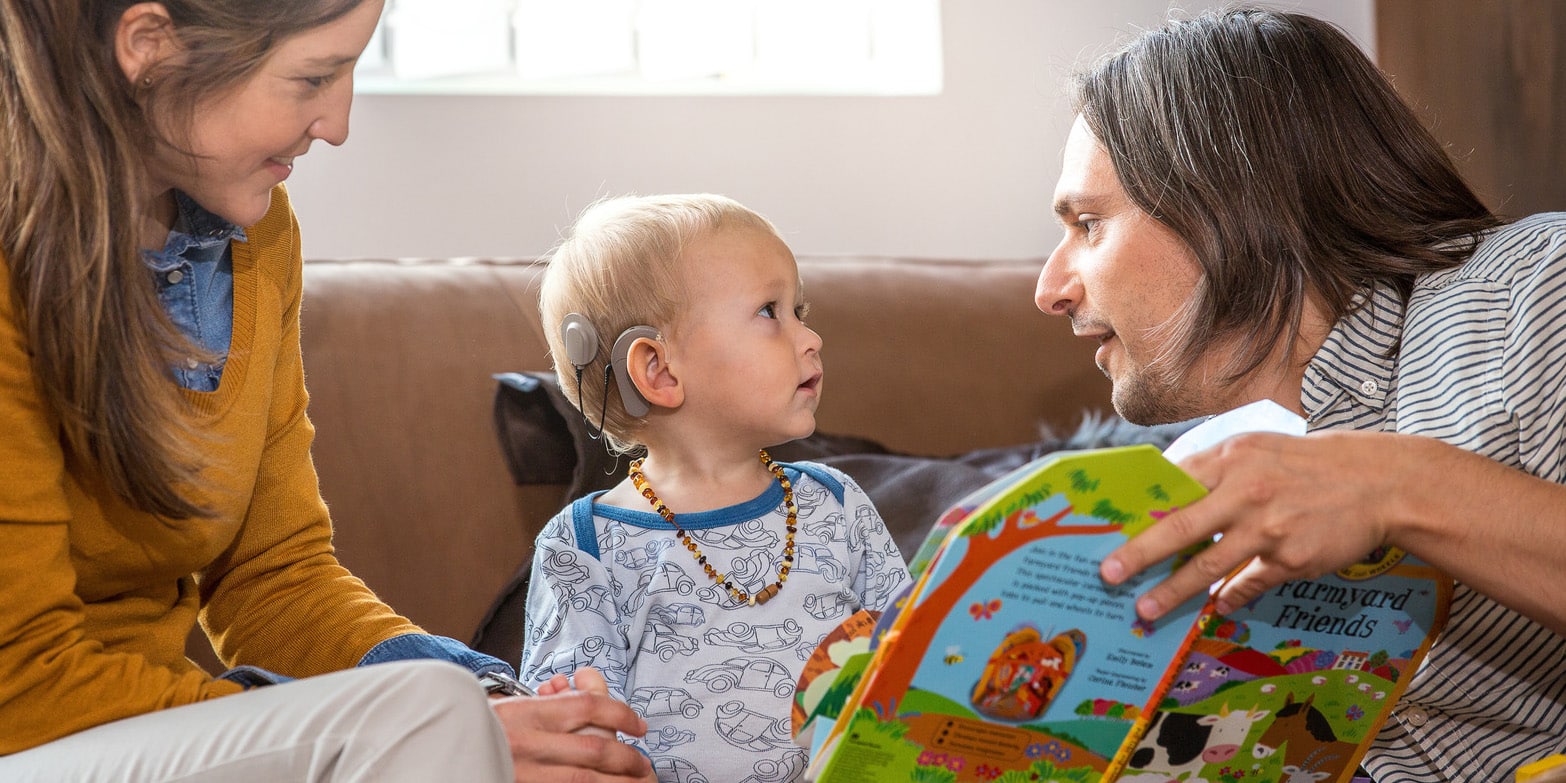 The earlier a child with hearing loss and their family begins intervention, the better for the child's long-term communication outcomes. In this blog, we look at some tips for getting support, tactics you can try at home, and share a free resource to use with your baby.
If your child has been diagnosed with hearing loss, make sure to:
Schedule routine hearing appointments, and follow fitting and amplification recommendations.*
Seek a rehabilitation service specialized in working with children with hearing loss. They can monitor your child's communication skills and provide early intervention.
Connect with other families of children with hearing loss for practical tips and support.
There's also a lot you can do to help develop your baby's speaking skills yourself. Here are three tips for caregivers of babies with hearing loss to try at home:
1. Follow Your Child's Lead
Talk, talk, talk about what your baby is looking at, interested in, doing, or might be thinking about. Observe your child closely for communication attempts, such as pointing, glancing towards an object, or vocalizing to tell you something. Talk more about those things to teach your child the words to match those thoughts and concepts.
2. Talk About Their Physical States
This is another way to help your child to understand various words, and for them to learn to eventually use them. Talk to your baby about being hungry, tired, happy, and upset. For example, Ohhh, that was a big yawn! Are you tired? Yes, you might be tired. I think it's time for your nap.
3. Share Books and Songs
Singing stimulates multiple areas of the brain. The repetition in children's songs makes new vocabulary and sentence structures easier to learn. Reading books with your child can extend their vocabulary, use of sentences, understanding of the thoughts, feelings, and beliefs of others. It will also help them develop reading and writing skills later on.
Free Resource: 'Five Little Monkeys' Songbook
Our 'Five Little Monkeys' songbook is a great resource for helping your child learn vocabulary and sentence structures.
How to Use the Songbook With Your Baby
Print the resource, cut along the dotted lines, and glue or staple to make a book.
Sing the song to your child while looking at the pictures.
Talk about what the monkeys are doing, add fun sounds such as 'uh-oh', 'ouch!' and 'oo-ee' (monkey), and use a different tone of voice for the strict doctor to keep your child engaged.
Add actions to go along with the song.
Once the song becomes familiar to your child, and depending on their age, pause and wait for your child to vocalize for keywords such as 'no more'.
You and your child might like to re-enact the story with animal toys you have at home to help your child to understand the story.
If you're looking for more activities to try with your baby, take a look at these six listening games. Or check out our Rehab at Home blog and video series.
We also offer a wide variety of resources for speech-language pathologists and therapists working with young children who have hearing loss. These include the MED-EL Lesson Kits (for children), MED-EL Remote Lesson Kits (for telepractice), Ready, Steady, Go! For Professionals (for pediatric cochlear implant candidates and their families), and the MED-EL Adult Rehabilitation Kits.
* Always follow the individual recommendations given to you by your child's audiologist/health care provider.
Thanks for your message. We will reply as soon as possible.
The content on this website is for general informational purposes only and should not be taken as medical advice. Please contact your doctor or hearing specialist to learn what type of hearing solution is suitable for your specific needs. Not all products, features, or indications shown are approved in all countries.