How To Use MED-EL's Lesson Kits With Your Child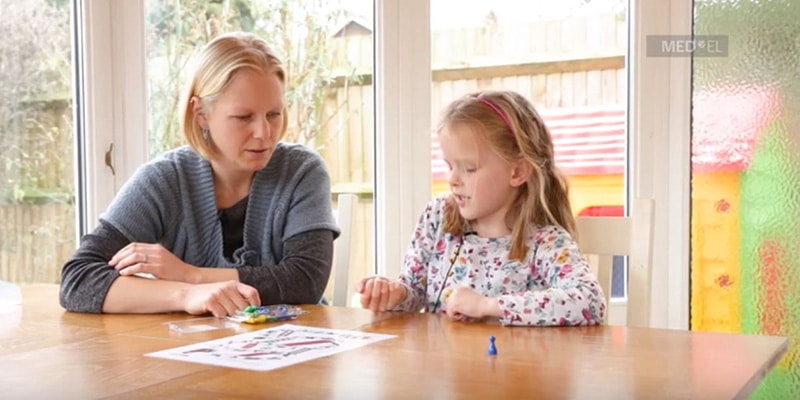 We know many of you are facing the challenge of how to continue to develop your child's listening and language skills at home. But did you know that we have 26 themed lesson kits that can be used to help develop your child's skills? And best of all, they are free for everyone to use! Here's how to use them at home.
What Are The MED-EL Lesson Kits?
The MED-EL lesson kits are themed lesson activity resources designed for professionals to use in therapy sessions but families love using them too. Each lesson kit contains lesson plans for children at three different levels. There are also instructions and printable resources for four activities you can do at home.
How Can I Use The MED-EL Lesson Kits?
1. Choose a theme your child is interested in. There are 26 to choose from, including Animals, Transport and Hobbies. You can view all of them here. Download the lesson kit to your computer or laptop.
2. Identify what level lesson plan to use with your child.
Level 1: Your child is learning to listen to one unit of information and may have started to use single words.
Level 2: Your child is learning to pay attention to two pieces of information in a sentence and may be able to say or repeat two or three words combined together.
Level 3: Your child is learning to pay attention to three or more pieces of information in a sentence and may be able to say short sentences.
3. Print the lesson plan and the resources to go with the activity or activities you like. The resources you need are coded so you can find the ones you need. Here's how to read the code.
Animals = Name of the themed kit
L = level of child
A = activity number
Animals L 1 2  A2 = Use this resource for activity 2 in the Animals' kit for levels 1 and 2
4. Read the therapist notes for your child's level. This explains the instructions for the activity, the goals and ideas for how you can help your child achieve the goals. The instructions are written for professionals who usually work with a parent/caregiver and a child so in some activities it may be helpful to have another adult or older child in the activity to model the language you want your child to learn.
5. Start the activity and follow the instructions. Or don't follow the instructions and make up your own activity using these lovely resources!
Here are some teaching strategies you can keep in mind when completing these activities with your child.
KEEP IT QUIET & STAY CLOSE: Find a quiet spot to do the activities and sit yourself close to your child's hearing technology. These two steps make sure your child can hear your speech as clearly as possible.
TEACH MORE, QUESTION LESS: Talk more, using comments and statements instead of questions. Questions like "What is that?" "How many are there?" "What colour is that?" test children's knowledge rather than build new knowledge.
LISTENING FIRST: To develop the auditory area of your child's brain, talk about the pictures before your child sees them and give instructions before you show how to do them. This means information reaches the auditory part of the brain without having to compete with visual information.
MAKE YOUR VOICE INTERESTING: If your child is in the early stages of Level 1 use lots of variation in your voice to make it easier for your child to learn through listening. Try the following ways to highlight your speech.
Talk a little bit slower
Place stress on important words
Change the loudness of some words (but don't speak too loudly as this can distort sounds). Try a whisper sometimes.
Added pauses before important words
Exaggerate intonation (vary the pitch more than usual)
Add a sing-song rhythm or melody
If your child is level 2 or level 3 you can still use these techniques when you want help your child remember important information or new words.
The activities in the MED-EL Lesson Kits are designed to be fun and interesting for children. The pictures have been specifically drawn to help children with hearing loss learn. If children are not enjoying an activity they will not learn effectively. If you notice this, try changing the activity or following your child's lead to make the most of the learning opportunities.
Looking for more activities you can do with your child? Try this fun bus-building activity.
Check out our Rehab At Home series for more fun ways to support your child's aural rehabilitation.
Thanks for your message. We will reply as soon as possible.