Tips for Cochlear Implant Recipients Playing a Musical Instrument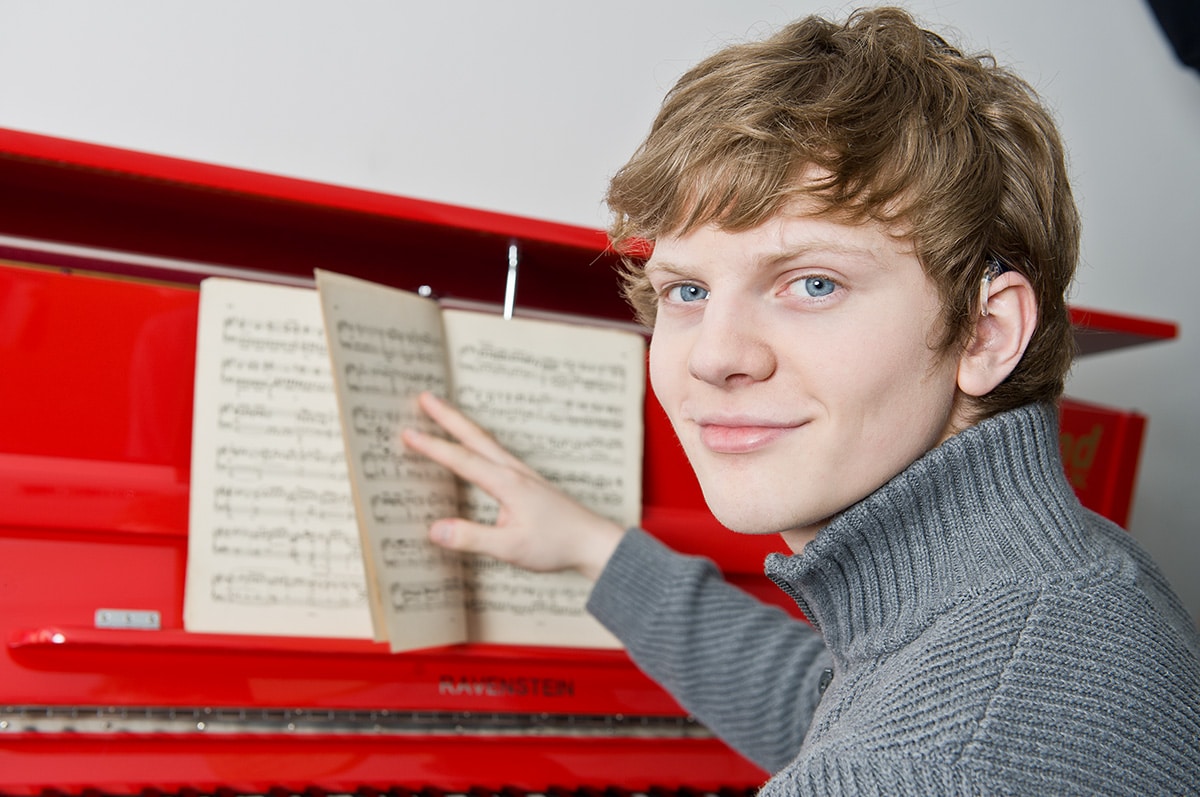 Has your child ever thought about playing a musical instrument? Many cochlear implant recipients enjoy listening to music with their cochlear implant, and there's no need to stop at just listening. Playing a musical instrument can be a fulfilling experience for children, especially those who have received a cochlear implant. If your child is thinking about learning a musical instrument, here's some information that I've put together that you can use to help get the most out of the experience.
Why Should My Child Play a Musical Instrument?
Play a musical instrument builds skills that go hand-in-hand with their hearing development, and can be applied far beyond just the field of music.
Rehabilitation programs usually focus on language development and speech understanding. These exercises will cover different components of sound like pitch, loudness, and time­­—skills that are also important for listening to music. Playing an instrument will add to these skills by building an understanding of melody, rhythm, and tempo.
Music can also help to build your child's developmental and social skills. You can use playing, listening to, and talking about music as a foundation for promoting communication as well as cognitive thinking and motor skills. And, social and emotional skills can be strengthened through participation in a social group such as an orchestra or concert band.
Especially for Cochlear Implant Recipients
If your child is a cochlear implant recipient, there are a few factors that could influence their ability to play and enjoy playing a musical instrument.
These factors all revolve around the same basic point: everybody's listening skills are different. By talking with your child and his or her audiologist or hearing professional, you can help evaluate your child's unique skills to get a feeling for whether or not playing an instrument will be enjoyable and fulfilling.
Here are some questions to get you thinking:
How long has he or she been hearing with a cochlear implant?
Does he or she enjoy listening to music?
What range of sound frequencies can he or she access?
Choosing the Right Musical Instrument
If you and your child have decided that playing a musical instrument would be a good idea, then it's time to decide which instrument to play.
All children will be influenced by their age and motivation, availability of instruments, and the musical culture of your country or area. For cochlear implant recipients specifically, there are some additional considerations.
One of the first is evaluating the tone and timbre of each instrument. Some children will be naturally drawn to certain sounds or families of instruments, so finding the right one can help make their experience enjoyable. By talking with your child about what they do or don't like you can make the best decision together.
Another thing to consider is the technical requirements of playing the instrument. For example, if your child is thinking about learning a string instrument like the violin it can be a good idea to take it slow. This is because string instruments require a good perception of pitch and can therefore be more challenging than some other instruments.
So, what are good instruments for a cochlear implant recipient to play?
Percussion instruments are a good place to start because they are simple and fun to play. These could be:
For older children, some options could include:
Trumpet, or other brass instruments
Saxophone, or other woodwind instruments
Violin, or other string instruments
And for children of all ages, the piano is always an excellent option to consider.
For some first-hand accounts of MED-EL recipients and musicians, check out our interview with pianist Daniyil Danilov, or this music video from Joe Hannigan:
This post was written with the help of Shabnam Fathima, a clinical specialist focused on cochlear implant rehabilitation.
Thanks for your message. We will reply as soon as possible.
© MED-EL Medical Electronics. All rights reserved. The content on this website is for general informational purposes only and should not be taken as medical advice. Contact your doctor or hearing specialist to learn what type of hearing solution suits your specific needs. Not all products, features, or indications are approved in all countries.