Music For Cochlear Implant Users: MED-EL's Spotify Playlists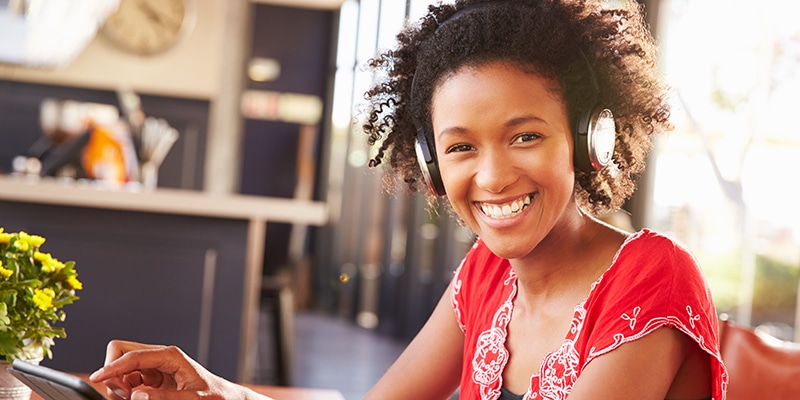 What do Katy Perry's "Roar", The Beatles' "Here Comes the Sun", Wham's "Last Christmas" and Beethoven's "Für Elise" have in common? They all made it to a MED-EL Spotify playlist!
The MED-EL playlists were compiled to improve the music enjoyment for hearing implant users through active music listening. The songs were selected based on cochlear implant users' listening needs, combining art and science straight from research learnings.
Research shows that CI users can enjoy familiar music more. Popular music is most likely to be familiar for the majority of listeners. This is why the MED-EL Spotify playlists feature pop, rock, jazz, blues and country songs from different decades, reaching back as far as the 1950s and 1960s. After all, we want to offer backwards compatibility not only for our cochlear implant systems but also for the music taste of our users! The playlists cover a variety of songs, artists and genres, from classical music to modern pop songs, from Beethoven to Pink.
Simple arrangements were another essential criterion derived from studies. No matter which playlist you listen to on the Spotify medelcochlearimplants channel, you'll find arrangements to suit your individual listening skills, from simple to complex.
When choosing recordings for a playlist, we went for songs in which vocals stand out more clearly. And in which special effects or electronic manipulations were limited to make listening easier for hearing implant users.
MED-EL currently offers five playlists on Spotify – click here or just search for the MED-EL account by typing in medelcochlearimplants in the Search field. You can also click on or search for one of the playlists listed :
Music For Motivation And Speech Understanding
It is a proven fact that active music engagement and exposure to music leads to benefits that may not be evident at first glance. Actively listening to music makes you enjoy music more. This, in turn, increases the time spent listening to music after implantation. Studies have also shown that the benefits of music training might be transferred to other domains such as speech understanding in noise.
A better understanding of speech in noise is thought to be a fabulous by-product of music training. One possible explanation: processing music constitutes a big challenge for our healthy ears and brains, and even more so for a cochlear implant. Filtering out individual elements of music such as pitch, melody or rhythm makes music perception one of the most complex listening tasks. It is similar with speech in noise. The brain needs to focus on important speech cues and forget about background noise. Active music listening and training might boost these skills. Plus you can enjoy your favorite music even more!
Supporting Your Music Listening Skills
The MED-EL Spotify playlists are a fun way to improve your music listening skills. They are easily available, on the go or at home, for new and experienced users alike, with perfect timing. Never too early – CI users don't have to wait to practice music listening, they can do so right after their first fitting. And those who did not dare until now can get on to it right now – it is never too late to start!
MED-EL is here for you to support you and provide guidance, with plenty of other resources and activities that help you enjoy music better.
Interested in more articles about music? Find out how Walter and Heinz, two CI users from Austria, connected through music and how sound engineer and musician René was able to keep doing what he loves thanks to his cochlear implants.
References: Gfeller et al, 2002; Gfeller et al, 2008; Smith et al, 2017 Musical Rehabilitation in Adult Cochlear Implant Recipients With a Self-administered Software
Thanks for your message. We will reply as soon as possible.
© MED-EL Medical Electronics. All rights reserved. The content on this website is for general informational purposes only and should not be taken as medical advice. Contact your doctor or hearing specialist to learn what type of hearing solution suits your specific needs. Not all products, features, or indications are approved in all countries.