Cochlear Implant Rehabilitation Tips from Claire Stancliffe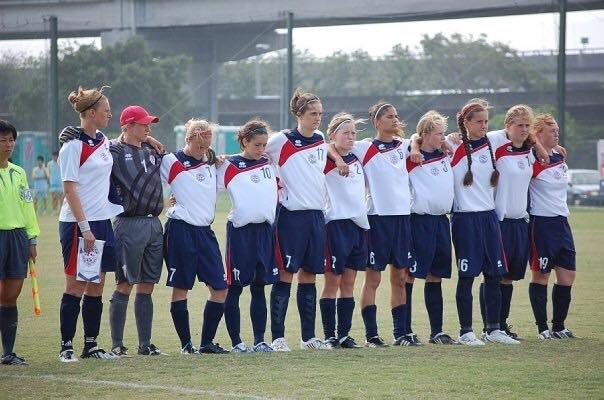 Claire Stancliffe (at center, wearing #17, in the picture above) is the recipient of a MED-EL cochlear implant, and here she shares some cochlear implant rehabilitation tips which helped her improve her hearing.
After being switched on, the rehabilitation therapist provided me with different ways to learn with my cochlear implant. As I mentioned before, at switch on the sound wasn't very natural and was rather strange which lead to me being frustrated.
But, I persevered with the rehabilitation. Here's what I found helped, and what I've been able to do with my new hearing.
Practicing With Single Words
The very first part of rehabilitation was learning single words. This may sound silly as with hearing aids I could understand single words. However, with the cochlear implant I couldn't hear a word at all. It was just a noise.
Over the first couple of weeks, my mum helped me practise every day. I would close my eyes and she would then choose one word off the list I was given. I would then have to say what I heard. At first I probably got every single word wrong. But, over time, I gradually began to understand part or all of what was being said. She started saying more and more difficult words, and then started with sentences. It is incredibly hard and draining, but I believe you get out what you put in.
Listening to Music Again
On top of this, listening to music really helped with my rehabilitation. I listened to songs that I knew the lyrics to over and over again. It took a while for me to match the lyrics to the right part of the song.
Every so often I chose a programme to watch on TV and switched the subtitles off. Listening to a range of voices is important.
I then tried to repeat what was said and my mum corrected me if need be.
Talking on the Telephone
Using a telephone is another thing I tried. Listening to someone over the telephone for me personally is incredibly hard, and it still needs to be someone I am very familiar with for me to understand them. Considering I have never really used a telephone even before receiving my cochlear implant, I admit that I have no conversational skills or confidence. This is something that is ongoing, but now with my cochlear implant I am able to have simple conversations on the phone to my mum.
At hospital appointments, telephone conversations are something that I had practised frequently. Over the phone I was asked a range of questions based on everyday life which I had to answer. As time progressed, I decided to challenge myself by being in a different room from my mum and having a conversation. Again this has helped in many ways as the tone/volume of the conversation will be different from being in the same room. Before I had the implant, there is no way I would have been able to have a conversation or even if someone tried to grab my attention by shouting my name. They would literally have to be in the same room.
Playing Football with a Cochlear Implant?
I have been incredibly lucky to have travelled to different places around the world to compete in international deaf futsal tournaments. Most recently, I played in the Champions League Deaf Futsal tournament in Graz, Austria, this last February. To mingle with other deaf athletes who have been the same/similar processes is a great feeling. I get to meet other implant users from across the world which is pretty cool!
Those few weeks I am representing my country is also a break from the struggles in everyday life. Every single day I am out there with the squad is relaxing when having conversations and knowing I am never missing out what people say.
Thanks very much and look out for my next blog!
Thanks, Claire!
Thanks for your message. We will reply as soon as possible.
© MED-EL Medical Electronics. All rights reserved. The content on this website is for general informational purposes only and should not be taken as medical advice. Contact your doctor or hearing specialist to learn what type of hearing solution suits your specific needs. Not all products, features, or indications are approved in all countries.