SAMBA User Reviews The Siemens MiniTek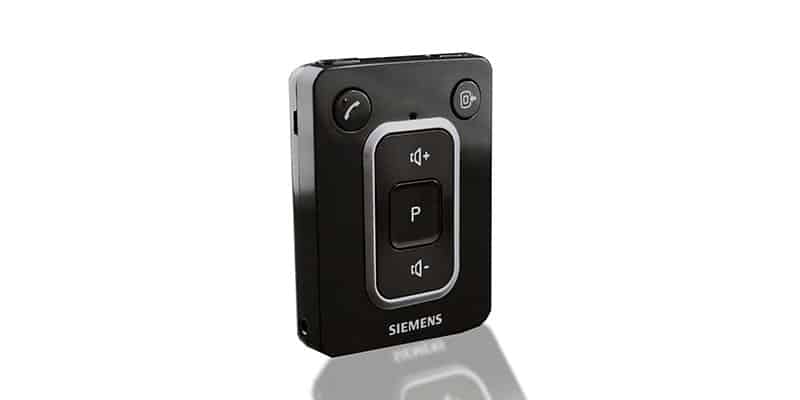 Ivana received her BONEBRIDGE bone conduction implant some years ago, and loves sharing her story and helping others out on the HearPeers Forum. She's been using the Siemens miniTek * with her SAMBA audio processor, and shares her product review with us!
---
Ivana's Review Of The Siemens MiniTek
I had the opportunity to thoroughly test the Siemens miniTek combined with my SAMBA and a wide range of devices. These included:
mobile phones with both iOS and Android
laptop with iOS platform (Macbook Air)
a Bluetooth-enabled stethoscope
In my experience using the miniTek, I find it to be a pretty versatile and useful device!
Usability
Star rating: 4
The miniTek is sturdy and made of plastic, and I like its clear design and sophisticated black finish. The buttons for changing programs and volume are a good size—not too small. The body of the miniTek is extremely solid, which helped it to survive my clumsiness when dropping it!
I absolutely love the wide variety of ways you can use this device. I use my miniTek in every possible way: as a remote control, a phone streamer, and as a working tool. As a doctor, I love its ability to connect with my Bluetooth-enabled stethoscope when I work with patients. My favorite function is as a music streamer—the sound quality is truly exceptional! It offers really fantastic sound clarity which gives greater depth to the music I am listening to. Interestingly, while I like all music styles, the miniTek makes classical music even more enjoyable to listen to. The durability of the device is incomparable: it has endured all weather seasons up to now, as well as more stronger conditions like high humidity.
Connectivity
Star rating: 5
In general, I find it very easy to connect a device or to change programs or volume. At the beginning it took a little while for me to first learn how to pair a device, but I simply had to follow the exact instructions provided. Once my devices were paired, reconnecting them is automatic and fast as the miniTek remembers them. The same principle applies when answering phone calls. The clarity of sounds on the phone is great—the voice is crisp and clear.
I think one important tip is to make sure the miniTek stays securely in one place so that it has a steady transfer signal. I did this by securing it somewhere on my body where the device doesn't move a lot—for example, clasping it on my shoulder or even on my back. This will help you to keep a good connection, even when you're moving around. I use it when I am hiking, running, or biking! I even started to stream my radio program because the signal was so much better than the one from the sound system in my car (which is from a renowned manufacturer), even in heavy traffic. Oh—don't worry, SAMBA still continuously receives background sounds while I do any outdoor activity with the miniTek.
Battery Life
Star rating: 5
The battery life has definitely been sufficient for me. I often take long car drives for a few hours and I stream radio the whole way without any issues. The battery life varies depending on what I am using the miniTek for. For example when I stream with my mobile phone, usually my phone's battery will run out first. On the other hand if I only use it as a streamer for phone calls or with my stethoscope, the battery lasts up to a week. In general, I find it easily lasts long enough for my daily activities.
Versatility
Star rating: 5
In my opinion the miniTek is an excellent choice for a wide range of users because it can be used with many different devices. I also really enjoy connecting my mobile to my car's sound system and then streaming the music directly to my SAMBA via the miniTek. The best thing for me about this ALD is being able to appreciate music in a completely different and improved way. The miniTek really does make me smile and brings color to my life!
I would also highlight the sound quality of human voices, whether it's on phone calls or through videos. For example, I love watching TED talks. With the miniTek, I don't need to replay parts of the video as I don't miss sentences. I also love being able to watch movies without needing subtitles.
Final comments
I would recommend this product to others in a second! Alongside the fantastic sound quality when streaming music, this device really helps me in my work with people.
Thanks, Ivana!
Want to find out more about what life is like with the SAMBA audio processor? Read about Silke's first holiday with her SAMBA, travelling across the USA.
* Sivantos is not responsible for the operation with the SAMBA or its compliance with safety and regulatory standards in operation with the SAMBA
Thanks for your feedback.
The content on this website is for general informational purposes only and should not be taken as medical advice. Please contact your doctor or hearing specialist to learn what type of hearing solution is suitable for your specific needs. Not all products, features, or indications shown are approved in all countries.