11 Reasons Why BONEBRIDGE Is a Great Hearing Implant for Kids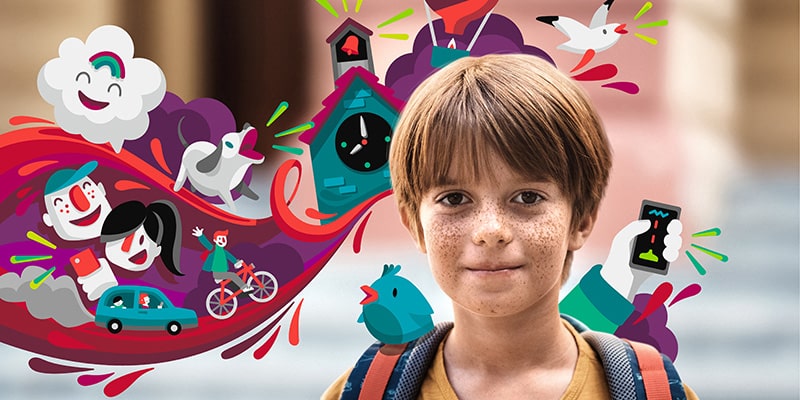 Bone conduction implants come in all sorts of shapes and sizes. There are bone-anchored hearing aids (BAHA) implants, which use a metal screw to transfer sound to the bone, magnetic BAHAs that use strong magnets, and active bone conduction implants, like BONEBRIDGE.
But are they any good for children? With BONEBRIDGE, our implantable bone conduction system, the answer is a resounding "yes"! Here's why:
1. It Offers a Different Way of Hearing
Suitable for Ages 5+.
Can't See This Video?
Having problems viewing this video? Watch it on YouTube.
2. It's Ready for All Sorts of Adventures
Children are adventurous, so they need an implant that can deal with those everyday bumps, just like BONEBRIDGE. It's embedded in and secured to the bone for extra stability. And because your child might need an MRI at some point in their lifetime, it's designed for safe MRIs at 1.5 Tesla* and covered by our MRI guarantee.**
3. You Can Trust in Its Reliability
Choosing a hearing implant for your child is a big decision, so knowing that your implant is reliable is super important. BONEBRIDGE has been on the market for nearly 10 years—far longer than any other bone conduction implant of its type—and has a proven record of long-term reliability.
4. It's Built for the Future
Your child should always benefit from the best hearing technology, and with BONEBRIDGE they can. The implant is designed to be compatible with future audio processors, so that your child can easily upgrade their hearing technology without needing a new implant.
5. It's Better for Your Child's Skin
Some bone conduction implant systems use an abutment, which is a screw that sticks out above the skin. But BONEBRIDGE is different: it is implanted under the skin and uses a magnet to secure it into place. That means no open wound, no extra skincare, and a lower risk of skin infections for your child.
6. It's Designed for All-Day Comfort
Even SAMBA 2, the audio processor for BONEBRIDGE, is built with comfort in mind. It sits behind your child's ear, held in place by gentle magnetic attraction. And at 9.3 grams, it's both lightweight and streamlined so that your child can wear it all day long.
7. The Audio Processor Is Smart but Simple
SAMBA 2 is packed with smart but easy-to-use hearing technology. It automatically adjusts its settings to your child's environment—from noisy classrooms to quiet nights at home—switching to the right program so that they always hear their best. And because one battery lasts for up to 10 days, you don't need to worry about it running out of power in the middle of class.
8. There Are Loads of Fun Design Covers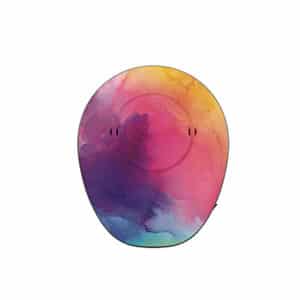 Princess. Monsters. Pirates. SAMBA 2 comes in a whole range of fun Design Covers so your child can dress their audio processor up in seconds. And as their tastes change, they can easily swap to a new design, from stars and strawberries, all the way to subtle hair colors.
9. Your Child Can Take It Swimming
Swimming lessons or beach days—with WaterWear and BONEBRIDGE, anything is possible! Unlike some bone conduction systems that leave an open wound, BONEBRIDGE is fully covered by skin for extra protection. You just need to slip a WaterWear cover onto your child's SAMBA or SAMBA 2 audio processor and they can hear all their favorite sounds, even in the water.
10. It Comes With Kid-Friendly Accessories
Want to make BONEBRIDGE even more child-friendly? The SAMBA 2 Kids set has everything you need, from different fixation options and Design Covers to a fun nightstand, to keep your kid's SAMBA 2 safe while they sleep.
11. It's Suitable for Ages 5+
BONEBRIDGE's slim design means it is approved for children aged five and over.*** And for children younger than that, there's ADHEAR, a non-surgical bone conduction device that's suitable for all ages. That means babies and toddlers can benefit from bone conduction technology until they're old enough for BONEBRIDGE!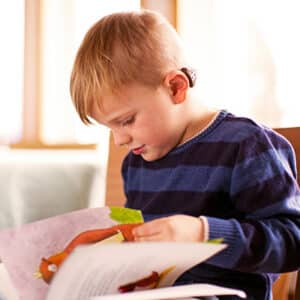 Get in touch
Want to find out if BONEBRIDGE could be a good hearing implant for your child? Your local MED-EL team is here to tell you more and guide you through the process.
You can also find out more about BONEBRIDGE here.
* The BONEBRIDGE bone conduction implant is MR conditional. Recipients with BONEBRIDGE may be safely MRI scanned at 1.5 Tesla following the conditions detailed in the instructions for use.
** The terms and conditions of the MRI Guarantee can be found here.
*** Approved in countries accepting the CE Mark. Please contact your local MED-EL representative for more details on approval in your country.
Thanks for your message. We will reply as soon as possible.
The content on this website is for general informational purposes only and should not be taken as medical advice. Please contact your doctor or hearing specialist to learn what type of hearing solution is suitable for your specific needs. Not all products, features, or indications shown are approved in all countries.