Music as the Main Motivation for Cochlear Implants: Chris's Hearing Journey
After many years as a hearing aid user, Chris decided to get a cochlear implant. In this article, he speaks openly about growing up with hearing loss, why he decided to get two MED-EL cochlear implants, and how activation went.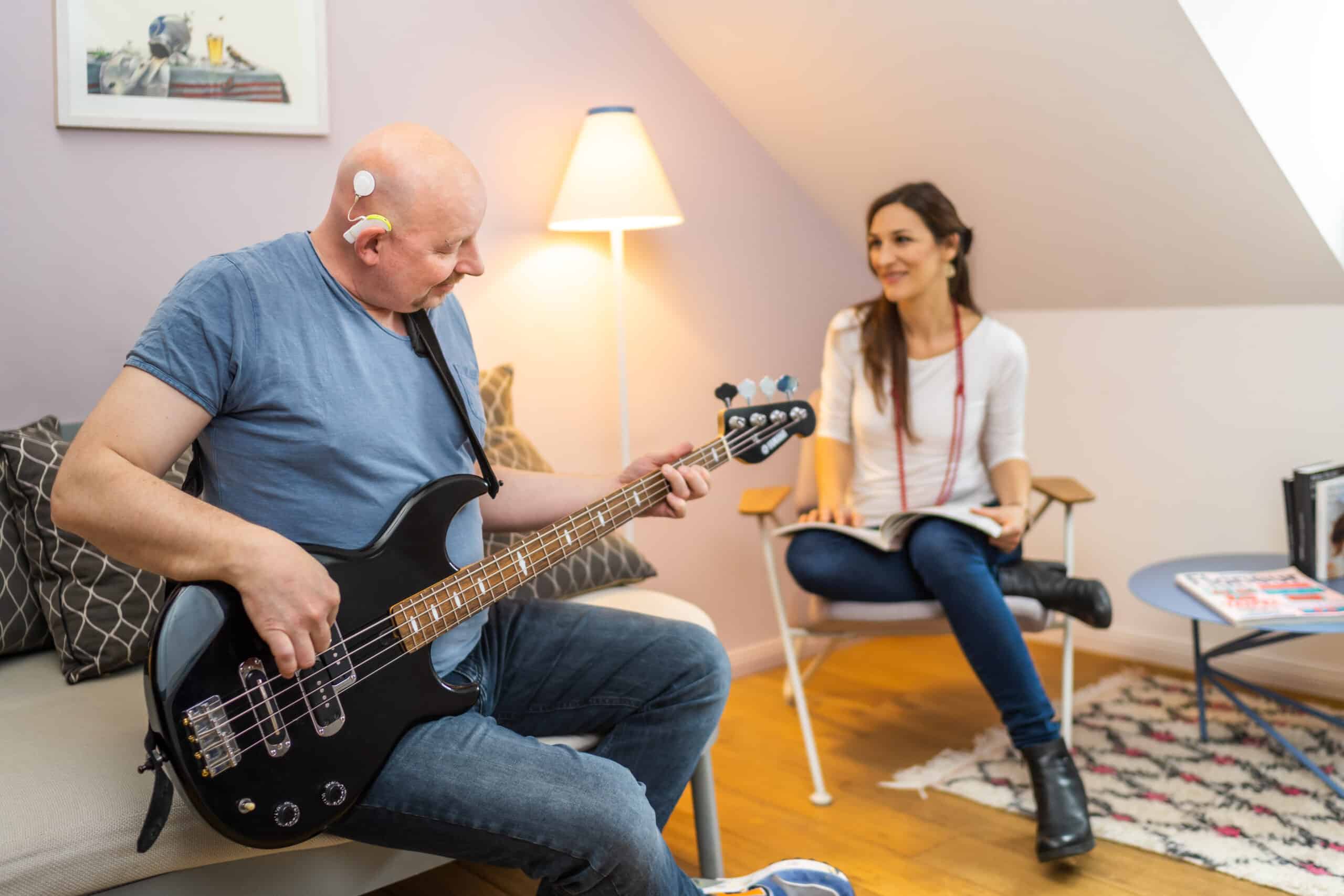 Hi, I'm Chris. I'm 55 years old and from Germany. My wife, my 17 and 19-year-old sons, and I live in northern Germany—I've been living here for over 23 years now. I work as an SAP user experience designer; it's my job to make software, websites, and campaigns more user-friendly. I am also a human-computer interaction expert.
Without a doubt, my hobby is music: listening to music, going to concerts and festivals, and making music with my band which I started shortly after I got my cochlear implants. I play the drums, bass, and a little bit of piano. I also like playing tennis and am interested in literature and film.
The Early Days of My Hearing Loss
As a child, I had very good hearing and started making music when I was in elementary school. When I was about 7 years old, I was diagnosed with mild bilateral sensorineural hearing loss after my tonsils were removed. There were complications during this operation. That same year, I also got a severe case of mumps, which can also cause hearing loss.
When I was 11 years old, my parents noticed that I hardly reacted when people spoke to me. So I got my first hearing aids, but by that point, I already had severe hearing loss. Despite being seen by various doctors, my hearing loss got worse. By the time I was a young adult, I was almost deaf, and even with the help of hearing aids, I could hardly understand speech.
How My Hearing Loss Affected Me
For a music-loving teenager, hearing loss is, of course, a catastrophe. For young people in the 80s, hearing aids were totally taboo, and at that time, I was very ashamed. It was also a very difficult time for my parents. They tried everything to figure out why my hearing was so bad and how it could be treated. My performance at school deteriorated rapidly, and I started to rebel when I was about 14. I joined the punk movement, wore ripped clothing, and got earrings—quite revolutionary for a teenager at that time. I tried to be unique in a way other than by having hearing aids.
Only after transferring to a school for students with hearing loss in 9th grade did I start doing better. I learned to accept my hearing loss, met other students with hearing loss, finished school, and then studied communications.
Why I Decided to Get a Cochlear Implant
I struggled with the decision to get a cochlear implant for over 12 years. I was afraid of the operation and of hearing with a CI since I had always imagined it would sound very artificial, like a robot that can only hear computer voices. But then I met people with CIs, and that took my fear away and gave me the courage to take the next step.
I did a lot of intensive research into the various cochlear implant manufacturers and tried to understand the advantages of each system. It's a once-in-a-lifetime decision; I wanted to make the best choice possible.
Music as the Most Important Factor
Before the operation, I looked at all the available devices; I liked the design of the MED-EL processors straightaway. And the consultation at the Care Center was also great. But the thing that convinced me the most was that MED-EL implants have a longer electrode than the implants from the other manufacturers, so they can cover lower pitches.
I think that covering the widest frequency range possible is very important for natural hearing. For someone like me who really wanted to be able to hear and make music again, that was the most important factor.
The fact that the implants are manufactured in Europe was also a clear plus for me. I can sometimes be a bit clumsy, so being able to get a replacement quickly and without complications was very important to me.
Cochlear Implant Activation Day
The first sounds I heard with my cochlear implant were the test sounds that are used to make sure that every electrode works. Even though it was already clear because it was tested during the operation, I was unbelievably relieved when I realized that it really worked and I could hear with my CI. Then the audiologist that did the activation asked me if I could hear him. And I understood him immediately. That was an unbelievably emotional moment.
Back to Bilateral Hearing
It sounds unbelievable, but after only about an hour of everything sounding like Mickey Mouse, I could actually hear really well with the implant—and much better than I previously could with two hearing aids. After activation, I didn't even use the hearing aid on the other side; instead, after only four weeks, I decided to get my other ear implanted as well. On the evening of activation, music already sounded really good—I hadn't anticipated that at all. It usually takes longer for the brain to get used to this new way of hearing. It went super fast for me—that was unbelievably great.
The Advantages of My SONNET Audio Processor
I decided to get the SONNET audio processor. Since I had worn hearing aids for a really long time, having the device on my ear didn't really bother me.
Of course, I have to mention the super sound quality here as well. My fear that hearing with a CI would sound unnatural or like a robot turned out to be completely unfounded. My hearing feels completely natural—it's how I remember it being before I got hearing aids.
And the fears I had about skin problems because of the coil that's connected to the implant with a magnet also proved to be unfounded. I have very sensitive skin but have never had a problem with wearing comfort, even when I wear sunglasses or do sports—I can even wear my audio processor without a problem when I play tennis. And for my job, I wear a headset pretty much the whole day—and that's also not a problem.
I'm still thrilled by the many connectivity options. I use AudioStream—which I wear constantly—to talk on the phone via Bluetooth®. At conferences and workshops with many participants, I like using the Phonak TableMics. And for in-ear monitoring where I get singing or guitar directly to my ear when I make music, I use the FM cover with the audio cable. So I can hear great even in challenging situations.
Thank you, Chris!
In the second part of his hearing journey, Chris will tell us more about speech therapy, how he was able to improve his music understanding, and why he values his work as a Hearpeers mentor. Subscribe to our newsletter to get his next article directly to your inbox!
© MED-EL Medical Electronics. All rights reserved. The content on this website is for general informational purposes only and should not be taken as medical advice. Contact your doctor or hearing specialist to learn what type of hearing solution suits your specific needs. Not all products, features, or indications are approved in all countries.