Five Tips For Working From Home With A Hearing Implant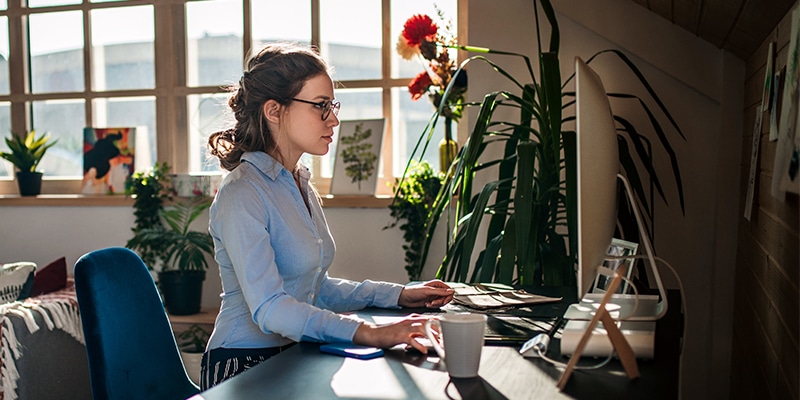 With online meetings and phone calls, working from home can be a challenge compared to working in an office, especially for cochlear implant recipients. But technology like video calls and captioning services can also work to your advantage.
Here are five tips to help you to work from home more successfully.
1. Take Advantage of Video Conferences And Video Calls
As many of us now have access to mobile devices, webcams, and high-speed internet connections, video calling has become possible for work communication. For meetings, request to meet using video call rather than traditional voice-only phone calls.
Video calls allow access to additional visual cues, such as lip reading and facial expression, which aid understanding, and allow you to more easily identify who is speaking in group calls.
Remember to test all equipment (e.g., speakers, microphones, and visual systems) before starting calls. Trial the use of an external speaker or a direct audio cable to find the best listening option for you. Use a high-speed internet connection for clear audio and visual.
2. Make Meetings Easier To Follow With An Agenda
Request an agenda for all meetings ahead of time so that you are familiar with what will be discussed and can follow the conversation more easily. Include an agenda item such as "Recap key points and review to-dos". This will allow you to check your understanding of what was said, of next steps, and responsibilities. Request meeting minutes after each meeting to clarify your understanding of what occurred in the meeting.
If you are calling new or less familiar colleagues/people
Before calling, write down information to be obtained and questions to ask.
Consider likely topics to anticipate vocabulary and questions.
Prepare an introduction to use to inform others of your hearing impairment and that you may need clarification of key information, or to recap the key points at the end of the conversation.
3. Embrace Technology!
As well as video calls, make the most of technologies like direct audio input and web-based messaging. There may also be remote captioning services available in your area to make phone and video calls more accessible.
4. Advocate For Yourself
Don't be afraid to advocate for yourself during meetings.
Ask people to turn on their video and explain why this helps you.
Suggest a rule that everyone mutes their microphone unless they are the one talking. This helps make audio easier to follow.
In group settings, ask the lead speaker to move closer to the camera to allow you to lip read and gain facial cues more easily.
5. Master Phone Calls
If the use of traditional voice-only telephone calls is a big part of your job, check out our Telephone Training Tips guide. This brochure has been written to help professionals support cochlear implant recipients to use the telephone, however it may also give you some more tips for telephone use.
Want to work on your cochlear implant rehabilitation from home? Take a look at our different ways to practice listening from the comfort of your own home.